From enjoying the city's best trails to having a unique encounter with our favorite penguins, here are five things you can actually do this weekend.
Please take care and help our community fight COVID-19 — maintain at least 6 feet of distance, wear a mask and wash your hands properly and frequently, when going out.
View this post on Instagram
Open from 6 a.m. to 7 p.m., the Bloomington Trail at The 606 is free to bike, walk and skate this weekend. Just remember to wear a mask, keep at least 6 feet of distance and "keep it moving," in order to enjoy the trail safely.
View this post on Instagram
This new program provides an up close, behind-the-scenes look at two penguin species at the Shedd Aquarium, since the ever-popular onsite Penguin Encounters are currently paused. Small groups of families and friends are invited to gather around a computer and learn about the penguins at Shedd as their caretakers broadcast live from the penguin habitat. This program is available for a limited time from July 25 – August 8. Learn more here.
View this post on Instagram
Starting Friday morning and running through Sunday night, Clark Street between Grand Avenue and Kenzie Street in River North is closing to allow for more outdoor dining opportunities for neighborhood restaurants. It also allows for safer distancing while strolling, so you can get out and enjoy this weekend's beautiful weather.
View this post on Instagram
This month, you can get out and walk for a good cause. The 2020 Illinois Lupus Walk is going virtual, with prizes and activities to help increase public awareness of lupus, and generate support for those who suffer from its potentially devastating challenges. Join in here.
We could all use a little extra TLC these days. Here is our Dining Editor Julie Chernoff's much beloved family recipe for Mac & Cheese.
Serves 8
Ingredients:
1 pound dried whole-wheat pasta shapes (farfalle, shells and fusilli all work well)
3 cups 2-percent milk
1 cup chicken or vegetable stock
3 tablespoons butter
1/3 cup all-purpose flour
2 tablespoons Dijon mustard
1/2 cup grated Parmesan cheese (freshly grated cheese is best!)
1 pound extra-sharp or medium cheddar cheese, grated (I sometimes sub in half Gouda cheese here)
Freshly ground pepper
For the topping: 
1 cup whole-wheat panko crumbs, or sub 32 Wheat-thins or the like
2 tablespoons butter, melted
2 tablespoons grated parmesan or Pecorino Romano
¼ – ½ teaspoon ground paprika
Directions:
Bring a large pot of water to a boil. Salt generously and add pasta. Cook, uncovered, until pasta is al dente (see package directions as each pasta shape has a different cooking time). Drain immediately. If preparing ahead, cool on a large sheet pan then toss with a little bit of oil to avoid sticking.
Heat oven to 350 degrees. Adjust oven rack to middle position.
Combine milk and broth in a large Pyrex measuring cup. Microwave until hot (or heat in a small pan).
Meanwhile, melt butter in a large saucepan over medium high heat. Whisk in flour, then add in hot milk/broth all at once. Whisk to avoid clumping. Cook, whisking, until bubbly and thick, about 4–5 minutes (it will depend on how hot your milk is to begin with). Remove from heat.
Whisk in mustard and Parmesan cheese, then the cheddar (and Gouda, if using). Combine until all cheese has melted into the sauce. Combine with pasta and season to taste with salt and freshly ground pepper.
Pour into an oiled or buttered 9" x 13" baking dish.
For topping, combine melted butter, panko or cracker crumbs, and grated cheese. Spread evenly over top of mac and cheese. Sprinkle with paprika, then place in oven. Bake about 25 minutes, until top is browned and casserole is hot and bubbly. Serve warm.
---
How to help:
Many are finding that helping others is an effective way to help combat feelings of powerlessness in the face of COVID-19. Here are some deserving nonprofits, including food pantries, that need your support.
---
More from Better:
---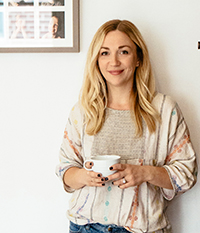 Macaire Douglas lives in the Chicago suburbs with her husband and two sons. She proudly supports Save Abandoned Babies Foundation, a Chicago-based nonprofit organization that works tirelessly to prevent the illegal abandonment of newborns nationwide. Since its inception in 2000, more than 3,600 newborns have been safely surrendered and adopted into loving homes.