When the pandemic arrived, we all had to adjust our lives accordingly. Small businesses and organizations took a large hit as the state shut down and we sheltered-in-place. We are thinking of these local business owners that stayed resilient with the love and support from community members, and wanted to reach out to our Best of 2019 winners to see how the last year has affected them.
Here's what they had to say about managing during a pandemic:
Health & Beauty
2612 Kingston Drive, Northbrook
During the spring, over 85 events at Leesi B, including weddings, photoshoots and private events, were canceled, rescheduled or reframed. As an adjustment, the company started offering virtual makeup consultations. Owner Elise Brill says the high points of quarantine include staying connected with her clients, posting videos with makeup tips and realizing the importance of self care. Leesi B ships orders out everyday to clients who aren't comfortable with private, in-person appointments. Additionally, the company offers curbside pick-up, a popular request among customers.

"This time has reinforced for me how important each and every client is to me, and only energized me to another level of continued clientele personal service. I enjoy helping each client feel better with makeup and the connection of inner and outer beauty," says owner Elise Brill.
1521 Sherman Ave, Evanston
Egea Spa closed their shop briefly to help flatten the curve and re-opened in June. They've pivoted their business by expending their Medi-Spa services and added an additional Medical Director. On Mother's Day, the spa held a curbside "Home Facial Kit" giveaway which was a highlight of the pandemic so far. Over 60 clients stopped by to show their support.
00 N. Lake Street Suite 102, Mundelein
Dr. Jonathan Engstrom, DC, CCSP, CKTP started the center in 2012 to offer conservative, non-invasive treatment options for patients. To adjust to the pandemic, the center has increased their sanitation protocols and distanced their patients out.
840 Willow Rd, Suite K, Northbrook / 901 N Milwaukee Ave, Vernon Hills
To adjust to the pandemic, Andreas Hogue Salon set up a delivery service, built a back deck to offer open-air haircuts and created a new shopping website. Visit the salon's shop.
Once re-opened, the salon built a "pop up" (temporary) salon space to take high-risk clients privately. They've stayed in constant contact with their clientele, helping them with their beauty needs over the phone and FaceTime. This was a "silver lining" of the closure. "It gave us lots of time to really connect with the community."
"This has been a difficult time to standby and watch so many small businesses around us closing and struggling, as we personally know the families impacted and we personally lose little treasures we adore," says a representative from the salon. "We have felt an abundance of love and gratitude from our staff and clientele since reopening. The community, and even other salon owners, have praised us for putting in place a really safe, smart system for working."
Fitness
193 Northfield Rd, Northfield
Studio Spin sprang into action amid the closures and delivered spin bikes to their clients and offered free at-home workouts for both spin and strength classes. They believe in keeping a positive attitude, which has helped keep the community together during this time.
Stays, Arts & Recreation
168 North Michigan Ave., Chicago
Hotel Julian has been opened through the pandemic. They lowered their rates to build occupancy and market to the local drive-in market. The hotel says that dealing with the ever changing world and health standards has been both the high and low points of this experience.

"Making sure our employees and guests feel safe and comfortable is priority number one. All small businesses are suffering and need to stay strong to survive!" View Hotel Julian's statement on COVID-19 concerns.
Lake Geneva, WI
Grand Geneva is a resort and spa located in Lake Geneva. In response to the pandemic, the resort has implemented a CleanCare Pledge initiative to help ensure health and safety measures in addition to their quality service.
Read Grand Geneva's statement on COVID-19.
Arlen Music Productions is "in it for the long haul," despite seeing zero revenue since March. However, they are offering virtual entertainment and servicing their existing clients. In their own words, the "have done a great job with the human side" (see what they mean here!).
50 E Ida B Wells Drive, Chicago
The Auditorium Theatre has not stayed open, but they are still in business. To adjust, the theatre quickly began producing online content featuring some of our favorite Auditorium Theatre performers (singers, musicians, and dancers). Their summer camp, Hearts to Art, was fully conducted online.
"It's been a big adjustment," says a representative from the theatre. "We've had to cancel or reschedule a lot of productions, but we've been working hard to stay engaged with our supporters and audiences! We've also been doing a lot of work around the theatre itself to ensure that it is clean, safe, and refreshed when we are able to open our doors again."
Shopping
1151 Church Street, Northbrook
The Book Bin welcomes online, phone and email orders. They are only offering curbside pickup.
At the Book Bin, a high point of working through this pandemic has been the kind words from their customers. The Book Bin continues to give "quick and friendly service for your book needs!"
On operating in the Chicagoland area, the Book Bin says: "We're in such a great place in the crossroads of our country that we can access four different warehouses of our book wholesaler, reaching across the country and receiving books within the week!"
1460 Paddock Drive, Northbrook
The Village Treasure House closed on March 17 and reopened on June 9. As an adjustment to the pandemic, the warehouse started offering a new online shopping experience with curbside pick-up. This additional sales outlet continues to grow and new customers have appeared.
When they reopened, the warehouse made sure to implement changes based on guidance from the CDC and Illinois. They changed their store hours to allow for deep cleaning each day, limited the number of shoppers and moved to consignment by appointment only.
"Much heart and effort went into getting Village Treasure House ready to open and that was a true inspiration. It is a definite high to be back in business working to support our grant recipients who are helping so many families and individuals in crisis at this difficult time."
693 Vernon Ave, Glencoe
The Flower Shop is not accepting walk-ins but they are open to curbside pick-ups and no contact deliveries. The shop does accept call aheads for walk throughs. Through this pandemic, the shop says they feel the most for small businesses and encourage others to shop small.
"Events have been cancelled but flowers have clearly not! We have been doing so much better than we had anticipated this would all go!" To give back, the Flower Shop made $5000 in donations in June to different community organizations.
"We are so grateful to have the support of the North Shore. They have made us being here possible. There is something to be said for community!"
2048 N Halsted, Chicago
Bedside Manor is a bedroom and bathroom furniture store. The shop pivoted to summer hours for their staff and are working on an e-commerce site in response to the pandemic.
"Having to close the doors completely was very challenging. We are happy we are back open now, our employees are taking precautions and our customers are happy to see us!"
1121 Central Avenue, Wilmette / 222 Merchandise Mart Plaza, Suite 121, Chicago
De Giulio Kitchen Design has been operational the whole time and began offering virtual meetings along with visits by appointment. The Wilmette studio has returned to regular operating hours and the Merchandise Mart location is welcoming visitors by appointment.
"Safety has always been paramount in our studios and on our job sites, but we've added some new procedures to enhance what we were already doing. We're limiting visitors in our studios to ensure that everyone can maintain proper distancing, and we're spacing meetings apart, wearing masks, and sanitizing high-touch areas throughout the day," says a representative from the store. "We've been inspired by the Chicago communities and businesses that have risen to the challenges of the pandemic, and are especially grateful for the confidence our clients have shown in us."
Restaurants
110 W Illinois St, Chicago
Sunda opened back up in June. During the spring, Sunda was in constant communication between team members and held meetings after meetings to deal with the pandemic. They cite the versatility of their management teams as being a tremendous help. As a restaurant, the inconsistency of capacity limits set back their plans. In June, the restaurant was also looted and damaged. On the positive side, Sunda has received much support from their loyal guests and staff during the closure and reopening.
2000 Dempster St, Evanston
Temperance closed their Tap Room on March 14, three days before the state-mandated closures. That same day they opened the "ultimate American consumer experience": a beer drive-thru. When Phase Four began they created essentially American experience in the parking lot: the tailgate.
"Customers order and pick up beer at the drive-thru and then pull into one of fourteen numbered parking spaces. To their left is a barrel occupying the adjacent space, which is their socially-distanced outdoor space to enjoy our beer outdoors. A few weeks into Phase Four, we opened our beer garden deck for draft beer sales."
The brewery cites the low point of the pandemic was furloughing all but three staff members and "mothballing" the brewery, in case they were not able to function as an essential business.
1168 Wilmette Ave, Wilmette
Nick's thanks their "customers and their incredible generosity" in keeping them open. "During the shelter in place mandate, we received so many requests to provide meals to healthcare and front line workers that we created a 'frontline fuel' menu. We delivered more than 1,500 meals in two months to local hospitals, fire departments and police stations. In addition, we provided more than 250 boxed lunches to local homeless shelters."
"The fact that we were able to do so much good by fueling frontline workers and people who were truly in need in the midst of such unsettling times was beyond rewarding. People came from as far as Wisconsin to pick up carryout, others drove from the city to celebrate the minute our outdoor tables were open and people from Florida and New York ordered hospital meals to be delivered throughout the North Shore. I cannot stress enough the fact that we were able to remain open because of the support we received from our customers."
The owner of Nick's states that the pandemic has truly been the most challenging time Nick's has ever faced as a business, and though the pandemic is yet to be over, this time has also been the most eye opening in terms of what local support looks and feels like.
Services & Philanthropy
Better Sister and Brother Growth Network is a multi-resource organization that offers domestic violence help, mentorship services and entrepreneurship training among other services. In response to the pandemic, the network has provided personal protective equipment to senior citizens and helped families with tasks like assisting their children and grocery shopping. They noted a low point of the pandemic was a loss a lot of contact with clients who need to come into the office to learn to use a computer.
1346 Shermer Rd, Northbrook
To adjust to the pandemic, How About Learning started offering more online sessions to their customers. They also opened a new storefront during the pandemic, so in-store visits from customers have been slow, but are gradually picking back up.
"We need to support each other and come up with new platforms to get our name out there. We appreciate Better providing a space for more people to know we are here and happy to help support families with their children's learning."
7340 N. Monticello, Skokie
Hester Painting & Decorating states that they implemented new and more effective health and cleanliness standards for their employees, office, and clients' homes as part of their changes to the pandemic. The business dealt with uncertainty for future work requests and concern for their employees and their respective health.
"Our most memorable high points were our 'Help Feed Our Healthcare Heroes' fundraiser and delivering 1,045 meals to Chicagoland hospitals through a partnership with Gino's East."
Twist Out Cancer is still working with the community to overcome the challenges with quarantine and isolation associated with the pandemic. In April, they introduced the Resilience Campaign, which provided the public with doses of hope from community members who have experienced isolation and loneliness from their experiences with cancer.
Twist Out Cancer has been holding all of its programs virtually to account for the safety and wellbeing of its community members. This includes their Brushes With Cancer programs and the weekly TwistShops, art therapy focused workshops. These programs are currently run virtually and free of charge to individuals touched by cancer and the larger public.
The organization cites that the hardest part about the pandemic is that their immunocompromised cancer patients have had to endure additional hurdles to access health care and critical emotional support. However, on the positive side, their decision to pivot to virtual events and programming early has allowed us to reach all types of individuals no matter where they are in their journey with cancer.
---
More from Better:
---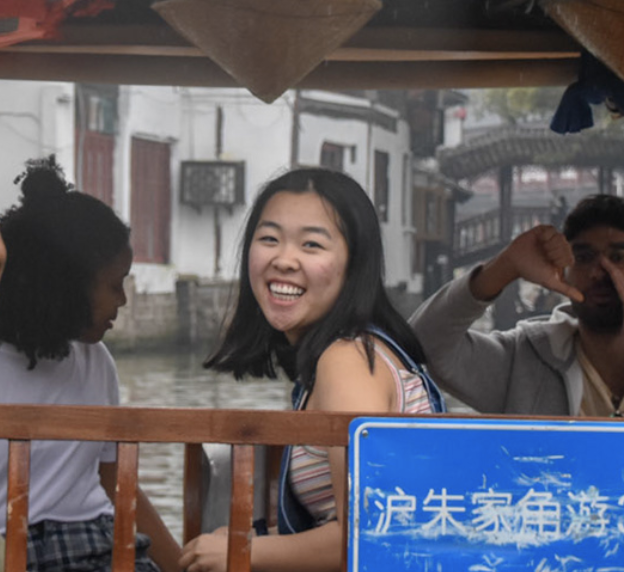 Cindy Mei is an intern at Better. Currently in her senior year of college at Northwestern's Medill School of Journalism, Cindy is moved by strong storytelling about personal identity and culture. She is an avid fan of the works of Anthony Bourdain, Alex Kotlowitz and Jenn Fang.
Cindy is a proud alumna and supporter of After School Matters, a non-profit organization that offers arts and leadership classes to Chicago high schoolers. She also encourages support for Think!Chinatown, a New York City based non-profit that fundraises for Chinese businesses in Manhattan's Chinatown.