Chef Rob Levitt of Publican Quality Meats was looking to jumpstart his music career before he found his way into the culinary scene. While looking for a source of income as a young college musician, Levitt fell into a summer job as a dishwasher at a little deli. That kitchen ignited a love of cooking.
"Before I knew it, I was doing prep work and watching Food Network and cooking at home," said Levitt. After a couple of months as the dishwasher, Levitt found a job as a cook at an Italian restaurant. By the time he graduated from the University of Illinois, he was no longer interested in music. Cooking was his calling.
After working several other jobs in Urbana and New York City, and eventually graduating from the Culinary Institute of America, Levitt and his family settled in Chicago where he is now the head butcher of Publican Quality Meats.
Publican Quality Meats is a charming corner butcher shop in Fulton Market. Fresh bread and imported olive oils complement the various meats piled behind a butcher's counter.
Levitt's loyalty to Chicago and to Chicago chefs runs deep. "It's a fun environment to be in because we're always helping each other out and giving each other ideas," said Levitt, who has worked with top Chicago chefs like Rick Bayless. "The Chicago restaurant community is very friendly and very supportive."
PQM sources their meat from a number of local farms in the Midwest. "There's no shortage of inspiration because I'm constantly surrounded by really good products, and I get to buy from farmers who have wonderful things."
In contrast to the challenges faced by so many of Chicago's restaurants, PQM has managed to thrive during the pandemic. With so many stuck indoors, demand has remained high for ingredients to cook at home. During the initial shutdown, Levitt said the butcher shop "couldn't keep charcuterie in fast enough, couldn't keep steaks," with items selling out as quickly as they were prepared.
"It was one of those things where it's like, I hate that we have this problem, but I love that we're about to do this," said Levitt.
The shop was also been able to stay engaged with its customers by offering virtual cooking classes in lieu of the live classes they used to offer prior to the pandemic. "We were constantly looking for new interesting ways to keep our customers stimulated," Levitt said. 
Levitt led several sessions including a "Chicken Basics with Chef Rob" that informed at home cooks or interested parties how to "truss and spatchcock a chicken" and how to "break down a chicken into eight ready-to-cook pieces."
Beyond what PQM is doing in house, Levitt also cites a great marketing team and catering team that helps keep the shop interesting. They enthusiastically promote the carry-out and pick-up business. Sourcing their food out instead of marketing for customers to come in proves to be an effective strategy for this pandemic.
Try your hand at one of PQM's specialties by picking up the ingredients from PQM or your local butcher and making this Country Pâté recipe.
Recipe: Publican Quality Meats' Country Pâté
2 lbs ground pork (ask your butcher to make it a little fatty)
.5 lb. chicken livers, cleaned
1/4 lb crustless bread torn into pieces and soaked in a little milk
5 cloves garlic, finely minced
1 sprig rosemary leaves
Squeeze the bread to remove excess milk. Place in food processor with rosemary and garlic and blend till smooth. Add chicken livers and pulse until finely chopped.
Combine:
2 T kosher salt
1 t Curing salt #1 (pink salt)
2 t fennel seed, ground
1 t ground black pepper
1 t mustard seed, ground
1/5 t nutmeg, ground
1 cup lightly toasted pistachios
Combine all ingredients in a large bowl and mix thoroughly. Cook a small amount of the mixture, let cool and taste. Adjust seasoning as needed. Remember- if you taste it hot, it wont taste the same as when it is is served at room temperature. Room temp items need aggressive seasoning.
Line a loaf pan or terrine mold with plastic wrap. If you are feeling extra fancy, you can the line the mold with slightly overlapping slices of thinly sliced bacon.
Add the pate mix, making sure to pack in each handful tightly. You don't want any air pockets in your terrine. Pack the mixture in to just above the lip of the pan. Fold over the bacon if using, otherwise, fold over the plastic wrap.
Wrap the entire terrine tightly in a couple layers of plastic wrap and place in a high sided baking dish or roasting pan.
Fill the pan with enough water to come up almost to the top of the terrine.
Bake in water bath at 250 F for about 2 hours or until an internal temperature of 145.
Cool to room temperature. It is best for the texture of the pate to weight it as it cools. The easiest way to do this is to cut a piece of cardboard to the size of the terrine and wrap it in foil.
Place it on top of the cooked pate and add a few canned goods or anything else small and heavy evenly over the surface. Once the terrine is cool enough to handle, place in the fridge with the weights for several hours or overnight.
Slice and serve at room temperature with mustard, pickles and bread.
---
More From Better:
---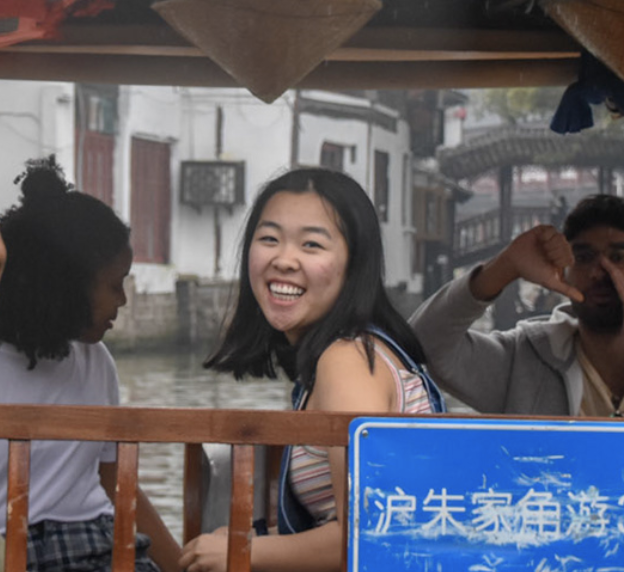 Cindy Mei is an intern at Better. Currently in her senior year of college at Northwestern's Medill School of Journalism, Cindy is moved by strong storytelling about personal identity and culture. She is an avid fan of the works of Anthony Bourdain, Alex Kotlowitz and Jenn Fang.
Cindy is a proud alumna and supporter of After School Matters, a non-profit organization that offers arts and leadership classes to Chicago high schoolers. She also encourages support for Think!Chinatown, a New York City based non-profit that fundraises for Chinese businesses in Manhattan's Chinatown.