If you've been looking forward to gathering with loved ones for the upcoming holidays, you sadly may want to rethink those plans. As the colder temperatures force us indoors, Illinois has released their guidelines and tips for coming together during the pandemic, in an effort to stop super-spreader events and spikes, like we have seen in Wisconsin and Indiana.
Family gatherings, celebratory vacations and travel have all taken on a new meaning — and a new sense of concern — in a way we never expected a year ago.

But just as was true for Easter and Eid and the Fourth of July, this virus doesn't make exceptions for traditions.

— Governor JB Pritzker (@GovPritzker) October 14, 2020
The biggest takeaways? Err on the side of caution, and stay home if you are experiencing any Covid-19 symptoms. If your holiday plans usually include traveling to another state, make sure you are aware of their current case numbers, and if they are included in the travel bans in Chicago or Illinois.
"Covid-19 has changed the way we work, live, and play, and will now change how we plan to celebrate the holidays," said IDPH Director Dr. Ngozi Ezike. "While the safest way to celebrate is with members of your household and connecting with others virtually, we know, for many, the holidays are all about family and friends, so we want to provide some tips on how to celebrate safer."
Here is the full list of tips to consider this holiday season from IDPH:
Travel:
Traveling increases the chance of spreading Covid-19. If traveling this holiday season, consider the mode of transportation (plane, car, bus, train), and the dates you will be traveling.
Be aware that traveling by plane, train, or bus can mean standing in lines and sitting less than 6 feet from people for long periods of time.  
Traveling by car may include stops along the way for gas, food, and bathroom break. Decrease your risk by consistently wearing face coverings during travel.  
If you are sick, do not travel and do not attend gatherings and celebrations. Even if your symptoms are mild, you may still be able to infect others, and no one wants the gift of sickness this season.
Holiday gatherings:
If you are hosting a holiday gathering, limit the number of guests and try to have as many activities outside as weather permits.  
It is important to discuss your expectations with friends and family while celebrating the holidays during this pandemic. For example, suggest that handshakes and hugs be replaced with waves, verbal greetings, "air high-fives," or "air hugs."
If your gathering needs to be inside, try to increase airflow by partially opening a couple of windows. 
Think about the seating arrangements if you are planning a meal. Keep members of the same household together and try to put space between one family and another. Also, consider spreading tables out through different rooms.
When serving food, avoid a buffet-style or potluck setting and consider having one person serve all the food so that multiple people are not handling the serving utensils. Also, try to limit the number of people going in and out of areas where food is being prepared—like the kitchen and dining room.
Limit your activities in the two weeks before your gathering and ask your guests to do the same. This will decrease the risk of exposure to the virus and further spread.
Shopping:
Try to do gift shopping online by looking at local store websites and choosing pick-up options. 
Grocery shopping online with delivery and curbside pick-up is also available in many locations. If you need to shop in-person, try to go at a time when stores are not as busy.
---
More from Better:
---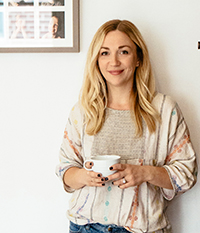 Macaire Douglas lives in the Chicago suburbs with her husband and two sons. She proudly supports Save Abandoned Babies Foundation, a Chicago-based nonprofit organization that works tirelessly to prevent the illegal abandonment of newborns nationwide. Since its inception in 2000, more than 3,600 newborns have been safely surrendered and adopted into loving homes.