The leaves are slowly losing their green hue with the end of summer, and as unfortunate as it is to say goodbye, the fall breeze provides some comfort. Fall is a time to reflect, and in doing so, we want to shed light on some organizations that have done remarkable work for their communities, especially during the pandemic.
Consider giving back this season. Here's a comprehensive list of Chicago and North Shore-based organizations, campaigns and events to give your support, attention and time to:
Give your support
Located in the Roger's Park neighborhood of Chicago, A Just Harvest aims to fight poverty and hunger in the north side of Chicago. Besides directly providing food for the hungry, A Just Harvest also spends their time with community organization and outreach. Before the pandemic, the organization fed an average of 170 individuals a night. A Just Harvest also accepts volunteers.
The Brushwood Center, which sits in the heart of the Ryerson Woods, has been preserving the natural area since 1984. The center serves to educate people on the benefits of nature and science-based education through the arts.
The Comer Education Campus, consisting of the Gary Comer Youth Center, Gary Comer College Prep and Gary Comer High School, is a youth-supporting organization. Beyond academics, the teachers at Comer dedicate themselves to providing arts and career enrichment opportunities. Gary Comer was a native South Sider. He opened the youth center in 2006, and since, the campus has been preparing youth to be college or career-bound, well-rounded individuals. The Comer Education Campus also accepts volunteers.
The Forward4Tobi Foundation aims to help ease the lives of breast cancer patients and their families by providing financial relief. The foundation covers childcare, medical assistance, rent and other needs. Tom Klonecki established the foundation in 2013 in honor of Tobi Lauren Klonecki when Tobi lost her battle with breast cancer that year. The Forward4Tobi Foundation also accepts volunteers.
The American Red Cross helps people whose lives have been upended by wildfires, storms, floods, and countless other crises. A donation will not only help with immediate needs like food and shelter, it also will put people on the road to recovery and guide communities as they better prepare for disasters. Your donation will be matched dollar for dollar up to a total of $100,000 thanks to a generous Matching Gift Challenge funded by:
Virginia Blankenbaker
Cynthia Helle
Ray and Judy McCormack
Susan and Nick Noyes
Jenny B. Stoddard
Jan Tratnik and Tim McPike
Give your attention
October 6, 2020
Over the past twenty-five years, the Making History Awards have honored 113 Chicagoans and 13 Chicago companies whose contributions to art and culture have made Chicago a better place to live. The Chicago History Museum inaugurated this event in 1995 to provide vital financial support to the Museum's operations and programs. List of honorees.
October 10, 2020
Curt's Cafe aims to direct young adults toward a secure and productive future. The cafe provides at-risk or formerly incarcerated young adults the resources they need to get back on a healthy track. This year's theme will be "10 Success Stories" and the guest speaker will be social justice advocate Jahmal Cole.
October 17, 2020
This year, the Field Museum will honor Connie and Dennis Keller with the Marshall Field V Award for Distinguished Leadership. Proceeds from this event will support the Field Museum's continued impact as a research, conservation, and education leader in Chicago and around the world.
October 20, 2020
Join the Chicago Humanities Festival for their annual benefit this year online. The festival is proud to celebrate the profound role the arts and humanities play in the pressing civic and social issues of our time. Chicago Humanities is looking for donations to support vital programming and community efforts. This year's benefit evening will honor Elizabeth Glassman, President Emerita of the Terra Foundation for American Art.
October 21, 2020
The YMCA of Metro Chicago will celebrate the people, purpose and passion that drives their work forward each day. This year's dinner will pay special attention to circumstances surrounding COVID-19 and the individuals and families the YMCA served during this time.
October 21, 2020
WBEZ, Chicago's NPR news source, serves the community with fact-based, objective news and information. Listening Unites Us: An Evening to Celebrate Independent Journalism will be a virtual evening with WBEZ. Proceeds from this event will support WBEZ's investment in its newsroom and local journalism, as well as the creation of groundbreaking original programming.
October 22, 2020
The Lynn Sage Foundation's mission is to support the understanding, research and treatment of breast cancer in partnership with Chicago's Northwestern Memorial Hospital and the Robert H. Lurie Comprehensive Cancer Center of Northwestern University. Join them online to celebrate Breast Cancer Awareness Month and help raise funds that advance life-changing breakthroughs in breast cancer research.
Tune in to hear host Hoda Kotb's inspirational personal story, what she has learned along the way and why she believes it's important for survivors to share their stories.
October 24, 2020
The Volunteer Center's Make A Difference Day is one of the North Shore's favorite opportunities to lend a hand to nonprofits serving people in need in our local community.  Just fill your car with gently used donations and drop them off from 8am-12pm in a socially-distanced, no-contact process that is safe for all involved — you don't even have to get out of your car.  All volunteers and donors are asked to please wear a mask.
October 26, 2020
The Reach for Excellence Awards Dinner offers a chance to help place Chicago's disadvantaged youth on a path to success. MEF's after-school programs strengthen at-risk youth in both academics and character. Join the Midtown Education Center to celebrate their 2020 honorees.
October 28, 2020
The Chicago Council on Global Affairs is an independent, nonpartisan membership organization that provides insight – and influences the public discourse – on critical global issues. The Council commits itself to bringing clarity and offering solutions to issues that transcend borders. Join the council to celebrate their 2020 honorees.
November 4, 2020
The Above & Beyond Family Recovery Center focuses on helping individuals and families dealing with addiction and homelessness. Johann Hari, author of two New York Times best-selling books, is guest-speaking.
November 8, 2020
Join Hot Chocolate for their annual 15k (or 5k) to benefit St. Jude's Children's Research Hospital. St. Jude's has been at the forefront of pediatric care and treatment since 1962. Known for their philanthropy, St. Jude's costs approximately $2.8 million to run, but donations and grants help keep patient care costless.
November 9-13, 2020
Thresholds is a company that provides home, health, and hope for thousands of people in Illinois each year who are living with mental illness and substance use disorders. Indulge in a weeks' worth of dessert-themed virtual and at-home events, all the while raising awareness and critical funds for Thresholds' life-saving programs. Giving has never tasted this good! Purchase tickets here.
November 12, 2020
The Board of Directors of the Chicagoland Chamber of Commerce created The Daniel H. Burnham Award for Distinguished Leadership in 1992 to pay tribute to a prominent business leader who has advanced the Chicagoland business environment. This year, the award celebrates Maurice Smith, President and Chief Executive Officer of Health Care Service Corporation, a health insurance company.
November 13, 2020
The Woman's Board hosts its biennial gala to raise critical operating funds for education, inner-city high school language and immersion programs, and cultural offerings at the Alliance Française de Chicago, the place for all things French in Chicago. Pour a glass of rosé and be virtually transported to Provence on November 13th to help benefit the Alliance, honor Libby Horn and celebrate 25 years of the Woman's Board impact.
November 14, 2020
Collaboraction incites social change through original devised theatre and community engagement that cultivates knowledge, dialogue and action around Chicago's most critical social issues. Tune in to their virtual Utopian Ball with Collaboraction artists and an awards ceremony.
November 19, 2020
Help kids without a safe space to sleep or call home by joining Covenant House's Sleep Out. Either sleep on the streets to help raise awareness and lifesaving funds to give kids safe shelter and opportunity, or support the event virtually by posting a message of hope and lighting a candle online with a donation.
November 19, 2020
Chicago United is a corporate membership and advocacy organization whose mission is to achieve parity in economic opportunity for people of color by advancing multiracial leadership. Founded in 1968, the organization focuses on transforming the Chicago region into the nation's most inclusive business ecosystem. This event celebrates the "excellence in diversity within corporate governance."
Give your time
The Volunteer Center helps connect eager volunteers to organizations and opportunities around the greater northeast Chicagoland area. Working with over 165 nonprofit organizations, the center sponsors four (and more) annual community Days of Service. The center's mission states that they aim to "promote volunteerism, support nonprofit organizations, and engage people in meaningful volunteer service in the communities we serve.
---
More From Better:
---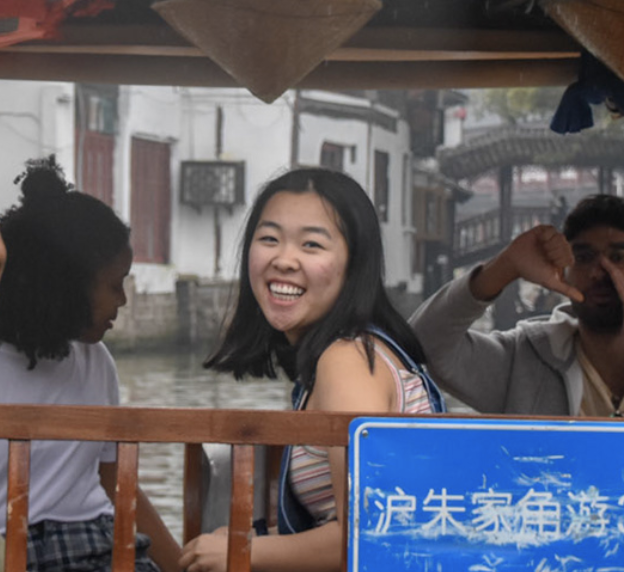 Cindy Mei is an intern at Better. Currently in her senior year of college at Northwestern's Medill School of Journalism, Cindy is moved by strong storytelling about personal identity and culture. She is an avid fan of the works of Anthony Bourdain, Alex Kotlowitz and Jenn Fang.
Cindy is a proud alumna and supporter of After School Matters, a non-profit organization that offers arts and leadership classes to Chicago high schoolers. She also encourages support for Think!Chinatown, a New York City based non-profit that fundraises for Chinese businesses in Manhattan's Chinatown.