As we head into 2021 with restrictions still in place, it is important to prioritize supporting our local businesses over big box stores. When spring eventually rolls around, and the vaccine is widely distributed thus lifting restrictions, we want to see our favorite restaurants and local shops still in business. How can you help right now? From take-out to curbside shopping, here are a plethora of ways you can lift up local businesses.
Chambers of Commerce
Head over to Central Street Evanston for Late Night Thursdays (Dec. 17) and Small Business Saturdays, featuring mini-light giveaways for local shoppers. Each business will feature the giveaway a bit differently, and select businesses are open until 7pm during Late Night Thursdays. Better yet, shop and then grab take-out from a restaurant before you head home! Learn more here.
Shop unique and shop safe every day this holiday shopping season in Downtown Evanston. Pick up or download a Silver Lining Passbook with holiday offerings from featured businesses, and when you spend a minimum of $100 (or more) at local shops, you'll be eligible for Downtown Evanston's annual holiday mug.
At a time when so many are shopping the big box online stores such as Amazon, the Downtown HP Alliance recognizes that their small boutique business owners cannot compete or pay the fees associated with Amazon or building their own e-commerce sites. With that thought in mind, the Alliance launched a free one-stop-shopping portal where all Downtown HP businesses can have their own e-commerce site. Customers can shop from over 30 merchants, supporting small businesses, and check out with one transaction, allowing merchants to be paid directly through the back end system. Shop here!
Support Highland Park businesses with the purchase of a Community Gift Card. Fully electronic, once purchased online you can access it on your phone (you can also print it). Customers can purchase the gift card as a gift or for self-use, and companies can use it for employee rewards, anniversary gifts, customer appreciation, survey incentives, contests and anything they might have used a gift card for! With a large list of participating businesses, the Highland Park Community Gift Card allows for dollars to stay local and benefit their shops, restaurants, and vibrant community. Purchase cards and see the list of participating businesses here.
The Lakeview Chamber of Commerce is offering three promotions this month. The first — receive a $20 bonus card for every $100 Lakeview Gift Card you buy now through 12/31. Area businesses are also having a Lakeview Holiday Scavenger Hunt though 12/20, which includes a snow-person hiding in their window display (look closely!). Each snow-person will have a secret holiday code, and if you find all code words and submit them online, you will be entered into a raffle to win a $100 Lakeview Gift Card! Lastly, take a look at the Lakeview Holiday Gift Guide online market where you can shop special gift packages from neighborhood small businesses online for pickup or free delivery funded by SSA 27.
Check out the Lake Forest/Lake Bluff Chamber of Commerce's Local Gift Guide on Facebook, where they encourage all to think local first, support local restaurants and donate to the community.
The Northbrook Community Mobile Text program offers discounts from 90+ Northbrook restaurants, stores and service businesses. It also includes a special Takeout Tuesday promotion package for local restaurants. To subscribe, text NBK to 55678 or visit their website. The Chamber is also offering tips for local shopping and dining through the "Nicki the Northbrook Shopping Elf", and special offers from member businesses, on their Facebook page.
Through December 20th, simply spend $40 or more (pre-tax) at any Roscoe Village based business and you'll be entered to win some cool prize packs from their local businesses! Email a copy or picture of receipts to [email protected] The more receipts you submit, the more chances you have of winning! Only 1 entry per receipt, multiple entries allowed. The Chamber is also holding a Holiday Window Display Contest — learn more here.
The Village of Skokie is offering several promotions this season, including "Stay At Home" New Year's Eve Party packages with , New Year's Eve parties with Bar Louie, Bonefish Grill, Lover's Lane, Makisu Sushi. Learn more here.
Fitness
North Center 4207 N. Western Ave | Buffalo Grove 101 McHenry Rd. | Hoffman Estates 2527 West Golf Rd | Niles 7428 Waukegan Rd | Wilmette 3232 Lake Avenue
This holiday season, Big Blue Swim School is asking families to support by purchasing an e-gift card for swim lessons, a gift that will give kids skills to be safer and stronger swimmers for life. For a limited time, families will receive an extra 10% credit with any e-gift card amount purchased! Purchase online here, or give them a call at (847) 729-7665.
Virtual classes with pop-ups throughout the Chicago area
Join MVFitness' on demand membership to gain access to 75+ dance cardio, strength and choreography videos for just $19.99 a month or $150 for the entire year. Sign up through their website.
332 Skokie Valley Road, Highland Park
Studio Spin is a North Shore fitness studio that offers live daily at-home classes and in-studio experiences for spinning, boxing and yoga. Purchase $100 gift card and receive $25 free. Email [email protected] or call 888-CYCLE-55 to purchase.
Food & Drink
Blind Faith Cafe is offering gift cards and holiday dinners with the Main Dempster Mile. Learn more here. If you want to support their staff, a relief fund was established here. View their menu here.
624 Davis Street Evanston
Order your holiday family meals from local favorite Koi Fine Asian Cuisine, and remember to give back through their Donate a Meal program. Koi is matching all donations, too! A relief fund for Koi's staff has also been established. View Koi's menu here.
1167 Wilmette Ave., Wilmette
Pescadero is offering several promotions this month, from a Christmas Eve Meal Package, outdoor COVID-Safe dining igloos and their online Pescadero Fish Market. View their menu here.
Gifts & Retail
The North Shore staple is featuring Santa's reindeer, Christmas tree shopping, lots of outdoor shopping and outdoor check out. For Santa's reindeer, be sure to bring your family before they head back to the North Pole for their big ride. During your visit, join their Reindeer Selfie Contest and get a $10 Chalet Gift Card.
1835 W Montrose Ave.
Take advantage of free shipping at Hazel on orders over $75, which includes complimentary festive gift wrapping on all purchases in store or online. The Lincoln Square Ravenswood Chamber of Commerce is also offering a special gift when customers spend $300 at three or more local businesses and turn in their receipts. Hazel is also giving back, by partnering with Pilgrim Lutheran School, a school and church in their neighborhood, to help give toys and clothes to immigrant families this holiday season.
1885 N Clybourn Ave, Chicago
Save up to 50% off through Jan. 31 at Jayson Home's Winter Sale. Even better, they are giving back to My Block, My Hood, My City.
264 Market Square, Lake Forest
Follow along on Instagram for giveaways from Market Square, as well as special announcements and promotions from their shops and businesses.
---
More from Better:
---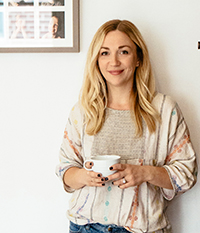 Macaire Douglas lives in the Chicago suburbs with her husband and two sons. She proudly supports Save Abandoned Babies Foundation, a Chicago-based nonprofit organization that works tirelessly to prevent the illegal abandonment of newborns nationwide. Since its inception in 2000, more than 3,600 newborns have been safely surrendered and adopted into loving homes.