Despite the record-breaking cold here in Chicago, we have some feel-good news stories that will warm you right up. From a Veterans Day reunion to a 'seismic shift' for providing food to Chicagoans in need, these stories will brighten your day.
Gretchen Hause, Director of Fine Books and Manuscripts at Hindman Auctions, oversaw the highest grossing auction for her department with the sale of a single collection. Top bids went to first editions of Charles Darwin's On the Origin of Species and a signed first edition of J.K. Rowling's Harry Potter and the Philosopher's Stone.
Hindman's Library of a Midwestern Collector realizes over $1.9 million, becoming the highest grossing auction for the Books and Manuscripts department and breaking a world auction record – Hindman Auctions
The Greater Food Depository is planning to build a 40,000-square-foot new kitchen adjacent to its headquarters on Chicago's Southwest Side, which will have the ability to produce 4 million meals a year.
Grab the tissues before you watch this video of two siblings reunited with their older Marine brother during a Veterans Day concert.
Trent Wisehart, executive vice president of global creative services for Tommy Hilfiger, is opening his beautiful Lake Bluff home for the Lake Bluff History Museum's Christmas Home Tour on Sunday, December 8.
See our feature on previous North Shore Christmas Walks here.
Did you know that L. Frank Baum wrote 'Wizard of Oz' in the Humboldt Park neighborhood of Chicago? There is now a yellow brick road there in his honor.
Bright Pink, a national nonprofit focused on the prevention of breast and ovarian cancer, was founded by Wilmette's Lindsay Avner Kaplan. Learn more about Bright Pink's mission and Kaplan's important work.
This Illinois man – dubbed "Bike Man" – has repaired over 3,000 bikes for individuals in need.
Help raise funds for the Nitkey family during a 'FriendsGiving' Party on November 23, so their three daughters can receive Lyme disease treatment at a German clinic.
An adorable pup who spent three years in a shelter went on a 'Ferris Bueller' style adventure through Chicago, as he searches for his forever home.
Not only did a Chicago police sergeant save a life during the Hot Chocolate 15K, but he also proposed to his girlfriend (she said yes!).
Chicago police sergeant running in Hot Chocolate Run in full SWAT gear saves life, gets engaged – ABC 7 Chicago
---
Do you have feel-good news to share? Email [email protected] to be featured!
---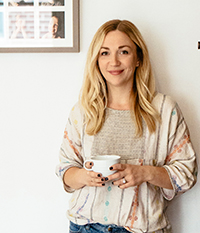 Macaire Douglas lives in the Chicago suburbs with her husband and two sons. She proudly supports the Save Abandoned Babies Foundation, a Chicago-based nonprofit organization that works tirelessly to prevent the illegal abandonment of newborns nationwide.