The Opera Festival of Chicago celebrated a successful second season in July with fully staged productions of Italian opera masterworks Il Corsaro and L'Inganno Felice, along with a special concert honoring the one-hundredth anniversary of the birth of legendary soprano Renata Tebaldi.
The Festival, a 501(c)(3) non-profit, was born during the pandemic to bring rare operatic masterpieces to Chicago opera fans and to entice a new audience with its unique productions and venues. "We're presenting important pieces that haven't been performed locally in decades, or in some cases, ever," said Tim Corpus, the Festival's marketing director. "No other major opera company has performed Verdi's Il Corsaro in Chicago. To our surprise, it attracted fans from New York and as far away as California who traveled to Chicago to see it."
The Festival chose unique venues to showcase its operas as a way to bring the opera experience to different local communities. Il Corsaro was staged at the Cahn Auditorium at Northwestern and L'Inganno Felice at the historic Athenaeum Center on the city's north side. Organizers estimate that about 1,000 event-goers saw one of the five productions at this year's Festival. 
"As the Festival continues to grow, we will try to bring it to new locations and offer new shows Chicagoans haven't heard of or seen before," added Corpus. "Additionally, our performances are creating opportunities for veterans and up-and-coming performers alike to play new roles."
This year's Festival was sponsored by the Istituto Italiano di Cultura and Chicago College of Performing Arts — Roosevelt University, as well as several individuals and family foundations.
If you missed this year's Festival, tune into classical music station WFMT-FM 98.7 on October 15 and 22 at noon to hear a special rebroadcast of the Festival performances of Il Corsaro and L'Inganno Felice.
---
More From Better
---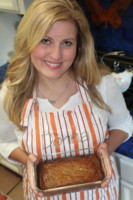 A freelance writer in Marin who writes about family, kids and parenting, Glass is the mother to one son, one dog and a hamster named Miss Geri. When she's not writing, trekking up steep hills in Marin or driving her kid to sports practice, she and her family spend time in their tiny cabin in Lake Tahoe. She avidly supports the California Academy of Sciences, a world class science museum and research institution, and the Institute on Aging which provides much needed services to Bay Area seniors and disabled adults. Glass is obsessed with baking the perfect loaf of banana bread, something she makes so often she no longer needs to look at a recipe card.