Star Wars: Galaxy's Edge, easily the most highly anticipated theme park expansion of all time, is now open at Disneyland, and will open Aug. 29 at Walt Disney World. The 14-acre Star Wars-themed land has long promised to be the most epic, immersive theme park experience ever offered. I attended the media preview and star-studded opening ceremony on Wednesday and am here to tell you they did it.
Set on the remote outer-rim planet of Batuu, and mostly centered around the bustling trading port, Black Spire Outpost, guests will quickly forget they were just waving to Mickey and marveling at Sleeping Beauty's castle, because Galaxy's Edge instantly and fully immerses you. Disney and the storytellers at Lucasfilm have succeeded in creating an experience that will be deeply satisfying not only to hardcore Star Wars fans, but also to those who may have only a casual acquaintance with the franchise. But what does this mean? Crowds, crowds, and more crowds.
It's not entirely clear how the throngs will be managed in the longer term. From now until June 23, reservations are required to enter the land and guests will be given a four-hour window to experience it. Beginning June 24, a virtual queuing system will be implemented. It's difficult to predict how Disney will decide to address this in the future at Disneyland as well as at Walt Disney World when the land opens there, but for now, one thing is clear. The land will be crowded, there is a massive amount to do and see, and you'll want to manage your time wisely.
To help you maximize your time in this galaxy far, far away, here's a cheat sheet with all the highlights.
The Food and Drinks
The creators of Star Wars: Galaxy's Edge took painstaking care to ensure that a visit to Batuu engages all five senses, so of course what you eat and drink while you're there will play an important role. Just as the land itself will feel both familiar to Star Wars fans but also like no place they've ever seen or been before, the food served in Black Spire Outpost seems exotic and other-worldly without being too wacky for the average American palate.
Former smelter droid 8D-J8 puts on the show at this counter-service spot, mechanically turning a podracing engine-turned-spit for roasting meats. Don't worry, you don't really have to eat ronto, a Tatooine pack animal, but if you're so inclined, just go with it and pretend your roasted pork and grilled sausage-filled wrap, served in a pita with peppercorn sauce and tangy slaw, is the real thing.   
What's a bustling Star Wars outpost without the local watering hole? It's intergalactic cocktails all around at this bar where Oga Garra, heard, but rarely seen, runs the show. Sip reference-soaked cocktails like the Fuzzy Tauntaun and the Jedi Mind Trick, poured from taps fashioned from repurposed parts like lightsaber hilts and droid appendages, while you munch on Batuu Bits, the house snack mix.
You'll have to read closely or you won't even notice the Aurebesh-esque lettering above the door out front. Inside, don't miss the blaster marks dotting the walls, making us wonder if Black Spire Outpost is home to its own brand of scum and villainy.
Docking Bay 7 Food and Cargo
If you're looking for a full meal, set your sights on some Tugg's Grub at Docking Bay 7 Food and Cargo. Chef Strono "Cookie" Tuggs has turned a transport shuttle into a mobile kitchen and serves up his specialties in the hanger below.
Here, the food and beverage team has gone to great lengths to serve familiar ingredients in exotic ways. Try the Endorian Tip-Yip, a crispy, rectangular-shaped piece of chicken served with roasted vegetable potato mash and herb gravy; the Smoked Kaadu ribs, sticky pork ribs cut such that they no longer resemble standard ribs, or the Felucian Garden Spread, plant-based "kefta" served with pita, hummus, and tomato-cucumber relish. The most exotic thing about this vegan option just might be that it's theme park food that's equal parts healthy and delicious.
The Milk Stand
It's impossible to watch A New Hope and not wonder what blue milk tastes like. Now's your chance to finally try it. The Milk Stand serves up both Blue and Green Milk (Who could forget Luke's green milk moment in The Last Jedi?). I admit, when I heard this was being served as a frozen drink, I wanted it to be creamier and more milkshake-like. Instead, the plant-based blend of rice and coconut milks flavored with tropical and floral flavors is tangy and refreshing, but not quite what I imagined "real" blue milk to taste like.
Kat Saka's Kettle
You didn't think they'd put you anywhere in Disneyland without access to some popcorn, did you? At Kat Saka's Kettle, try the spicy and sweet combination of red and purple popcorn. I'm betting this one will be a love it or hate it situation. The consensus among our tasters was that it tastes a lot like slightly spicy Fruit Loops.
The Merchandise
Disney has gone to great lengths to avoid breaking the fourth wall with the merchandise within Galaxy's Edge. Every piece of merch in the land, none of which says "Star Wars" anywhere on it, has a story and rationale for being there, and we're ready to give them all our money. Many of the shops are located within or near the Marketplace, a bustling vendor-lined thoroughfare inspired by souks in places like Istanbul and Marrakkesh. Stroll through the middle, taking in all the sights, smells and sounds of Black Spire Outpost.
Zabaka the Toydarian has fashioned artisan wooden toys and soft plushes in the likenesses of iconic figures from across the galaxy. Here, you can also pick up a Dejarik table to play at home or some musical instruments to start your own Modal Nodes-inspired band.
Creature Stall
Who hasn't wished for their very own pet Kowakian monkey lizard? No? Just me? OK then how about a porg? At the Creature Stall, check out proprietor Bina's array of lovable and not so lovable creatures and critters to take home with you.
Droid Depot
What could better complete your immersion into the Star Wars galaxy than building your own personal astromech sidekick? Droid Depot is a fun, playful shop where you can build your own your own BB- or R-series unit for $99.99. Select your parts from a conveyer belt and, for an extra $14, further customize your droid's personality with a personality chip. Then, take him on your adventures and watch him interact with the land. If your wallet's feeling a little heavy, for a cool $25,000, you could be the proud owner of your own full-sized custom droid.
Savi's Workshop – Handbuilt Lightsabers
If you think the Force is strong in you, it might be time to put it to good use with your own personal lightsaber. The lightsaber-building experience is immersive and interactive, part shopping, part show, and requires purchase of a build-your-own lightsaber at $199.99 to enter. You can bring one guest in with you to watch your experience.
Black Spire Outfitters
Now that you've got your lightsaber, you should probably dress the part. Head to Black Spire Outfitters for the clothing of the Jedi, including robes, tunics, and belts. Be sure to check the park's guidelines for costumes though. Many are not permitted to be worn in the parks, so you may have to save them for the next Star Wars Celebration.
Dok-Ondar's Den of Antiquities
Ithorian antiques dealer Dok-Okdar sells collectibles and ancient relics, many of which either belonged to or celebrate the figures who have become the stuff of legend on Batuu. Not interested in building your own lightsaber? Pick up a legacy one that belonged to Rey or Obi-Wan Kenobi. If you're sith admirer, how about a bust of Emperor Palpatine or Darth Maul? You can also buy holocrons and the kyber crystals that power them here.
Resistance Supply
If you support the Resistance, you'll want to show it (but only in the right company, of course). At Resistance Supply you can pick up flight suits and helmets as well as t-shirts, hats, and pins—everything you need to show you're with the good guys.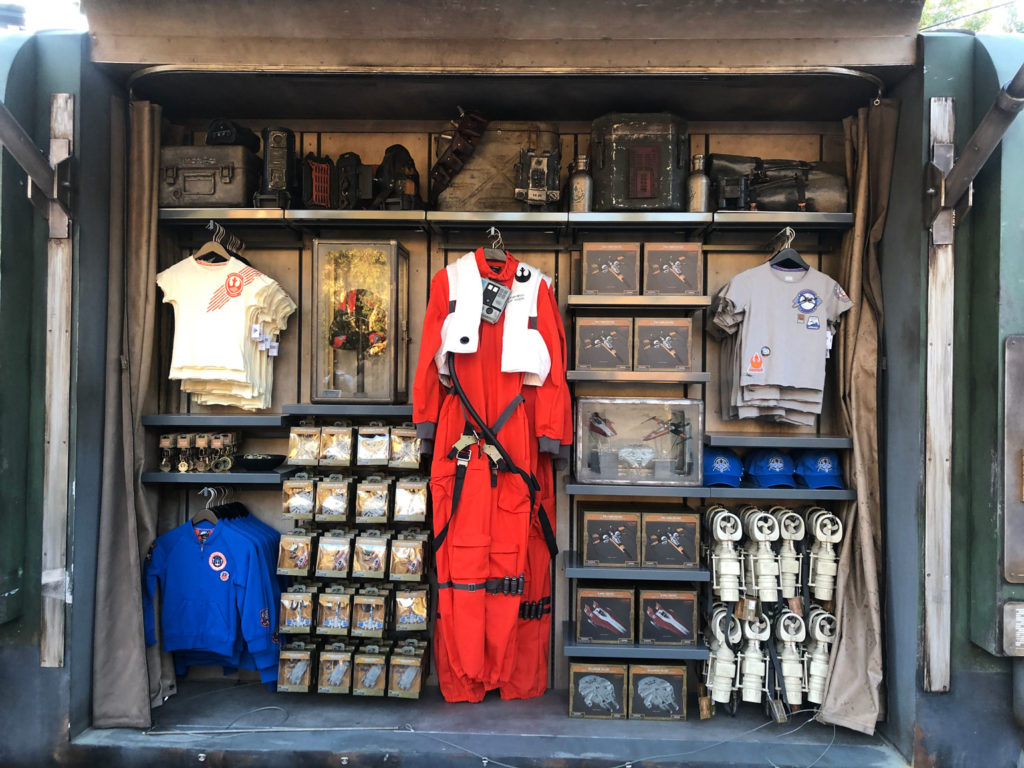 First Order Cargo
If you lean toward the dark side, or you're a Resistance spy and you just want the First Order to think you do, here, you can pick up storm trooper costumes and all manner of First Order propaganda.
The Land
Aside from all of the dining, attraction, and merchandise opportunities, Batuu itself is so rich and immersive that you could spend a full day wandering around, interacting with characters and cast members, and simply marveling at the details.
The Millennium Falcon
Whether you've grown up a diehard Star Wars fan or are just passing through Batuu (not likely for some time until the crowds die down), you can't help but gasp the first time you behold the Millennium Falcon in all her glory. At 100 feet long, she's the first full-size, 100% complete Falcon ever built and is undeniably impressive.
TIE Echelon and First Order Territory
A new type of TIE fighter, the TIE echelon was created for Galaxy's Edge and is the focal point of the east side of the land where the First Order has begun taking hold. Watch out for Kylo Ren and his stormtroopers—they're on the lookout for resistance sympathizers.
Speeders
It's incredible what you'll stumble upon during your visit to Batuu. Stroll through Black Spire Outpost and you'll likely take notice of the intergalactic repair garage housing two types of speeders that seem to float on air.
The Resistance Forest
On the opposite end of the land, as far from the reaches of the First Order as possible, is the Resistance Forest, where the heroes of the Resistance hide out and secretly shore up support. This will also be the home of the land's showpiece attraction, Rise of the Resistance, opening later this year. For now, it's a place to explore and grab some great photo opps with Resistance ships and characters like Rey and Chewie who hang out there.
If you're a Resistance sympathizer or want to join up yourself, find the right cast member and they'll teach you secret passwords, handshakes, and even clues to a top-secret map that will make you a part of it all.
The Droids and Animatronics
You'll find uber-sophisticated droids and life-like animatronics throughout Batuu. Here are a few of the best.
DJ Rex
Once you hit Oga's Cantina, you'll quickly learn that DJ Rex is the life of the party. Formerly Droid RX-24, you may remember him as the original captain on Disney's Star Tours attraction. Now, he's DJ Rex, and he's dropping beats and puns like they're hot, and he's here all night, folks. Be sure to listen up for Rex's voice (courtesy of Paul Reubens, aka Pee-wee Herman) while you're in the queue for Millennium Falcon: Smuggler's Run, too. Rex has managed to find his way to radios throughout Black Spire Outpost and you can hear him on a radio playing in the repair area.
Hondo Ohnaka
So what's the Millennium Falcon doing on Batuu? It's on loan to Weequay pirate captain Hondo Ohnaka after Chewie brought it to Black Spire Outpost for repairs. It's Hondo who will send you on your mission aboard the Millennium Falcon (more on that later). If you want to come back in one piece, be sure you listen closely to his instructions. Look closely too: Hondo is the second most advanced animatronic ever created for Disney Parks (after the Shaman in on the Na'vi River Journey attraction in Pandora at Disney's Animal Kingdom) and his voice comes courtesy of legendary voice actor Jim Cummings, who also voices the character in The Clone Wars and Star Wars Rebels.
Dok-Ondar
The Ithorian antique dealer who oversees his shop in Black Spire Outpost is another elaborate animatronic who can be found holding court over his collection, working at his desk, and keeping his assistants in line.
The Ride: Millennium Falcon: Smugglers Run
We know why you're here. Sure, you want to see the land, but you really want to get yourself into the cockpit of the fastest hunk of junk in the galaxy. First, weave your way through what has to be the most authentically detailed and immersive queue ever created. You'll get the chance to get an impressive view of the top of the Falcon.
Then, you'll join your crew of five others and you'll each be assigned a role: pilot, gunner, or engineer.
You'll get a chance to take it all in inside the most iconic ship in the galaxy as you wait for your time to enter the cockpit and complete your mission (don't miss a photo opp at the Dejarik table!). Take care to do your best—if you let the Falcon get too banged up, you're going to hear about it from more than a few inhabitants of Batuu upon your return.
Star Wars: Galaxy's Edge at Disneyland is now open to the public. Reservations are required to enter the land between May 31 and June 23. Star Wars: Galaxy's Edge opens at Walt Disney World on Aug. 29.
---
Editor in Chief of Make It Better, Brooke Geiger McDonald is a Chicago native who's worked for O, The Oprah Magazine and Shape magazine in NYC and for various book publishers in London. Back home in Chicago, she's outnumbered by her husband and two sons, and the four of them are certifiable Disney and Star Wars fanatics, always counting down the days to their next Disney vacation. Her favorite nonprofits to support include organizations focused on environmental conservation and combatting climate change, such as the Environmental Defense Fund and Shedd Aquarium. Follow her on Instagram: @brookegmcdonald