Just three hours from the city lies the charming town of Saugatuck, Michigan, which as of press time, is not on Chicago's restricted state list. In fact, social distancing measures are taken very seriously by residents—and tourists—alike, meaning you can safely enjoy all the destination has to offer.
The Saugatuck/Douglas region—known as Michigan's Art Coast—has plenty of locally owned restaurants, shopping, galleries and wineries to visit. But the biggest draw just might be the beautiful nature it offers. From sipping a fresh Michigan cider around a roaring fire to hiking the dunes, Saugatuck is an idyllic all-seasons retreat.
Ready to escape? Here are some recommendations:
Explore
Situated on a secluded strip of Lake Michigan shoreline, the Dunes State Park has two and a half miles of shoreline to discover. With dunes over 200 feet tall, that are explored through a hike along beautiful forest trails, it is a breathtaking view like no other. Tip: Bring an extra pair of shoes, as yours will get sandy (and probably wet).
6575 138th Ave., Saugatuck
If you are in for a challenge, start your morning with a climb up the 302 stairs to the top of Mount Baldhead. From the top, you can see the town of Saugatuck and the Kalamazoo River, and down the other side you can access Oval Beach, which was rated one of the best Shorelines by Conde Nast's Traveler.
698 Water Street, Saugatuck
When in season, board the Star of Saugatuck, an authentic sternwheeler paddleboat, for a tour of Lake Kalamazoo and Lake Michigan. One of the highlights is seeing the beautiful homes on the lake from a unique perspective, and learning the history of the region.
716 Water Street, Saugatuck
Eat
Offering breakfast, lunch and dinner, you may find yourself at Pennyroyal a few times during your stay. Their outdoor (and tented) patio stays warm at night, while you dine on their amazing dishes made with local ingredients, including Poutine and Campfire Trout. There is even a market store, so you can grab local groceries to go.
Have a picky group to please? The Mitten Brewing Co., a vintage baseball-themed microbrewery, has solved your dilemma with their pizza flight offering six different types of their gourmet pizzas in one pie. Our favorites? The Heater, with Scoville Farms Everidae Sweet Habanero Sauce, and the Field of Greens, featuring house-made pesto.
Visit
From the tree to the table, Crane Orchards is so much more than a U-Pick farm. They have a corn maze, winery, cidery and pie pantry restaurant, making it a fun destination year-round.
6054 124th Ave, Fennville
While in Fennville, stop by Waypost Brewing for a selection of local, independent beers, inspired by their farm. If you sit on the patio, stocked with plenty of fires to keep you warm, you can also meet their chickens (their mascots, of sorts!).
1630 Blue Star Highway, Fennville
Shop
A bewitching store, much like the name, Endora offers everything from exotic bugs in glass domes to highly coveted art prints.
36 Center St., Douglas
No shopping trip would be complete without a stop at American Spoon for Michigan-made preserves, spoon fruits and butters.
208 Butler St., Saugatuck
Stay
The Saugatuck area has plenty of cottages, hotels and B&B's to stay at, but in these socially-distanced times, you might opt for a motel setting. The Starlite Resort is an updated mid-century modern motel that is family-run, and offers clean and comfortable rooms, all with minimal contact from other guests. And as a bonus, Pennyroyal Cafe & Provisions is a short walk down the road.
If you do head out of town, please remember to practice social distancing measures. Wear a mask, keep 6 feet, and if you feel ill, please stay home.
---
More from Better:
---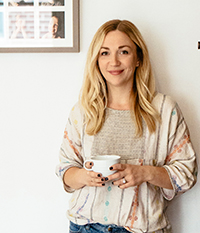 Macaire Douglas lives in the Chicago suburbs with her husband and two sons. She proudly supports Save Abandoned Babies Foundation, a Chicago-based nonprofit organization that works tirelessly to prevent the illegal abandonment of newborns nationwide. Since its inception in 2000, more than 3,600 newborns have been safely surrendered and adopted into loving homes.