We're in for another hot weekend, that is full of socially-distanced events and opportunities to help the community. Here are just a few things you can get out and do, from supporting local stores to enjoying an iconic film from the comforts of your car.
We understand that after months of being cooped up most of us are excited to see the city and businesses begin to open. However, COVID-19 is still present in the community and we urge you to exercise best practices — maintain at least 6 feet of distance, wear a mask and wash your hands properly and frequently — when going out.
Support local by safely shopping the Central Street Evanston Sidewalk Sale, through Saturday, July 11th. With amazing shopping deals and restaurants offering outdoor seating, it's a great time to get out and show our community some love.  Most stores will have a table placed outside, to help with social distancing, and masks are required. See the full list of participating businesses here.
View this post on Instagram
Say goodbye to your couch this weekend and head over to Pilsen for a pop-up drive-in movie theater. Through July 16th, Bucket Listers has partnered with ChiTown Movies to bring an epic series of summer movie nights to enjoy safely. Movies will rotate on a weekly basis at the Pilsen location, and future showtimes include Raiders of the Lost Ark, Ferris Bueller's Day Off and Shrek. Admission starts at $33 — reserve your parking spot here.
View this post on Instagram
One of our favorite summer events, Taste of Chicago, may be cancelled this year, but we can still experience the best food Chicago has to offer. The revamped Taste of Chicago To-Go, running through July 12, allows you to order from 40 of the Chicago restaurants that would have participated this year. You can also join in on exclusive online programming, help provide community meals and support local nonprofits.
Looking to lend a hand this weekend? My Block, My Hood, My City is welcoming volunteers to distribute their safety kits to seniors in Chicago. The Senior PPE Safety kits include masks, hand sanitizer and gloves. If you have the time, register here!
If you haven't gotten your grill on by now, this is a great time to start. In fact, when the weather gets warm, all food prep can move outdoors to the grill which can handily stand in for your oven and stove top. This recipe – yes, a salad – makes use of said grill. Bacon ends (the irregular cut ends of bacon that are essentially pork-candy) are cooked over the fire, and torn chunks of country style bread are toasted on the grates (after a little dip in the bacon fat, of course). Call it a carnivore's salad delight.
---
More from Better:
---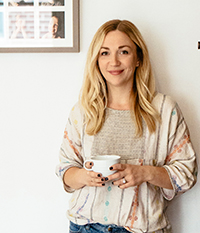 Macaire Douglas lives in the Chicago suburbs with her husband and two sons. She proudly supports Save Abandoned Babies Foundation, a Chicago-based nonprofit organization that works tirelessly to prevent the illegal abandonment of newborns nationwide. Since its inception in 2000, more than 3,600 newborns have been safely surrendered and adopted into loving homes.