Does it feel like you have reached the end of Netflix, Hulu and Amazon Prime Video? Here's what TV shows you should watch next, based on the shows you've already binged and loved.
If you liked: "Tiger King" Netflix
Watch: "McMillions" HBO + Hulu
"Tiger King" was a wild ride, and if you are looking for another "this-is-too-crazy-to-be-real-life story," you need to watch "McMillions." The documentary tells the story of one of the most elaborate cons ever—the rigging of the McDonald's Monopoly game that went on for years without being discovered. The story uncovers some bigger than life characters, heartache, loss and even the mob.
Mythic Quest is must-watch, sitcom comfort-viewing, and @CharlotteNicdao is its breakout star. We talked to her about teaming up with Always Sunny's Rob McElhenney and playing too much Stardew Valley: https://t.co/bZlOtT1Zgh pic.twitter.com/enBYL2fUD7

— Polygon (@Polygon) March 25, 2020
Fans of Rob McElhenney and his acting and writing on "It's Always Sunny…" will be drawn to his new show, "Mythic Quest: Raven's Banquet," where he plays an eccentric head of a popular video game. It's funny, the characters are well developed and engaging, and episode nine is one of my favorite things I've watched this year (and I've watched a lot!).
We don't have to sell you on this one—we all know that any book adaptation Reese touches is gold, and the addition of Kerry Washington makes "Little Fires Everywhere" a must-watch. With equal amounts of mystery and drama as "Big Little Lies," the Hulu series is addictive, and so is the '90s nostalgia.
If you liked: The Fall Netflix
Watch: Killing Eve Hulu + AMC
The women in #KillingEve are all the energy I need for this year. 🔥 pic.twitter.com/FGeaOtgjK2

— Heather Concannon (@hmmconcannon) May 4, 2020
Let me make something clear: If you are not watching "Killing Eve," stop what you are doing and watch the first episode. The writing, the acting, the setting and the villain Villanelle's wardrobe are perfection. "The Fall," which starred Jamie Dornan and Chicago-native Gillian Anderson, followed a similar plot of a police office chasing a murderer, with a deeply woven bond pulling them together. Trust me, you're in for a treat.
Love things that go bump in the night? Running up the stairs in a flurry after you turn off the lights? We bet you'll love "Dark," if you've already watched "The Haunting of Hill House." A German science-fiction thriller, the subtitled series follows a small town trying to uncover the mystery of two missing children, and the supernatural occurrences that plague the residents.
You're the Worst on FX/Hulu is a personal fave! Finding love even when you're a garbage human, and becoming better through it. pic.twitter.com/ERliLy0ZFC

— AVRY 🦋 (@AvryRobinOtt) April 1, 2020
If you thought Fleabag had no filter, meet the cast of "You're the Worst." While it's hard to compare the brilliance of Phoebe Waller-Bridge to another series (fun fact, she is a writer on "Killing Eve" too), "You're the Worst" hits a lot of the elements that "Fleabag" fans will appreciate. Taking place in L.A., the series follows four young friends who yes, are the worst, but there are also dynamics and storylines that let their complicated relationships shine through.
If you miss "Broad City" and the female empowerment it served, "Shrill" will fill this void. Starring "SNL" favorite Aidy Bryant, the series sees a young Portland journalist find her confidence through her self-worth, a bold job choice and her relationships.
Don't do TV wrong https://t.co/TJLJ9RjwEa

— What We Do In The Shadows (@theshadowsfx) April 30, 2020
These two series are dark, comedic gold. If you found yourself flying through—and loving—"Los Espookys," you'll love the supernatural mockumentary "What We Do in the Shadows." Based on the 2014 movie, the series follows a house full of vampires struggling with the 21st century. It's funny, spooky and the highlight of our Wednesday night (catch season three on FX).
If someone had told me that Nora from The Leftovers was in season 2 of The Sinner I would have watched it way sooner.

— Hayley Kurtz (@hayleyscomment_) September 12, 2018
Steppenwolf legends Carrie Coon and Tracy Letts star in season two of "The Sinner," the season we think you'll love if you are a fan of "The Leftovers" series, which also starred Coon. "The Sinner" is a mystery that has so many twists and turns, it will leave you wanting for more. Which is a good thing, because the series has three seasons, each with a new plot and cast of characters.
Money, power and corruption—both of these dramas have it all. While we are waiting for another season of "Succession," dive into "Billions" on Showtime, which is now starting its fifth season. A U.S. Attorney is tangled with a hedge-fund king, and they use their power and influence to outmaneuver each other in the battle over billions.
All of us after our home haircuts next week pic.twitter.com/fOuYje9JEy

— Ben Yahr (@benyahr) March 28, 2020
If you are feeling nostalgic and grew up in the '00s, you'll love the awkwardness of "Pen15." If the characters on "Sex Education" were labeled as socially awkward, "Pen15's" BFFs don't stand a chance. Played by comedians and real-life friends Anna Konkle and Maya Erskine, the show is full of stories and secrets that we can all relate to.
Can't wait for more of "The Crown?" If you have a fondness for the BBC and British history, "Call the Midwife" will fill the void. Showing what life was like outside of Queen Elizabeth's palace in the 1950s, the series draws on the diaries of a midwife working in the East End of London. With nine seasons, you also have more than enough to watch during quarantine.
If you liked: Outlander Netflix + Starz
Watch: The Tudors Hulu
If anyone is wondering if quarantine is making people crazy – I'm binging The Tudors with my mother and she legitimately thinks I have a shot with Henry Cavill when this is all over

— Abigail Brooks (@_abigailbrooks) March 31, 2020
If you fell in love with "Outlander" when it was released on Netflix over the summer, you are probably looking for another great historical romance, full of drama and epic storylines. May we suggest "The Tudors," which follows the early years of Henry VIII's nearly 40-year reign, and the many romantic—and horribly tragic—relationships he had.
After you binge-watch "New Girl" for the third time (shout out to Zooey, who was briefly a student at Northwestern University), you might be jonesing for another romantic comedy. A remake of the famous Hugh Grant movie, helmed by Mindy Kaling, "Four Weddings and a Funeral" on Hulu loosely follows the story we know and includes appearances from the original movie class.
a new season of mindhunter would've been great for this quarantine.

— may (@maysalisxcortez) April 27, 2020
If you loved season one of "True Detective" (we all know it was the best one after all), we recommend watching the equally addictive "Mindhunter." The drama, set in the late 1970s, follows two FBI agents as they establish the Elite Serial Killer Crime Unit. The criminals they follow are real life killers too, including Richard Speck, Son of Sam and the BTK Killer, played by Barrington, IL, native Sonny Valicenti.
If you liked: Good Omens Amazon Prime Video
Watch: The Boys Amazon Prime Video
Not all superheroes and Gods user their powers for good, as shown in "Good Omens" and "The Boys." Both series are funny, have an amazing cast and follow the powerful and their "Save the Earth" storylines, but "The Boys" is a little darker (and violent, too). Give it a try if heroes and mythology are your thing.
Me and the girls when quarantine is over #GoodGirls pic.twitter.com/9qb2Ndzbzx

— MISS. NICHE (@mynichecontent) May 4, 2020
Without revealing any spoilers, there are several parallels between these comedy-drama series, including twisting plot lines and strong female leads. While NBC's "Good Girls" is lighter than "OITNB," it's trio of leads, played by Christina Hendricks, Retta and Mae Whitman, are trying to take care of their families while making ends meet. If you miss "OITNB," we think you'll love watching "Good Girls."
Offbeat, well-cast and unique, "Russian Doll" was one of our favorite series to watch last year. If you haven't dived into HBO's award-winning "Barry" yet, you'll find it equally offbeat and addictive. Barry is a hitman who stumbles into an acting class, and as cliche as it may be to say, he is bit by the acting bug.
---
If you are looking for ways to help the arts and entertainment community right now, here are some organizations that are in need of donations right now:
---
More from Better:
---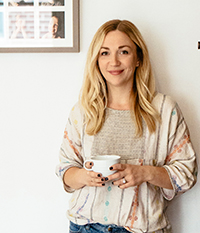 Macaire Douglas lives in the Chicago suburbs with her husband and two sons. She proudly supports Save Abandoned Babies Foundation, a Chicago-based nonprofit organization that works tirelessly to prevent the illegal abandonment of newborns nationwide. Since its inception in 2000, more than 3,600 newborns have been safely surrendered and adopted into loving homes.