Elevate your life, work and play with these stylish and practical items from Chicago and North Shore stores.
Wonder City Studio
Ceramic Bungalow Vase/Planter, $300-350
A landmark of the Chicago landscape, these one-of-a-kind charming bungalow vases or planters are sculpted and painted by hand by Katie Lauffenburger in her Ravenswood Studio.
Chalet Nursery
Zags Mocha Woven Wool Rug, $122
Find this durable, plush and stylish wool chevron rug at one of the North Shore's favorite home and garden stores. It is perfect for the living room, bedroom, or even to keep your toes cozy under your desk.
3132 Lake Ave., Wilmette
Maze Home
Roscoe Basket, $360
In stunning white and navy stripes, this basket with leather handles is perfect for blankets, books or slippers.
735 Elm St., Winnetka
Neighborly
Circle Mirror with Fringe and Chain Swag, $120
Liven up your entryway with this standout piece. The modern circle mirror incorporates a bohemian fringe with a variety of textures to make one memorable piece of wall decor.
1909 W. Division St., Chicago
Citywoods
Tabletop Backgammon, $215
Quite the statement, this heriloom backgammon set in the Hitchcock print is perfect for any cozy nook or library.
651 Central Ave., Highland Park
Talk about luxe warmth — these uber-soft Mohair Throws are crafted in France by a 200-year-old textile manufacturer using the silk-like wool of North African Angora goats. They are uber-soft and plush, but lightweight.
1885 N. Clybourn Ave., Chicago
Lake Forest Book Store
Sister Pie: The Recipes and Stories of a Big-Hearted Bakery in Detroit, $25
This one is a no-brainer: we all know the best smell to waft through your home is that of a freshly baked pie. It screams comfort, and the sister bakers' Marshmallow-Butterscotch Pie will turn any frown upside down.
662 N. Western Ave., Lake Forest
Handcrafted and unique, this 100% cotton throw pillow by Kiliim, sold at Humboldt Park's Humboldt House, is a cozy addition to any couch or chair.
1045 N. California Ave., Chicago
Art Effect
Always Better Together Teapot and Mugs, $40
Not only is this teapot and mug set useful, but it's adorable displayed on the kitchen counter, adorned with our favorite hashtag: #BetterTogether.
934 W Armitage Ave., Chicago
Made in Chicago, Tatine's candles are luxurious, emitting a beautiful soft golden light that radiates peacefulness. We are particularly fond of the Sanctuary scent, with fragrant ginger, coriander and sparkling mimosa.
1503 Chicago Ave., Evanston
Talk about luxe warmth — these wool and cashmere blankets are avaliable in three different colors with a doublefaced finish.
920 Green Bay Rd., Winnetka
---
More from Better:
---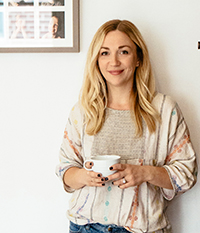 Macaire Douglas lives in the Chicago suburbs with her husband and two sons. She proudly supports Save Abandoned Babies Foundation, a Chicago-based nonprofit organization that works tirelessly to prevent the illegal abandonment of newborns nationwide. Since its inception in 2000, more than 3,600 newborns have been safely surrendered and adopted into loving homes.