As an incentive for one of our Marin Decathlon adventures, we are taking a closer look at the historical and one might say stunning Hill 88 site in the Marin Headlands. Natural beauty aside, the "stun" factor can apply to the array of concrete buildings decorated with impressive graffiti. The Nike site SF-88 was built to deploy the Nike Hercules missiles that had a range of 87 miles. Obviously, they were never used, but remain today as a reminder of the fearful days of the Cold War.
Today, at 1,053 feet above sea level and about a three-mile hike from the Rodeo Beach parking lot, this collection of thought provoking graffiti art is set amidst world class views and is just one of the meaningful destinations we encourage you to explore this summer. Flora and fauna abound on this hike — expect to see yellow Sticky Monkey Flower, Coyote Brush, Indian paintbrush and blue Pennyroyal in bloom. With regards to the fauna, you might see a bobcat, coyote, plenty of bunnies and because of the location near the Golden Gate Bridge you will see nearly twenty different types of raptors including hawks, eagles, falcons and osprey.
---
More from Better:
---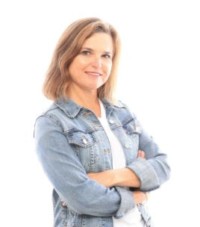 Mimi Towle has been the editor of Marin Magazine for over a decade and is currently the national editorial director of Make it Better Media. She lived with her family in Sycamore Park and Strawberry and thoroughly enjoyed raising two daughters in the mayhem of Marin's youth sports; soccer, swim, volleyball, ballet, hip hop, gymnastics and many many hours spent at Miwok Stables. Her community involvements include volunteering at her daughter's schools, coaching soccer and volleyball (glorified snack mom), being on the board of both Richardson Bay Audubon Center and then The EACH Foundation. Currently residing on a floating home in Sausalito, she enjoys all water activity, including learning how to steer a 6-person canoe for the Tamalpais Outrigger Canoe Club. Born and raised in Hawaii, her fondness for the islands has on occasion made its way into the pages of the magazine. If you want more, she's created a website, HawaiiIslander.com.