As the orange glow of sunset lights up the ribbon of Yellowstone Falls, I join a handful of other photographers trying to capture the fiery plume, listening to the commentary. "So nice not to have people bumping your tripod like they do in the summer," says one curmudgeonly local, turning to me. "You came at the right time."
My daughter and I are staying at Canyon Lodge, its bullseye location in Canyon Village making it easy to venture in all directions, from an appointment with Old Faithful and visits to all the watercolor-tinted springs and mudpots, to hiking the Grand Canyon of the Yellowstone and seeking out pronghorn, elk and foxes (but sadly, no wolves) in the Lamar Valley. When a clerk at the Canyon Store told us there was a grizzly dining on a bull elk down the road, we were there in minutes to grab a prime spot. We also made it to Mammoth Hot Springs for sunrise, marveling over the otherworldly geothermal features before grabbing breakfast at the recently renovated Mammoth Hot Springs Hotel, where the outdoor deck of the Mammoth Terrace Grill overlooks the glittering travertine-layered slopes.
Yellowstone isn't the only national park that's even better in the off season; many of the most popular national parks show off their secret glories in winter, spring and fall. Our road trip zigzagged among among seven of them, treating us to glacier-iced peaks, red rock towers, cactus-studded deserts and thundering river canyons.
Next up was Grand Teton National Park, which we approached with a checklist of must-see sights and hikes culled from an outdoorsy friend's Instagram feed. Immediately we realized that our biggest challenge was going to be avoiding the temptation to stop at absolutely every viewpoint; from the Willow Flats Overlook to Colter Bay to Glacier View, each showcased the glittering spires from a new angle.
We were particularly thankful for the pro tip to save Jenny Lake, one of the park's most popular attractions, for the end of the day, taking the last ferry across to the western side. Passing everyone else as they headed back to the dock, we hiked the one-mile trail to Hidden Lake and Inspiration Point, then continued back around the lake on foot. The reward? The chance to arrive at aptly named Moose Pond just in time to catch a moose family enjoying dinner, baby tucked safely in the reeds.
From here we headed southeast to Colorado to visit Rocky Mountain National Park. While our visit was timed to see the aspens gild the slopes with gold, the Rockies have something to offer at any time of year, and we vowed to return to see the meadows quilted with colorful wildflowers.
Great Sand Dunes National Park & Preserve originally made our itinerary out of nostalgia — I had visited as a child, and never forgotten the thrill of sliding down the almost vertical slopes on pieces of cardboard. Today my story seems quaint, and visitors stream up the dunes towing rented sand boards and sleds layered in protective gear (only, in most cases, to give up after one or two breathless attempts and leave it to the professionals.) But after making it to the top of High Dune, only to see rows of pyramid-shaped dunes stretching to the base of the Sangre de Cristo mountains, I realized it was the grandeur of the landscape that had really drawn me back.
Colorado had one more stunning landscape to show us, Black Canyon of the Gunnison National Park, which started our trip as the dark horse, so to speak, and finished as one of the highlights. Criminally under-visited due to its remote location in the San Juan Mountains, Black Canyon of the Gunnison National Park offers two scenic drives — one on each side of the canyon — which slices so deeply into the Colorado Plateau that its best known feature, the 2,250-foot Painted Wall, is only slightly shorter than Yosemite's El Capitan. And the name? It comes from the fact that the gorge is so deep, much of it sees the sun for just half an hour a day.
Between Great Sand Dunes National Park and the Black Canyon of the Gunnison, the trendy ski and mountain biking mecca of Crested Butte welcomed us warmly with its plethora of retro-modern boutique hotels and groovy eateries lining central Elk Avenue. Eating our way around town, we opted for on-the-go breakfast at Rumors Coffee and Tea House, pizza at the Secret Stash, and pan-Asian bowls and herb-inflected cocktails at Montanya. Late nights found us joining the chatty crowd outside the Public House for live jam-grass and folk.
Headed westward through Utah, an equally eerie landscape awaited us in Bryce Canyon National Park, known for wind- and water-carved rock spires known as hoodoos that fairly glow in hues of rose, pumpkin and mustard in the sunrise and sunset light. Hiking the fairyland loop down into the largest canyon, known as the amphitheater, we commented that we felt like we were in Narnia, the rock spires rising around us like statues turned to stone.
Like Yellowstone, Zion National Park is a longtime favorite, but also a national park I wouldn't visit in any but the quietest season thanks to its 4 million visitors a year. This year, of course, was different, and we even managed to do the hair-raising Angels Landing hike without fear of being elbowed off the razor-thin trail.
Ready to cozy up in plush surroundings after a couple of long, cold days in the outdoors, we chose the Advenire Hotel, the newest and most luxurious offering in St. George, Utah just west of the park. Loaded with recommendations from the hotel's friendly staff, we headed west with a map marked with more slot canyon hikes and red rock photo stops (Snow Canyon, Valley of Fire) than we would possibly have time for — and started planning our next trip as we drove.
---
More from Better:
---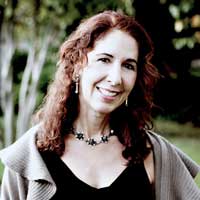 Melanie Haiken is a writer, editor and web project manager based in the San Francisco Bay Area. She operates on two simple assumptions: Everyone has a story to tell. And a story well-told will always find an audience. Her work is characterized by exceptional clarity, depth and insight – no matter the topic covered. Haiken writes for AFAR, Forbes, Via, Yoga Journal and many other national magazines and websites. She has also created award-winning marketing and custom publishing materials and communications campaigns for clients like Adobe, Wells Fargo, Lane Bryant, Kaiser Permanente and Safeway.