Every October we think pink for Breast Cancer Awareness Month, an annual campaign that reminds us to honor survivors and those we've lost, and pushes us to help fund breast cancer education and research.
One in eight women will be diagnosed with breast cancer in their lifetime, making it the most common cancer diagnosed in women across the United States. About 1 in 800 men will be affected as well, which means breast cancer can touch anyone and their loved ones.
One way you can help fund research and help people affected by breast cancer — shop for good. During October, brands team up with nonprofits like Susan G. Komen, the Women's Cancer Research Fund and more.
Your support can make a difference. This October, buy pink, and continue to aid the fight against breast cancer.
Luxe and buttery soft, Third Love's washable silk pajama set is effortlessly cool. They have teamed up with kiT Undergarments to donate 15% of this blush essentials purchase to the Women's Cancer Research Fund.
Brand new this fall, Yeti's Sandstone Collection is inspired by pastel canyons a million years in the making.⁠⁠ Yeti is donating up to $50,000 each to Boarding for Breast Cancer and Casting For Recovery through Sandstone Drinkware proceeds.
Promoting empowerment of young people through breast-health education and support, this blush-hued sock set by Conscious Step is a purchase you can feel great about.
With over 18 different products to shop from, including zip hoodies and leggings, Peloton's Breast Cancer Awareness collection gives you ample opportunities to give back. Peloton will donate 20% of the purchase price, up to $30,000, from this collection to the Breast Cancer Research Foundation.
#KnowThyBoobs with Colleen Rothschild's Self-Exam Butter. It makes self-checks a breeze, using botanical extracts and exotic oils to give you the "ideal slip" to detect any lumps or bumps under the skin. All proceeds go directly to The Pink Fund.
An Instagram favorite, Lingua Franca's latest sweater in support for Breast Cancer awareness is a perfect way to show your support. Twenty percent of proceeds go to the Breast Cancer Research Foundation.
View this post on Instagram
If you were thinking of purchasing an Echelon bike, now is the time. The Echelon GT+ Connect Bike in the Susan G. Komen Edition incorporates the historic color of Breast Cancer awareness, and gives back with your purchase.
A bestseller, Bumble & Bumble's Invisible Oil Heat and UV Protective Primer has a "think pink" limited edition make-over this month. For each product sold, Bumble and Bumble will donate 20% to the Breast Cancer Research Foundation.
Workout wear in a stunning shade: purchase any of Carbon38's sets in any shade of pink this month and they will donate $10 to the Breast Cancer Research Foundation.
Spoil yourself, or a loved one, with Journelle's Demi Bra in a beautiful pink botanic lace and sheer mesh. Fifteen percent of all proceeds benefit Susan G. Komen.
The perfect cup for a day on the go, Stojo's Peony cups and bottles benefit Living Beyond Breast Cancer this month.
Elevate your Apple Watch® with this silicone-wrapped bracelet band in bubblegum pink and stainless, made exclusively for Susan G. Komen. This month, Michele will donate 100% to Susan G. Komen.
You've seen it on TikTok, and there's no better time to give it a try. This Spin N Curl will expertly curl your hair, while helping donate $50,000 to Susan G. Komen this month.
Cozy, soft and made from 100% recycled fibers, Splendid's Lovestruck Hoodie is part of their National Breast Cancer Foundation Capsule. With every purchase, Splendid will donate a mammogram to the National Breast Cancer Foundation to help women in need receive a potentially life-saving screening.
Help the planet and give back to Susan G. Komen this month by cleaning out your closet. For each Komen Clean Out Kit ordered and returned to thredUp, they will donate $5.
Want more? Here are a few more items that give back that we love:
If you buy something through our links, Make It Better Media Group may earn an affiliate commission.
---
More from Better:
---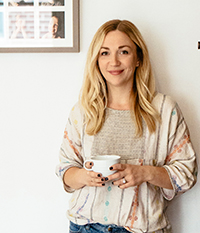 Macaire Douglas lives in the Chicago suburbs with her husband and two sons. She proudly supports Save Abandoned Babies Foundation, a Chicago-based nonprofit organization that works tirelessly to prevent the illegal abandonment of newborns nationwide. Since its inception in 2000, more than 3,600 newborns have been safely surrendered and adopted into loving homes.