It is day who's counting and we're in a funk. Sure, "Tiger King" was a wild ride to binge-watch while we shelter-in-place, but it got pretty dark. "Ozark," and our crush Jason Bateman, are back but the grey overtones—and all of the murder—don't lift spirits. And during this dire time, we need to grasp happiness wherever we can, and in doing so, it may improve our mental health, too. "Find something to laugh or smile about every day," therapists at The Family Institute at Northwestern University recommend, as a realistic way to improve mental health.
So, to lighten the mood, we searched for the most uplifting and feel-good movies and shows to stream right now. Most of our picks serve up some serious nostalgia too, so it will bring back memories of a coronavirus-free time.
Picture it, #Quarantine day 57: you're fed up with your roommate's stupid craft projects cluttering up the apartment #GoldenGirls pic.twitter.com/RqFluYnaCj

— Golden COVID-19 Girls 😷 (@Covid19Girls) March 30, 2020
There is no better squad than the Golden Girls squad, and a revisit to this series can take a surprising turn when you realize how many of their themes can be applied to our current life.
@netflix needs to do a @QueerEye: Quarantine Edition where the Fab 5 help me get my life together via Zoom meetings.

— Kelly Oribine (@kellyoribine) March 30, 2020
If you are looking for a hefty dose of positivity and motivation, the Fab Five are here to deliver. You'll laugh, you'll cry and you'll want to redecorate your entire house and wardrobe.
binge watching the goldbergs is the only thing getting me through life now

— sondra beaver (@beavssss) March 14, 2020
If you love the '80s (and who doesn't?!), you'll love "The Goldbergs." Heavy on the nostalgia, the comedy will bring back memories of simpler times.
A little #ParksAndRec pick-me-up… ❤️

Boys' Club S1E4
Ron and Tammy S2E8
The Fight S3E13
Andy and April's Fancy Party S3E9
Pawnee Rangers S4E4
The Comeback Kid S4E11
Leslie and Ben S5E14
Leslie and Ron S7E4

— Parks and Recreation (@parksandrecnbc) March 25, 2020
Has there ever been a TV character more optimistic than Leslie Knope? We could all use a little bit of her positivity, and with seven seasons, you have more than enough episodes to get you through quarantine. And it doesn't end there—the Parks & Rec team are reuniting on April 30 for a special episode to raise money for Feeding America's COVID-19 Response Fund.
Leslie Knope wants to let you in on a secret… On April 30, #ParksAndRec is returning to NBC for "A Parks and Recreation Special". Our workplace proximity associates, along with our neighbors at @StateFarm, are raising money for @FeedingAmerica. Join us! https://t.co/YuyWBTYmrH pic.twitter.com/ZId6Lq3rkJ

— Parks and Recreation (@parksandrecnbc) April 23, 2020
Quarantine day 8: watching Mrs Doubtfire. I knew this day would come.

— Annie Bock (@anniehiner) March 22, 2020
Rewatching childhood classics as an adult is wild. Is the premise really that a father disguises himself to "stalk" his family? Opinions aside, anything with Robin Williams is at the top of our list.
Quarantine Mood Board using only screen caps from Superstore pic.twitter.com/xQXp4dgPUA

— Kristina 💫 (@Purpl_Unicorns) March 25, 2020
Employees like the ones in "Superstore" are our daily frontline heroes during this pandemic, giving us a new outlook on this comedy about a superstore (think Walmart vibes). If you haven't watched this one yet, now's the perfect time.
"WALL-E"
Streaming on Disney+
What day of quarantine are we on now? This must be what WALL-E felt like🤣 pic.twitter.com/9gtXVdu7xc

— Simpleman's Comics (@simplemancomics) April 1, 2020
Among the many reason we love "Wall-E," the themes of human consumption, love and optimism really hit home right now. Trust us, this movie isn't just for kids.
Are we all going to feel like Kimmy Schmidt when she left the bunker? pic.twitter.com/EaTGidFnPO

— Abby Schukei (@ARTschukei) April 13, 2020
In the show's first episode, Kimmy escapes from a bunker. Sweet and naive Kimmy—we never knew how much we could relate to you here.
Okay yes Groundhog Day is my favorite movie but that doesn't mean I want to live it

— Whitney Cummings (@WhitneyCummings) March 30, 2020
I'm betting we don't need to sell you on this one—we're basically living our own version of the Bill Murray classic as we safely shelter-in-place.
People of Twitter, I implore you —if you (somehow) have not watched @SchittsCreek yet, it should be atop your quarantine binge list pic.twitter.com/N6MW0mx81t

— Jessica Taylor (@JessicaTaylor) April 1, 2020
This heartwarming and hilarious show just wrapped up their series (sob!), so if you haven't watched yet, stop what you are doing and stream away.
For everyone in quarantine and having sports withdrawal. Just flip on Hulu and watch The Wonder Years 😂 Better days are ahead. You're welcome

— Kyle Mansour (@Kyle_Mansour) March 14, 2020
Ah, young love. This is a coming-of-age show that anyone can appreciate, and it might be one of the best "comfort TV" series to binge-watch right now.
Diana Trout, the queen of social distancing 👑#AloneTogether #YoungerTV pic.twitter.com/u9LhdaVrED

— Younger (@YoungerTV) March 24, 2020
Full of love triangles, and a plot with more holes in it than we care to dissect, "Younger" is an easy and fun show to stream when you need to take your mind off things.
"Why do you wear a mask?"

"They're terribly comfortable. I think that everyone will be wearing them in the future."

THE PRINCESS BRIDE never stops giving.#TIFFatHome

— Cameron Bailey (@cameron_tiff) March 27, 2020
Fighting, love, mystery and comedy—is there a movie more perfect than "The Princess Bride?" The answer is obviously "Inconceiveable!"
I don't think I'll be watching Tiger King when there are four perfect episodes of SALT FAT ACID HEAT to keep rewatching

— ˢᵗᵉᵖʰᵉⁿ ᵏʳᵒᵖᵃ (@KropaCabana) March 26, 2020
If you have channeled your nervous energy into cooking during the pandemic, you'll appreciate Samin Nosrat's lessons on what elements it takes to create the best dishes. Her bubbly nature will also put you in an instant good mood.
I can just see it—Carrie, quarantined in her tiny NYC apartment, wearing designer sweats and typing away on her MacBook about how the pandemic has ruined her social and love life, but how she still loves her city.
Life right now. 🙁 #GBBO pic.twitter.com/SzvA80iOje

— British Bake Off (@BritishBakeOff) March 31, 2020
If you know, you know. This baking competition is endless entertainment that the entire family will get a kick out of.
"New Girl"
Streaming on Netflix
too relevant… as I re-watch #newgirl for the 3rd time pic.twitter.com/kCUocWfmNO

— Traci Carson (@Traci_Carson_) March 29, 2020
Am I ashamed to admit that I binge-watched three seasons in a weekend? Not at all. Watch the pilot episode and tell me that this show is not the perfect mood booster (I dare you!).
Always Be My Maybe is a salve; a tonic for the weary soul.

— Jeremy Bowers (@jeremybowers) April 1, 2020
If you are looking for a romantic comedy to ease your mind, this movie is it. Starring comedians Ali Wong and Randall Park, there's love, nostalgia, food and Keanu Reeves, too.
---
If you are looking for ways to help the arts and entertainment community right now, here are some organizations that are in need of donations right now:
---
More from Better:
---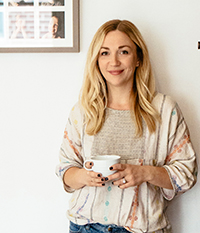 Macaire Douglas lives in the Chicago suburbs with her husband and two sons. She proudly supports Save Abandoned Babies Foundation, a Chicago-based nonprofit organization that works tirelessly to prevent the illegal abandonment of newborns nationwide. Since its inception in 2000, more than 3,600 newborns have been safely surrendered and adopted into loving homes.