Reading brought solace to many during the pandemic, offering both comfort and distraction during the long days of shelter-in-place isolation. Book sales increased and psychologists have recommended reading for mental health in the Covid era. Now, as we enter those dog days of summer, it's a perfect time to spread a towel on the beach and open that crisp first page of a new novel, nestle into a hammock by the lake with a much-anticipated memoir, or dive into a hot-off-the-press thriller during a cross-country plane ride to (finally) visit family.
Here we point you to some of the nation's most talented writers and their latest literary offerings. These authors — some publishing their debut work, others well-known on bestseller lists — are writers whose books offer the reader the things we crave in times of hardship, whether it be a sense of adventure, insight into social and cultural groups, personal inspiration, humor, suspense or that summer staple: romance. Most of these authors were unable to embark on traditional book tours due to Covid restrictions and have stayed engaged with their readership through virtual events. In many cases, these writers have also turned their time and energy toward supporting nonprofits and those most in need.
Chicago-based writer Michael Zapata's The Lost Book of Andana Moreau is the mesmerizing story of a Latin American science fiction writer and the lives her lost manuscript unites decades later in post-Katrina New Orleans.
Although his novel was released just before the pandemic, according to Zapata, the generous support of libraries, bookstores, literary organizations, other writers, and readers, have allowed him to participate in virtual events steadily over the past year. "Amidst the struggles of a pandemic and the beautiful chaos of working at home with two toddlers, these events and conversations about books have been a type of grace."
As a public-school educator, Zapata taught literature and writing in high schools servicing drop out students. He is involved with Stories Matters Foundation, a nonprofit that seeks to create and connect writers and storytellers to Chicago communities.
The Lost Book of Adana Moreau won the 2020 Chicago Review of Books Award for Fiction, finalist for the 2020 Heartland Booksellers Award in Fiction, and a Best Book of the Year for NPR, the A.V. Club, Los Angeles Public Library, and BookPage, among others.
Zapata is a founding editor of MAKE Literary Magazine and recipient of an Illinois Arts Council Award for Fiction and the City of Chicago DCASE Individual Artist Program Award. He is on the core faculty of StoryStudio Chicago and the MFA faculty of Northwestern University.
Mazie Hirono, the first Asian-American woman and the only immigrant serving in the U.S. Senate, published her memoir in April. Heart of Fire: An Immigrant Daughter's Story, is the story of how a girl born in rural Japan went on to become a U.S. Democratic leader.
Raised on her family's rice farm in Japan, Hirono was 7 years old when her mother left her abusive alcoholic husband and sailed with her two elder children to the United States, crossing the Pacific in steerage in search of a better life.
When asked by Daily Show host Trevor Noah about who inspired her to be the trailblazer she is, Hirono responded, "My mother is my main inspiration. She was courageous and changed my life by bringing me to this country. I have her to look to for so much of what I do. That is why this book is dedicated to my mother."
For those who hung on every word of New York Times bestselling author Julie Lythcott-Haims How to Raise an Adult, she is back with Your Turn: How to Be an Adult, a frank guide to being a grown-up.
In Your Turn, Lythcott-Haims offers compassion, personal experience, and practical strategies for living a more authentic adulthood, as well as inspiration through interviews featuring voices from the rich diversity of the human population who have successfully launched their adult lives.
"Like many people I found myself struggling during the pandemic, yet simultaneously I was under a tight deadline to complete this book which included advice on how humans withstand and learn from struggle," says the San Francisco Bay Area author. "Being on deadline to finish the book therefore became an opportunity to live the advice I was preaching, and to grow stronger by heeding my own advice."
For example, last Spring Lythcott-Haims heeded her own advice about how vital it is to connect with humans and offered virtual office hours to strangers who "like me were a little lost and bewildered in the lockdown."
Her motto became "The pandemic tells us what we CAN'T do; let's focus on what we CAN do" — a reframe, and a further example of putting advice from the book into action.
Lythcott-Haims is a former corporate lawyer and Stanford dean, and she holds a BA from Stanford, a JD from Harvard, and an MFA in Writing from California College of the Arts.
She works with several nonprofits, including Foundation for a College Education, YIMBY Action and the Black Women's Health Imperative
In American Summer: Love and Death in Chicago, writer Alex Kotlowitz set out to chronicle one summer in violence-laden Chicago. Over the past 20 years, 14,033 people have been killed and another roughly 60,000 wounded by gunfire in the city, and Kotlowitz's book, winner of the Lukas Book Prize, follows individuals who have emerged from gun violence — the stories that "capture the capacity—and the breaking point—of the human heart and soul."
A professor at Medill School of Journalism at Northwestern, Kotlowitz has published three other books, including the national bestseller There Are No Children Here, which the New York Public Library selected as one of the 150 most important books of the 20th century.
During the pandemic Kotlowitz continued to teach classes at Northwestern and conduct interviews by Zoom.
"Virtual interviews are a poor substitute (really, no substitute at all) for in-person interviewing, for just hanging out with people which is what I so love about my craft," says Kotlowitz.
He also remained involved with two nonprofits that he describes as "close to my heart." The first is the Young Center for Immigrant Children's Rights, founded by his wife, lawyer Maria Woltjen. The second is READI Chicago, an organization aiming to decrease gun violence by creating opportunities and support for individuals to change their life trajectory.
Historian and writer Catherine Grace Katz's debut book, Daughters of Yalta: the Churchills, Roosevelts and Harrimans is the true story of the fascinating and fateful "daughter diplomacy" of Anna Roosevelt, Sarah Churchill, and Kathleen Harriman, three glamorous young women who accompanied their famous fathers to the Yalta Conference with Stalin in the waning days of World War II.
Kathleen Harriman, daughter of U.S. ambassador to the Soviet Union Averell Harriman, was a war correspondent and champion skier. Sarah Churchill, an actress-turned-RAF officer, was devoted to her brilliant father, who depended on her astute political mind. Roosevelt's only daughter, Anna, chosen instead of her mother, Eleanor, to accompany the president to Yalta, arrived there as keeper of her father's most damaging secrets.
Katz, who grew up in Winnetka, did not plan to write a book at this time — she is pursuing her JD at Harvard Law School — but happenstance gave her access to Sarah Churchill's papers and the rest was "history."
Despite the limitations of publishing during a pandemic, Katz has found a silver lining in the hundreds of virtual events she has participated in over the past year: "I have had a chance to connect with people from across the globe who I would never have had the opportunity to meet in person."
Katz is back in law classes but already thinking about her next book, while Daughters of Yalta was recently optioned by Sony Films. She and her family have a personal connection to The Red Cross and she continues to support the organization in the name of a dear friend.
Joy Harjo, an internationally renowned performer and writer of the Muscogee (Creek) Nation, is serving her second term as the 23rd Poet Laureate of the United States.
She is the author of nine books of poetry, including the highly acclaimed An American Sunrise, several plays and children's books, and two memoirs, Crazy Brave and Poet Warrior, an inumerable honors, amongst them the Ruth Lily Prize for Lifetime Achievement from the Poetry Foundation.
She is exec­u­tive edi­tor of the recently released Living Nations, Living Words: An Anthology of First Peoples Poetry, the companion anthology to her signature Poet Laureate project that celebrates the breadth of Native poets writing today.
Robert Jones Jr.'s debut novel The Prophets, was released on Jan. 5 and became an instant New York Times Best Seller, his writing drawing comparisons to the powerful and poetic prose of Toni Morrison.
The Prophets is the story of the forbidden union between two enslaved young men on a Deep South plantation, the refuge they find in each other, and a betrayal that threatens their existence.
"Here we have this horrible desecration, this terrible brutality and these people who are suffering under it, who need something outside of that to define them. They should not be defined by the horrors perpetrated against them," says Jones, describing the inspiration for his plot.
Jones was born and raised in New York City, receiving his B.F.A. in creative writing and M.F.A. in fiction from Brooklyn College. He has written for numerous publications, including The New York Times, Essence and The Paris Review and was recently featured in T Magazine's cover story, "Black Male Writers of Our Time."
Jones is the creator of the social justice media organization Son of Baldwin.
Lawyer-turned-writer Kristin Hannah, garnered a devoted following for her two previous bestsellers, Firefly Lane and The Nightingale. Hannah has now published The Four Winds, a rich, sweeping novel that brings to life The Great Depression and the people who lived through it — the harsh realities that divided us as a nation and the enduring battles between the haves and the have-nots.
The Four Winds was described by The New York Times as "eerily prescient in 2021 . . . Its message is galvanizing and hopeful: we are a nation of scrappy survivors."
Hannah's impetus for writing the book? "I found myself fascinated by The Greatest Generation for a long time, the hardship they had endured. I wanted to understand the world they had come from."
In 2009, Firefly Lane became a runaway bestseller, and in 2015, The Nightingale was voted a best book of the year by Amazon, Buzzfeed, iTunes, Library Journal, Paste, The Wall Street Journal and The Week. Today Hannah lives in the Pacific Northwest with her husband.
Valarie Kaur's book, See No Stranger: A Memoir and Manifesto of Revolutionary Love, was released in 2020 and expands on Kaur's popular TED Talk about reclaiming love as the antidote to nationalism, polarization and hate.
Kaur was born in Clovis, a small town near Fresno in California's Central Valley where her family settled as Indian Punjabi farmers a century ago. She was raised as a Sikh whose faith inspires a commitment to social justice and became an activist when family friend Balbir Singh Sodhi was murdered in a hate crime in the immediate aftermath of 9/11.
As a college student, she crossed America to chronicle hate crimes against Sikh and Muslim Americans and the journey led to the award-winning film Divided We Fall (2008).
Kaur is a renowned civil rights leader and celebrated voice who is, according to the Center for American progress, "at the forefront of progressive change."
Kaur leads the Revolutionary Love Project and over the last 20 years, as a lawyer, innovator, and award-winning filmmaker, she has created policy change on multiple fronts — hate crimes, racial profiling, immigration detention, solitary confinement, Internet freedom, and more.
She founded Groundswell Movement, Faithful Internet, and the Yale Visual Law Project to inspire and equip new generations of advocates.
Gabriela Garcia's Of Women and Salt takes readers from 19th-century cigar factories to present-day detention centers, from Cuba to Mexico.
The author's debut novel is described as a portrait of betrayals — personal and political, self-inflicted and those done by others — that have shaped the lives of extraordinary women. "Gabriela Garcia captures the lives of Cuban women in a world to which they refuse to surrender and she does so with precision and generosity and beauty," says Roxanne Gay, bestselling author of Hunger and Bad Feminist.
Of Women and Salt was selected as the Most Anticipated Book by Bustle, Buzzfeed, E! News, Entertainment Weekly, Good Morning America, Goodreads, Harper's Bazaar, New York Times, O Magazine, Lit Hub, Refinery 29, Vogue India, Reader's Digest, Pop Sugar, Time Magazine and elsewhere, and the Indie Next Great Read for April.
The daughter of immigrants from Cuba and Mexico, Garcia was raised in Miami and lives in the Bay Area.
Chicago-based Veronica Roth is the New York Times bestselling author of the Divergent series (made into three films) and the most recently published Chosen Ones, which is her first novel written for an adult audience.
In Chosen Ones five 20-something heroes famous for saving the world when they were teenagers must face even greater demons — and reconsider what it means to be a hero. On the eve of the Ten Year Celebration of Peace, a new trauma hits the Chosen: the death of one of their own. And when they gather for the funeral at the enshrined site of their triumph, they discover to their horror that the Dark One's reign never really ended.
Veronica Roth went to school in Barrington and graduated from Northwestern University. She resides in Chicago which she describes as the city that "interests and engages" her as she writes.
The Washington Post's Ron Charles described Sanjena Sathian's debut novel Gold Diggers as "a work of 24-karat genius."
This magical realist coming-of-age story skewers the model minority myth to tell a hilarious and moving story about immigrant identity, community, and the underside of ambition.
A floundering second-generation teenager growing up in the Bush-era Atlanta suburbs, protagonist Neil Narayan is funny and smart but struggles to bear the weight of expectations of his family and their Asian American enclave.
Sathian, a former journalist, researched and conducted interviews, including with her own family members, to understand the nuances of her community's collective experience.
"The characters in my novel are dealing with the idea that there is one definition of success when you're an immigrant; you have to hustle and do well in school and get into Harvard and and get a high paying job and that's it. I think my own experience as an author has disproved that there is only one way to be an American," says Sathian.
Comedian, actress and producer Mindy Kaling will adapt Gold Diggers for television.
A Paul and Daisy Soros fellow and graduate of the Iowa Writers' Workshop, Sathian has worked as a reporter in Mumbai and San Francisco, with nonfiction bylines for The New Yorker, The New York Times, Food & Wine, The Boston Globe, The San Francisco Chronicle, and more.
At 85 years old, Alejandro "Sandy" Stern, a brilliant defense lawyer with his health failing but spirit intact, is on the brink of retirement. But when his old friend Dr. Kiril Pafko, a former Nobel Prize winner in Medicine, is faced with charges of insider trading, fraud, and murder, his entire life's work is put in jeopardy, and Stern decides to take on one last trial...such is the premise for author Scott Turow's most recent legal thriller, The Last Trial, published in May 2020.
The Last Trial, like Turow's larger body of work, explores the moral challenges and complex nuances of human behavior in the context of the judicial system, while offering concentrated moments of suspense.
Turow comes by his understanding of our legal system honestly; from 1978 to 1986 he was an Assistant United States Attorney in Chicago, serving as lead prosecutor in several high-visibility federal trials investigating corruption in the Illinois judiciary.
Today, he is a partner in the office of Sonnenschein, Nath & Rosenthal where his practice centers on white-collar criminal litigation. 
He also had devoted his time to the Authors Guild, including serving as president of the organization.
Turow has long been active with a number of charitable causes, including organizations that promote literacy, education and legal rights and in 2016 he joined the board of The Poetry Foundation.
In 2016 Chicago-based author, podcast host, and speaker Luvvie Ajayi Jones' debut book I'm Judging You: The Do-Better Manual hit the New York Times Best Sellers list at #5. Her new book Professional Troublemaker: The Fear-Fighter Manual, released in March, hit #3 on the list in its debut week.
According to Ajayi Jones, professional troublemakers are "disruptors for good," and she cites her grandmother as her first inspiration for "professional troublemaking."
Blogging for over 18 years, Ajayi Jones writes on her site, AwesomelyLuvvie.com, covering all things culture with a critical yet humorous lens. Her TED talk "Get Comfortable with Being Uncomfortable" had over 5 million views and she has been chosen by Oprah Winfrey as part of her inaugural SuperSoul100 list as someone who "elevates humanity."
Ajayi Jones' alma mater, the University of Illinois at Urbana-Champaign, honored her with the Outstanding Young Alumni Award and the Council of Urban Professionals presented her with their Breakthrough Award. Her work has been featured in outlets such as The New York Times, NPR, Forbes, Inc, Fortune, Essence, Chicago Tribune and more.
---
More from Better:
---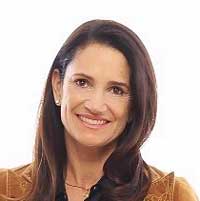 Kirsten Jones Neff is a journalist who writes about all things North Bay, with special attention to the environment and the region's farmers, winemakers and food artisans. She also works and teaches in school gardens. Kirsten's poetry collection, When The House Is Quiet, was nominated for the Northern California Book Award, and three of her poems received a Pushcart nomination. She lives in Novato with her husband and three children and tries to spend as much time as possible on our local mountains, beaches and waterways. For more on her work visit KirstenJonesNeff.com.