It wasn't easy for Donna Isham to ignore her inner artist, which called to her soul. But for decades she did, because she had so many other opportunities, talents and people pulling on her time and attention. Isham raised four kids, while running the business side of her husband Mark's multimillion-dollar music enterprise, serving as an uber volunteer and entertaining broadly. But she always felt incomplete. She wasn't creating her own art.
Eventually, Isham started slipping away to her attic to draw and paint. But after she finally revealed her efforts to her children, doors opened swiftly. This lead to showings in LA, Miami and Paris; an Aspen residency; and a feature as the cover image for Marin Magazine's May 2022 Women's Empowerment issue, because most of her work depicts and celebrates women.
We hope her story, insights and advice in the following Q&A inspire and empower you to honor your inner calling too.
Please share your journey with us.
I grew up in LA as a quintessential valley girl. I've drawn and painted since I was 4; my mom framed my work and put it on the walls. But I didn't think that I was an artist. I thought, "That's just what mothers do."
In high school, I was asked to paint something. I copied what I saw — a cat. But I didn't think that was art. Art had to be weird, not representational. So I was invalidating myself again.
I graduated early and went to UC Berkeley. But I didn't pursue art. The closest I came was starting a master's degree program in museum studies where I could work in a museum or gallery; I worked at the de Young Museum. But after breaking up with a boyfriend, I moved back to LA and started working in film as a costume designer. That's where I met my husband, who was a brilliant musician. Soon I was negotiating his deals. [Mark Isham is an award-winning composer and recording artist, having scored more than 400 films and TV series, and he has worked on or produced more than 200 albums.]
I left my successful costume design career to raise our four children. But there was always this pain inside of me. So I finally started drawing and painting just for myself.
About six years ago, after dinner, I said to my kids, "I need for you to come upstairs. I'm going to tell you something — but you aren't allowed to smile or react." They thought something was terribly wrong. Instead, I showed them drawings, paintings and sketches I had done over the years that were hidden away. They were stunned. "WTF Mom, how do we not know this about you?" they said.
I explained I had been just too scared to share. I was strong in other ways, but this area was always fraught.
My family started framing my work. And because I entertain a lot, girlfriends started seeing my work and were equally enthusiastic, and friends and guests immediately started buying my art.
I serve as the president of Artists for Human Rights. Because of this, another organization, the Human Rights Foundation contacted me and asked if I could find a gallery in LA to present a North Korean artist. This led me to the Gloria Delson Contemporary Arts Gallery.  After agreeing to host that show, Petra, the owner, turned to me and said, "I understand that you are an amazing artist too." 
A cacophony of voices in my head told me to bolt. But instead, I took out my phone and I showed her my paintings. She asked me to be in a show and to bring her six paintings by the following Tuesday. I went home and started crying. But I did it!
The rest is history. I've been to Art Basil three times — at Red Dot/Spectrum, at the Hyatt Hotel Miami Lobby with Maria Apostolidis and recently at Context Miami. The painting used as the Marin Magazine cover was showcased in the Paris Grand Palais in February at the Salon de Independent, a show established in the late 1800s to showcase artists.
Because I'm in love with Aspen, I'm very familiar with Anderson Ranch [a premier artist center], and I was honored and delighted when they invited me to do a residency. This led to Jayma Mancuso presenting a solo show of my work at the Snowlodge at the St. Regis Hotel in Aspen. 
Who has inspired you?
In terms of art, I'm inspired by Post Impressionists like Matisse, Cézanne and van Gogh, as well as by the German Expressionists Munch, Kirchner and Egon Schiele. I'm also completely inspired by the 9th Street Women in New York: Lee Krasner, Joan Mitchell and Elaine de Kooning.
But I'm especially inspired by women who can raise children and have careers that incorporate professionalism with humanitarianism and a dash of creativity. I find that super sexy!
Women have a very interesting position in the world. We are the ones who can have children; so we become the caretakers. It's long been a male-dominated society. Women who can balance having careers and children truly inspire me.
I love women who are leaders and entrepreneurs — from Eleanor Roosevelt, Margaret Thatcher and Coco Chanel to contemporary women like Oprah Winfrey, Ellen Johnson Sirleaf, Ariana Huffington and Anna Wintour.
Of course, the way to bolster economies around the world is to empower the women! They become the strength of the village. I saw this in action when I was in India with voices4freedom. We worked with a group of women who had been generationally enslaved. By teaching the children, we could then teach the adults how to get registered as citizens so that they could get health care, vote and participate. That really inspired me!
Human rights and the unilateral call for equal rights are near and dear to my heart. The Universal Declaration of Human Rights, chaired by Eleanor Roosevelt and created after the atrocities of WWII, is a document that has to be signed by all countries who join the United Nations. It details basic rights and fundamental freedoms that should be accorded to everyone, regardless of nationality, gender, race, ethnicity or any other status. It empowers women and children. So does our Bill of Rights. That inspires me too.
How are opportunities for female artists different now than in the past and what are your predictions for the future?
I'm a figurative and abstract artist. And women and children's rights are a passion of mine. When I paint women, I paint them from a female gaze, unlike the historical male gaze. It's an homage to their inherent beauty and strength, to their individuality and courage, and to welcoming diversity.
My prediction for the future is that, because of women more than men, people are going to welcome diversity. No longer will there be a male homogenous point of view in art or anywhere else.
What are your goals going forward?
At Anderson Ranch, I began working with mixed media, wood, glass and paint to create paintings that border on sculptural. I plan to finish that series. I'm also creating a series of abstracts that will be featured at the Hampton Fine Arts Fair with Liz Clement Fine Art & Contemporary Gallery.
I'm also working with my husband on a project with a Bay Area conceptual artist that combines music, painting, and artificial intelligence and robotics. I love exploring creativity that combines art forms and transcends how we perceive art, sound and texture. 
It's such an artistically interesting time! It's a very inspiring time for everybody to use art and engage in important conversations. What is art? I respond that it is something that moves someone emotionally. 
What is your best advice for others pursuing art careers?
I speak to many groups. These are the main points I like to share:
Find something that you are passionate about and work at it relentlessly — regardless of any concerns or feelings of not quite being a part of it. Everyone suffers through a certain degree of questioning. Those who succeed rise above it. Your passion for your purpose will help you rise above everything else too. 
Continue to learn and evolve — through YouTube, universities, travel, internships, whatever. You need to observe the world. It was as valuable for me to see the people in India that I helped as it was to experience the homeless and the jails of LA. All of it provides color, form and context. I'm constantly taking classes too, like advanced painting techniques, and reading books. Learning is a lifelong pursuit to which I'm thrilled to be a student of. 
Enjoy the journey! Attaining a goal is fleeting. So what you really need to do is love what you're doing along the way. Each of your experiences becomes a part of you. My experiences help me have a dialogue with the canvas. The journey is part of the whole process. The people you meet, the experiences that you have and the places you visit are all part of you. 
Persist against any obstacles you encounter. How you deal with obstacles is what is most important. Any large goal can be daunting. So you just have to keep taking one step at a time. Look at Tom Brady or Giselle, people who are inspiring beyond words to me. He just persists and persists and has the mindset that he is going to win — and he does those things that he needs to win! There's a lot of competition in any field worth pursuing, so embrace it like a game. Show up!
Find like-minded people with like-minded goals. You need to have friends who are pursuing similar things and can help guard you against negative feedback. Interact with them: Give each other feedback and encouragement. I remember watching a documentary featuring Steven Spielberg, Francis Ford Coppola, George Lucas and Martin Scorsese. They're all lifelong friends who inspire and encourage each other in the making of films. How cool is that!
Be true to your dreams. Even if you're like I was and not quite ready to share yet, don't let them slip away. The world needs you! It needs more people who create tolerance, compassion and beauty. It needs more people who are brave and courageously pursue their dreams too.
---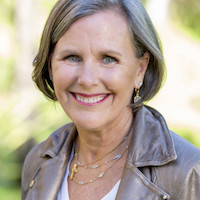 Susan B. Noyes is the Founder & Chief Visionary Officer of Make It Better Media Group, as well as the Founder of Make It Better Foundation's Philanthropy Awards. A mother of six, former Sidley Austin labor lawyer and U.S. Congressional Aide, passionate philanthropist, and intuitive connector, she has served on boards for the Poetry Foundation, Harvard University Graduate School of Education Visiting Committee, American Red Cross, Lurie Children's Hospital, Annenberg Challenge, Chicago Public Education Fund, Lyric Opera of Chicago, Chicago Symphony Orchestra, New Trier High School District 203, and her beloved Kenilworth Union Church. But most of all, she enjoys writing and serving others by creating virtuous circles that amplify social impact.