In March 2019, Oprah, Jennifer Aniston, Steven Spielberg, Reese Witherspoon, and more big stars took the stage at Apple's keynote event. Why the star power? They introduced Apple TV+, an entertainment streaming service where Apple will produce original content including series, movies, documentaries, and more. Yes, Apple is coming for you, Netflix.
Since the announcement, details have emerged here and there. When does it launch? What series will be available? Where is iTunes going? With most of us searching for answers, we rounded up all the details about Apple TV+ that you need to know. Consider this your complete guide to all things Apple TV+.
What is it?
Apple TV+ is a on-demand streaming entertainment platform that is hosted on the Apple TV app. Original content will be available with a subscription, but you can also use the app to rent and buy thousands of movies (some even offline). Connect to your Apple account and you can watch your iTunes purchases here, too (iTunes has been split into Apple Music, Apple TV, Apple Books, and Apple Podcasts).
Where the Apple TV app really stands out from Hulu or the upcoming Disney+ is that like Amazon Prime Video, you can watch your favorite streaming services, including Netflix, premium channels like HBO, cable TV, and more. In Apple's own words, the service is "All your TV. All in one app."
When does it launch?
Nov. 1.
How much is it?
$4.99 a month, after a free seven-day trial. If you purchase certain Apple devices, you can receive a free year-long subscription.
How can you get it?
If you are an Apple user, you already have the Apple TV app on your device. This is the platform that Apple TV+ will premiere on. To watch on your flatscreen, Apple TV is available for download on Roku and Amazon Fire devices and Samsung smart TVs. You can also watch from your computer's desktop at tv.apple.com.
What series will be on Apple TV+?
Cancel all of your plans for launch day, because Apple is debuting buzzed-about original content that you are going to want to binge. Most series will have three episodes, with a new installment every Friday, but some will debut with a full series run.
Here's what's launching Nov. 1:
Reese Witherspoon, Jennifer Aniston, and Steve Carell all on one show? This is the show to watch, and the plot is eerily similar to the recent Matt Lauer and Charlie Rose sexual assault scandals.
In this dystopian series starring Jason Momoa, the human race has lost the ability of sight. When two children are born with sight, their community must protect them at all costs.
Hailee Steinfeld stars in a teenage-angst comedy about Emily Dickinson set in the 19th century but with a millennial twist. Get ready to marathon watch, as all 10 episodes premiere on Nov. 1.
What if the global space race never ended? This science fiction series explores an alternate timeline in the late 1960s, where female astronauts are part of the space race too.
An extension of Oprah's wildly popular Book Club, she will speak with authors and readers about her monthly picks in this new series. Oprah also has several documentaries in the works with Apple.
A stunning documentary that is narrated by Chiwetel Ejiofor, "The Elephant Queen" follows a tribe of elephants who need to find a new home.
In partnership with Sesame Workshop, Helpsters are here to help preschoolers learn how the core concepts of coding through problem solving.
The '90s PBS series is back to entertain a new generation of literary and ghost-fighting sleuths.
Finally, Snoopy really gets to fly! Fans of the beloved animated series will be pleased as this reboot stays true to the style we all know and love.
Coming soon:
Nov. 28
From M. Night Shyamalan, this series is still very much under-wraps, but we do know that the plot centers around a couple that unwittingly allows a mysterious force to enter their home.
Dec. 6
Aaron Paul and Octavia Spencer star in this true crime series. Spencer, a podcaster, aims to reopen a murder case that she was involved in solving 18 years earlier.
Series in development for 2020, and what we know:
"The Banker" — tells the true story of two 1950s African American entrepreneurs and stars Anthony Mackie and Samuel L. Jackson.
"Little America" — based on the true stories of immigrants, from "The Big Sick"'s Kumail Nanjiani and Emily v. Gordon.
"Little Voice" — a comedy/drama series executive produced by J.J. Abrams and Sara Bareilles, with original music from Bareilles as well.
"Defending Jacob" — the limited series stars Chris Evans as the father of a 14-year-old boy who is accused of murder.
"Amazing Stories" — Steven Spielberg is reviving one of his favorite anthologies from his youth.
"Home Before Dark" — a mystery drama inspired by the life of pre-teen journalist Hilde Lysiak.
"Mythic Quest" — "It's Always Sunny in Philadelphia" actors Rob McElhenney and Charlie Day are writing this comedy set in a video game development studio.
"A Christmas Carol" — we have two names for you: Ryan Reynolds and Will Ferrel.
"Masters of the Air" — another Steven Spielberg project, this series about the World War II bombers includes Tom Hanks.
"Ted Lasso" — the comedic Jason Sudeikis returns as Ted Lasso, an American football coach who travels to the U.K. to coach soccer
"The Sky is Everywhere" — based on a novel, this film tells the story of a high-school student coping with the loss of her sister.
"Foundation" — starring Lee Pace and Jacob Harris, this series will be based on Isaac Asimov's famous science fiction work.
Untitled Brie Larson Series — Larson will play a CIA agent in this female-focused series
"On the Rocks" — Sofia Coppola and Bill Murray are teaming up again for the first time since "Lost in Translation."
"Time Bandits" — directed by Taika Waititi, this time-traveling adventure comedy is based on the cult-film by Terry Gilliam.
"My Glory Was I Had Such Friends" — Jennifer Garner is back with J.J. Abrams in a series about a woman awaiting heart surgery and the women who supported her.
---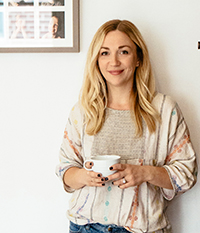 Macaire Douglas lives in Chicago with her husband and two sons. She proudly supports Share Our Spare, a local nonprofit that collects goods for children in need.