Since 1970, we have come together globally to celebrate Earth Day each April, and reignite the discussion around climate action, conservation and restoration. Earth Day falls on April 22 this year, providing us a pause to catch up on the world around us and learn how we can help with actions both big and small.
Here, we have 10 of the best nature documentaries to watch now — some are new, some are classics, but all are worthy of your time.
Exploring the impact that commercial fishing has on ocean life, Ali Tabrizi and the team behind the award-winning 2014 film Cowspiracy take a deep dive into the global aquaculture industry. What they uncover is layers and layers of conspiracy, including seafood tainted with slave labor and human rights abuses.
She took the world by storm as a rising young activist, and this documentary follows Greta Thunberg in her pursuit to get people to listen to scientists about the world's environmental problems. It's a inspiring look at the climate warrior starting back in 2018, when she first made headlines for her solo "school strike" in front of the Swedish parliament.
A much-anticipated documentary three years in the making from executive producer James Cameron and narrated by Sigourney Weaver, "Secrets of the Whales" gives viewers an up-close and personal look at the complex culture and social structure of five species of whales: orcas, humpbacks, belugas, narwhals and sperm whales. Featuring a moving score by Raphaelle Thibaut and breathtaking moments never before captured on film, the National Geographic series on Disney+ inspires us to protect our precious oceans and shows how much we actually have in common with these marine giants.  
Narrated by Tom Hiddleston, the natural history series uses "next-generation cameras" to showcase the nocturnal lives of animals in color for the first time ever. Revealing new behaviors and insights, this beautifully shot series spans across the African grasslands to the Arctic Circle.
Presented by David Attenborough, an English broadcaster and natural historian, this BBC series explores how nature and animals have thrived during our Covid-19 quarantine. With less pollution in the air and water from travel and commuting, many animals experienced a better quality of life. Take the whales for example — with no cruise ships interrupting their communication, they were able to vocalize with their young much easier. It's really a stunning look at the last year, and the impact our stay-at-home mandates had on the world around us.
Craig Foster is a filmmaker and naturalist who is taking the Oscars by storm this year with his nominated film "My Octopus Teacher." Taking 10 years to film and produce, the documentary follows Foster as he develops a unique friendship with a wild octopus in Africa, and allows viewers to see her world as we have never seen before.
Sometimes it is the smallest animals that have the biggest impact, and "Tiny World" showcases this beautifully. Narrated by Paul Rudd, the six-episode series lets viewers see the world through the eyes of the tiniest creatures, watching their daily habits, relationships and the extraordinary things they do to survive.
Produced by Oscar-winner and environmentalist Leonardo DiCaprio, "Ice on Fire" explores climate change and the many never-seen-before solutions scientists, farmers, innovators and more are taking to slow down the escalating global warming crisis. Focusing on realistic methods and proposals to reign in climate change, this follow-up to DiCaprio and Director Leila Conner's "The 11th Hour" tells the story of what we can do to help our planet now.
She is a household name for her groundbreaking work with wild chimpanzees in Tanzania, but she is so much more than that. Goodall's contributions as an activist and leader have been non-stop since the 1960s and in her new National Geographic special, we see her never-ending travels to spread a message of hope to inspire a new generation of change-makers.
If you've taken more of an interest in your bird neighbors after this last year, you are not alone. "Dancing with the Birds" details the saga of male birds in paradise as they search for a mate. With obsessive preparations and strange performances, these avian wonders are more fun to watch than any reality show.
---
More from Better:
---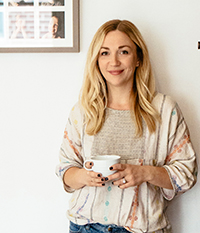 Macaire Douglas lives in the Chicago suburbs with her husband and two sons. She proudly supports Save Abandoned Babies Foundation, a Chicago-based nonprofit organization that works tirelessly to prevent the illegal abandonment of newborns nationwide. Since its inception in 2000, more than 3,600 newborns have been safely surrendered and adopted into loving homes.