February may be cold, short… and, given our current circumstances, pretty boring, but there is more than enough love to go around. No matter the status of your love life, romantic comedies expertly mix humor and love, delivering an instant mood boost. Here are 15 classics — and a few new releases — that do just that.
Starring two unlucky in love scientists, played by Tate Donovan and Sandra Bullock, this 1992 movie is pure fun. A breakout role for Bullock, the film asks the question — "Could a magic love potion really give you everything you want?"
Jack Nicholson, Diane Keaton, Keanu Reeves. Need we say more? The stellar cast, combined with Nancy Meyer's beautiful storytelling (and interior design), makes this film about finding love at any age an instant classic.
It's a tale as old as time — two people fall in love, plan their lives together and then their love is tested when it is time to meet the parents. In this case, it's an entire family full of cousins and aunts and uncles, who just can't seem to mind their own business.
Is there a setting more romantic than New York City in the fall? We think not, and this Meg Ryan and Tom Hanks romance is one of our favorites out of their many collaborations. Say it with us, "F-O-X."
Miss travel? This rom-com is for you. An instant blockbuster, "Crazy Rich Asians" will transport you to beautiful places, from the comfort of your couch.
If you like a little edgy sci-fi mixed with your rom-com, you'll love Hulu's "Palm Springs." Starring Andy Sandberg, the film just received Golden Globe Nominations for Best Picture – Musical/Comedy and Best Actor – Motion Picture – Musical/Comedy. Trust us, you won't be disappointed.
The Big Sick
Stream on Amazon Prime Video
Based on the real-life love story of Kumail Nanjiani and his wife Emily V. Gordon, this film proves that having a real connection, and a hope for a future together, is worth fighting for.
In & Out
Stream on Amazon Prime Video
Ahead of its time, "In & Out" blew the roof off the theater when it was released for its groundbreaking portrayal of a coming-out story. And we are so happy it did, because it resulted in one of our favorite films of all time.
Come for the Katz's Delicatessen scene and stay for the romance — there is no better tale than that of Harry and Sally. We would be remiss to not mention Carrie Fisher's memorable performance, too.
Has love made you a little bit cynical? This film proves that not every relationship is meant to be, in the most fun way. Plus, we get to see Ryan Gosling and Emma Stone recreate the "Dirty Dancing" lift.
Another nostalgic classic, this Heath Ledger and Julia Stiles film is a spin on William Shakespeare's "Taming of the Shrew." Ledger's performance of "I Love You Baby" really pulls on our heartstrings, too.
Love a little mystery to your romance? "The Lovebirds" on Netflix, starring Issa Rae and Kumail Nanjiani (yes, that's his second time on our list!), is a great new movie to add to the rom-com rotation.
Pretty Woman
Rent on Amazon Prime Video
It would be a big mistake… huge mistake… to not include "Pretty Woman" on our list. The ultimate rags-to-riches romance that sparked careers for Gere and Roberts, this film is at the top of our list.
Morning Glory
Stream on Amazon Prime Video
We can't get enough of this one. Starring Rachel McAdams, Harrison Ford and Diane Keaton, "Morning Glory" tells the story of a young and hardworking morning show producer who takes on a new job, and a volatile host, and falls in love along the way.
Nostalgia and love, what could go wrong? You know you loved this Adam Sandler and Drew Barrymore flick the first time 'round, and it's probably time you watch it again.
---
More from Better:
---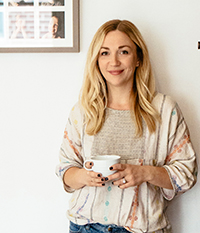 Macaire Douglas lives in the Chicago suburbs with her husband and two sons. She proudly supports Save Abandoned Babies Foundation, a Chicago-based nonprofit organization that works tirelessly to prevent the illegal abandonment of newborns nationwide. Since its inception in 2000, more than 3,600 newborns have been safely surrendered and adopted into loving homes.