Oh, the dog days of summer. We wait for this weather all winter, but when the excessive heat and humidity really set in, we can't help but retreat back indoors. Give yourself a pat on the back, grab that iced tea, and take the time to do some important summer work: catching up on your favorite series before the new fall and winter seasons premiere. As we Midwesterners know, summer is fleeting, and fall will be here before we know it. Check out our list of 12 shows to binge watch ASAP.
Out now, Hulu
Marshmallows, your time is finally here (and released a week early!). After three seasons and a movie, the cult show starring Kristen Bell is back for a fourth season on Hulu that is already receiving rave reviews. 
July 26, Netflix
This premiere is bittersweet, as it is the final season of our favorite prison series. We will see Piper finally released, and how she will deal with being out in the real world again? We hope to see some storylines come full-circle after seven seasons too. Sob!
July 31, Netflix
Season one of "The Letdown" was an honest look at the struggles of motherhood, and we can't wait for a second season of this Aussie comedy. Get ready to laugh a lot, and cry a bit too. 
Aug. 9, Netflix
Glow is our favorite campy and fun show about the world of female wrestling. Alison Brie is perfect in the lead role and we can't wait to see how the girls take on Las Vegas.
Aug. 16, Netflix
If you loved "Making a Murderer" or "Serial," you probably fell hard for the first season of "Mindhunter." After waiting over a year, the second season of this dark show is back, and the FBI officers continue their work to profile the most disturbing murderers.
Aug. 25, Showtime
Back for a final season, "The Affair" has been an emotional roller coaster. You'll either love or hate its unique storytelling, from the angle of four characters, but this new season will see the departure of a few key players, which will make for an interesting new take on the finale of the show.
Sept. 18, FX
Ryan Murphy has picked a wickedly fun theme for "AHS"'s 9th season: '80s slasher films. Think Freddy Krueger and Jason. It will be scary, most likely give you nightmares, and we seriously cannot wait for it.
Sept. 20, in theaters
Yes, this is technically not on TV, but "Downton Abbey" is back, and we need everyone to know it! The beloved series will make its debut on the big screen, and our favorite characters will prep for a royal visit from the Queen herself. We can't wait to see what burns the Dowager Countess of Grantham has in store!
Possibly October 2019, Netflix
This is not the Sabrina of the '90s you will remember, unless you were a fan of the comic books, of course. "Chilling Adventures of Sabrina" will hopefully return around Halloween, fittingly, but Netflix has not announced anything yet. If you like witches and the paranormal and a lot of family and high school drama, this show is for you.
November 17 2019, Netflix
We have been waiting eons and have heard whispers of a new season of "The Crown" debuting this November (thanks for letting that slip, Tobias Menzies!). Why such a long wait? The series is fast-forwarding a decade or two and recast the entire royal family. We can't wait to see Olivia Colman as Queen Elizabeth II and Helena Bonham Carter as her troubled sister, Princess Margaret.
December 6, Amazon
Oh, Midge. She's not so great at parenting but heck, she makes us laugh. "Maisel"'s last season premiered right before the holidays and we expect the third season to follow suit. 
Early 2020, Pop TV
This is a premiere we almost don't want to come, as it means one of the best series on television will be ending. "Schitt's Creek" season six will be the show's last, and it is going out with a bang with the ensemble and leads receiving long-overdue Emmy nominations this year. 
---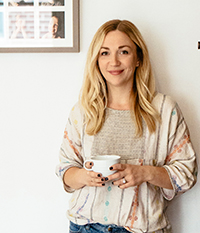 Macaire Douglas lives in Chicago with her husband and two sons. She proudly supports Share Our Spare, a local nonprofit that collects goods for children in need.