The Bay Area's obituary as a cultural beacon has been written many times of late. While the underlying issues—gentrification and affordable housing—that spawn these missives are undeniable, it is absurd to suggest that Bay Area culture has gone extinct. The evidence to the contrary is extensive, from doo-wop rocker Shannon Shaw to the hip hop pioneers that perpetually matriculate from the East Bay. While some of music's most storied names have long called the Bay Area home, there is a new generation of artists ready to take the reins from the likes of Santana, Metallica, and Phil Lesh.
At a moment when beloved venues are shuttering, when astronomical rents have made pursuits of creative passions all but impossible, musicians like bluesman Fantastic Negrito, the timelessly charming duo of Tuck and Patti, and the innovative Wizard Apprentice are still finding a way to be heard. Discovering new music can be a transformative experience: so instead of letting a Spotify algorithm determine your next tune, why not give one of these 15 Bay Area artists a spin?
Spend an afternoon in Berkeley with rapper Caleborate and you won't have to wait for long for someone to recognize him. On his turf, the artist born Caleb Parker isn't simply a rising rap star—he's a full-fledged hometown hero. Caleborate spent his childhood in Sacramento before moving to Berkeley as a teenager. In his still young career, Caleborate has already released three albums: 2015's Hella Good, 2016's 1993, and 2017's Real Person. Performing at the 2018 installment of the Outside Lands Music and Arts Festival, he played the festival's smaller Panhandle Stage. It was, naturally, standing room only. The legend of Caleborate just continues to grow.
When it comes to music, why is it that the term "otherworldly" can often feel like empty calories? What does it tkae, after all, for something to sound like it's not of this world? One answer might be the voice of San Francisco's Cassandra Lewis when she performs with her band, the Foxxtones. Disarmingly potent and complex, her voice is the primary instrument on display on 2018's Welcome Home. Lewis's brand of self-described "cosmic Americana" is refreshingly timeless—an attribute on full display each time she chooses to cover the choice Pink Floyd cut "The Great Gig in the Sky" live in concert.  See her someone small while you still can.
In our age of constant status updates and Orwellian surveillance, it can be a challenge to maintain an enigmatic aura as a musician but Christopher Owens has thus far managed to buck the trend. During his tenure as the frontman and songwriter for San Francisco's now defunct rock act Girls, Owen displayed his penchant for creating sun-drenched 70s pop rock. While Girls would only release two albums (2009's Album and 2011's Father, Son, Holy Ghost), Owens has periodically continued his career as a solo artist. As those three records—in addition to one released under the moniker Curls—can attest, whatever form Owens' music takes, it's a force to behold.
San Francisco's Con Brio is like a light that never goes out. Even their name—in translation, with spirit—is a nod to the energy this soul rock band brings to every performance. Lead singer Ziek McCarter arrived in San Francisco by way of Houston. That's where he united with a world-class cast of musicians to create a sound that channels funk, R&B, and pure unadulterated soul. Following the success of 2015's EP Kiss the Sun, Con Brio has released two albums (2016's Paradise, 2018's Explorer) and is now a regular fixture at venues throughout Northern California and across the world.
It was only a decade ago that Fantastic Negrito (born Xavier Amin Dphrepaulezz) was busking on the streets of Oakland. A failed record contract and a serious car accident had dashed his dreams of making it as a musician, but his experiences testing out new material on sidewalks and in subways would eventually lead Negrito to enter—and win—NPR's inaugural "Tiny Desk" concert. Now a two-time Grammy winner, Negrito has proved his blues and soul chops with 2016's The Last Days of Oakland and 2018's Please Don't Be Dead. Nowadays, you'd be hard-pressed to find someone with more life than Fantastic Negrito.
Rapper Kamaiyah may only be 27-years-old, but her debut mixtape was steeped in the character and culture of vintage Oakland. 2016's A Good Night in the Ghetto may have put Kamaiyah on the map with its feel-good beats and callbacks to the legacy of West Coast hip hop legends. The following year, she dropped Before I Wake—another mixtape, this one intended as a placeholder of sorts while fans await the release of her first proper studio album. Whenever that day arrives, it will assuredly mark the beginning of a new chapter for one of Oakland's most talented young emcees.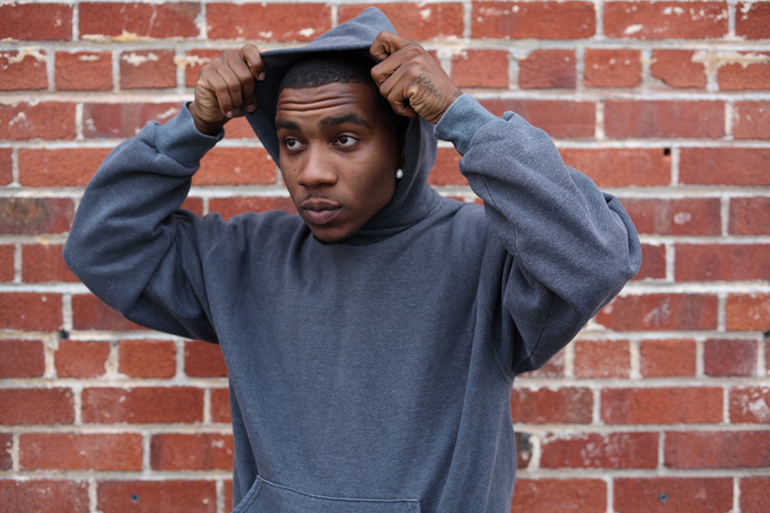 For some fans, Lil B isn't a rapper so much as a way of life. Now operating as rapper-motivational speaker-activist, he's amassed an incredible social media following drawn by his emphasis on positivity and light in the world. The Berkeley artist legally known as Brandon Christopher McCartney has released upwards of fifty mixtapes in addition to four digital albums and the 2010 studio offering, Rain in England. An undeniable fixture of today's Bay Area music scene, Lil B has found immense success as an independent artist who deconstructs the paradigms of hip hop and preaches peace.
8. Lyz Luke, Executive Director of Undercover Presents
At its core, Undercover Presents is a way to showcase local artists while paying tribute to an iconic album. Since 2010, Executive Director Lyz Luke has partnered with an array of guest directors to create one-night-only concerts celebrating everything from Green Day's Dookie to Miss Lauryn Hill's The Miseducation of Lauryn Hill. Each event is also commemorated with a studio recording of each act's covers, offering fans a way to return to these amazing collaborations over and over again. Suffice it to say, none of this would be possible without Luke and her tireless efforts to ensure that each production is a magical and memorable affair.
Madeline Kenney doesn't say what she means as much as you makes you feel that meaning through her music. Originally a product of Seattle, Kenney headed south in pursuit of a career in baking before her 2017 debut, Night Night at the First Landing, was released to immense acclaim. In addition to Kenney's precise, alluring songcraft—which was once more on full display with 2018's Perfect Shapes—she is a huge supporter of the local music scene. On any given night, you might see her headlining a gig or stepping in to fill a backing band role for any number of other Bay Area artists. In what can sometimes feel like a fractured community, Kenney is the best kind of glue around.
San Francisco's Rose Droll does it all. In fact, her debut album, 2018's Your Dog, was recorded and produced by Droll alone.  That's an enormous undertaking, especially when one accounts for the fact that Droll also played every instrument on the record (including guitar, piano, drums, bass, cello, and glockenspiel). The effect is powerful, adding gravity to Droll's ethereal brand of folk that finds bedroom pop melodies arriving and departing like a breeze. With so much noise all around us, the solitude and somber beauty of Droll's songs make for most welcome company.    
The first thing you need to know about Shannon Shaw is that filmmaker John Waters is one of her biggest fans. If you've seen Shaw live—either on her own as part of her band, Shannon and the Clams—then you know why the Pink Flamingos director is so enamored. Shaw's voice is stunning. You can especially appreciate its potency every time she channels the doo wop despair of powerhouses like Darlene Love. In 2018, the Napa native and Oakland resident recorded both her debut solo album (Shannon in Nashville) as well as the fifth Clams record (Onion) with Black Keys' guitarist Dan Auerbach. Who knew being yourself could be so fun?
The old adage that tragedy breeds great art masterfully fails to encapsulate the true weight some traumas carry. Following the events of Oakland's devastating Ghost Ship fire at the end of 2016, musician Stephen Steinbrink rented himself a shipping container and recorded an album inside it as worked to translate his grief into song. The result is 2018's Utopia Teased—an album rich in lush melodies and naked emotions. Far from focusing on one specific theme, Steinbrink's tunes seek to capture life's small moments with alternating bursts of sun and gloom. In short, Steinbrink is the epitome of a musician the Bay Area doesn't deserve yet desperately needs.
Technically the music made by Thao Nguyen and her band, the Get Down Stay Down, is best classified as alternative folk rock, but the truth is that no genre can fully describe her sound. An electrifying live performer, Nguyen has drifted somewhat from folk to funk over the course of four albums. Her most recent, 2016's A Man Alive, blends vulnerable lyrics with bold grooves to offer an album that is both bittersweet and blissfully empowering. As Nguyen's astutely personal and sonically daring songs continue to bring her career to new heights, it's a privilege to know her growth has some local roots.
It's nearly impossible not to fall in love with Tuck and Patti. A duo that's been married and performing together for nearly 40 years, their minimalist arrangements unite Tuck Andress' virtuoso guitar playing with Patti Cathcart's rich soprano voice. Together they are an endearingly charming and astonishingly accomplished act that continues to perform to this day. They also offer music lessons at their Menlo Park studio, hopefully ensuring their warmth will rub off on future generations of musicians. To add to their list of accolades, they are also the proud uncle and aunt of acclaimed avant-garde rocker St. Vincent.
Independent multimedia artist and live performer Wizard Apprentice doesn't simply plug in an amp and start strumming. Instead, to watch her perform is to be entirely immersed and overstimulated. For Wizard Apprentice, that's kind of the point. By utilizing user-friendly technology to create digital explorations of intimate emotions and complex identities, she takes what music, lights, or projected images could never do on their own and combines them to captivating effect. Wizard Apprentice's steadfast dedication to her own truth makes her a worthy successor to a long lineage of visionary Oakland artists.