Summer break and warm weather is upon us — make plans to (finally) attend your favorite events and festivals, including Pride celebrations, Evanston's Garden Walk, Old Town's Art Fair and more.
Don't forget to tag us in your posts on Instagram @betterchicago!
All Month
Rosemont's Parkway Bank Park entertainment district will welcome summer with the return of the "Rockin' in the Park" free summer concert series, taking place every Thursday evening from June 3 through September 2 as well as select weekend dates through September 12. Each concert will feature music by classic cover bands and food and beverage tents on the park's great lawn.
Get on the water for a good cause with Shedd Aquarium this month. The Kayak for Conservation program offers a suite of kayaking experiences on the Chicago River beginning June 3. Open to all experience levels, the program allows participants to see Chicago from a unique and peaceful vantage point, learn about the Chicago River's environmental history and discover wildlife living in the river's ecosystem. Led by Shedd's wildlife conservation experts, participants can also make an impact for animals as they help clean up litter floating on the river's surface and contribute to ongoing research efforts to understand how best to improve the waterway for humans and animals alike.
Just east of the Wilmette Metra Station, you'll find Wilmette's own French Market, brimming with fresh foods and produce, flowers and music. Open Saturdays from 8 a.m. to 1 p.m., the first hour of the market will be reserved for seniors and those with underlying health issues.
Want more farmers markets? Check out our full list of Chicago and North Shore markets.
See what you've missed with a trip on Chicago's Classic Lady this month. The Chicago Architecture Center offers the quintessential tour, perfect for those finally visiting the city again.
The famed WNDR Museum offers a reimagined immersive experience with one-of-a-kind installations from artists, collectives, and studios locally and globally. Explore brand new touchless installations and experience the famous Yayoi Kusama "Let's Survive Forever" Infinity Mirror Room for one minute as the artist intended.
Through June 26, "Art on theMART" will showcase the art of Chicago Public School senior artists as part of a new animated projection entitled Hope is a Light: Select Works from the Chicago Public School Class of 2021. The project is to be shown as part of Art on theMART's late spring program, May 20 – June 26, 2021. The initiative is a partnership between Art on theMART, Chicago Public Schools, the All-City Visual Arts (ACVA) Program, and the Chicago Department of Cultural Affairs and Special Events with support from iHeartRadio. The 30-minute program will be shown at 9 and 9:30 p.m. and is best viewed from the jetty section of the Chicago Riverwalk on Wacker Drive between Wells St. and Franklin St.
The best mini golf in town is finally back open, with safety precautions in place. You can play with groups of five or less, five days a week for only $11 (educators, veterans and seniors receive special discounts).
Merit School of Music is offering multiple pop-up performances around the city this summer, which includes instrument demos, tuning, student ensemble performances, music story time for families and more.
Visit the Illinois Holocaust Museum & Education Center this month (kids and students are free!) and trace the history of the fight against apartheid in South Africa, with Nelson Mandela as one of its central figures. June 12 would have been Anne Frank's 92nd birthday, and the Museum will feature Holocaust Survivor Eva Schloss, Anne's stepsister, in the Abe & Ida Cooper Survivor Stories Experience holographic theater.
Roll out your workout mat at the Immersive Van Gogh Exhibit's unique yoga and mindfulness sessions this summer. In partnership with CorePower Yoga, enjoy your practice in the all-encompassing projections of Vincent Van Gogh's illuminating art.
Coined the "cornerstone event of this institution," the Chicago History Museum is thrilled to commemorate the accomplishments of three distinguished honorees virtually this year. Take a look into the museum's current exhibitions alongside unique stories of how these award recipients have made an extraordinary impact on the Chicago community.
Celebrate the achievements of Chicago's seven outstanding youth with the non-profit UCAN. These outstanding young leaders are set to receive scholarships at the event, while UCAN continues to raise funds in support of social services for Chicago youth and their families
Music Box Theatre's Garden Movies is returning this month, with a new and improved experience. For screenings from June 4 – July 1, the programming will be split into themed weeks, with one movie playing Friday-Sunday, and its thematic counterpart screening Monday-Thursday. Find showtimes and ticket info at Music Box Theatre's website.
Discover new ways of gardening and shop gorgeous plants at Get Growing Foundation's first Get Growing Expo of the summer. The event will kick off the weekend at Pioneer Court and will support the Get Growing Foundation's mission to inspire and educate people to bring some green into their world! Other expos include:
June 11-13: Stone Temple Baptist Church: 3607 W. Douglas Blvd., Chicago
June 18-20: Brookfield Zoo: 8400 W. 31st Street, Brookfield
The Cleve Carney Museum of Art and the McAninch Arts Center at the College of DuPage will host Frida Kahlo: Timeless through Sept. 6. Featuring 26 original works on loan from the Museo Dolores Olmedo, it is the most comprehensive presentation of Kahlo's work displayed in the Chicago area in over 40 years.
Enjoy a movie drive-in night featuring the Pixar blockbuster movie Toy Story in support of the Family Matters School and Youth Development Programs. A silent auction and raffle with readily available food and beverage options are accessible to you from the comfort of your car.
To celebrate Pride Month, Luft Balloons will host "Love is Love," comprised of thousands of multi-colored balloons meant to inspire love, kindness, and self-expression. Guaranteed to be Insta-worthy, guests can sign up in advance for a 15-minute time slot for $22 on Luft Balloon's website.
Break out your Sunday bag at one of Chicago's finest golf courses in support of Murphy Scholars. Dedicated to providing scholarship assistance for high school students in need, the Daniel Murphy Scholarship Fund is here to make a difference and arrange a day of friendly competition at the following clubs: Beverly, Conway Farms, Exmoor, Knollwood, Oak Park, Onwentsia, Shoreacres, and Skokie.
Head to Highwood for a festive "kick-off" to summer with their Grease themed 'Grads and Grease' Carnival from June 10-13th in the Highwood Metra Station parking lot. Graduates from all ages from 2020 and 2021 are invited to celebrate their accomplishments with discounted unlimited ride wristbands. There will also be a Sheridan Road Cruz'n Nite car show courtesy of Buffo's on June 12 from 5 p.m. to sundown.
Register for an eight-class package of weekly outdoor yoga sessions immersed in the Chicago Botanic Garden's beauty. Classes are scheduled within the McGinley pavilion every Thursday morning with two slots available for your convenience.
The Old Town Art Fair is back in the heart of the charming Old Town Triangle Historic District. There will be 200+ nationally acclaimed artists, an estimated 10,000 art lovers, a Garden Walk, live music and more. Gates open Saturday 10 a.m. to 7 p.m. and Sunday 10 a.m. to 6 p.m., rain or shine.
Tune in to the fourth annual event of "Power of Purple" highlighting the newest Alzheimer's research on the journey to find a cure. Partnering with the Illinois Women Conquer ALZ, guests are invited to commemorate dementia caregivers' stories and bid on exclusive auction items.
The Ravinia Festival is back this summer, and the first wave of tickets go on sale this month. Tickets for the general public can be purchased on June 16 at ravinia.org for concerts between July 1 and Aug. 15, and for concerts after Aug. 15 on July 21. 2021. For highlights and everything you need to know about their Covid-19 protocols, check out our guide to Ravinia.
In honor of their merger with the Chicago Child Care Society, Family Focus will celebrate its shared mission to help children and families in under-resourced communities with a virtual celebration. Join them on June 16 to help raise awareness and critical funds for program delivery throughout Chicagoland. family-focus.org
As part of Pride Month, "Find Your Family" is a curated virtual experience that includes storytelling performance, and conversations that celebrate the many ways that the queer community can build and find their own chosen family. CultureBuilds will present a story and conversation around the theme of care and chosen family in the queer community, in partnership with Lawrence Hall and Brave Space Alliance. The event will include a performance by featured storyteller Chris Thoren, who will recount discovering her transfemme gender identity and how fashion helped bring that into light.
Head to the Art Institute of Chicago to view the famous official portraits of former President and First Lady Barack and Michelle Obama commissioned by the Smithsonian's National Portrait Gallery. Painted by Kehinde Wiley and Amy Sherald, these groundbreaking paintings made history as the first African-American artists assigned to create official president portraits. Fun Fact: The Obamas had their first date at the Art Institute.
Attending the historic Arlington Park has become a Chicago tradition. Surprise your Dad with a fun-filled day of wagering on horse races at what the Chicago Tribune has deemed the "greatest racecourse in America and one of the greatest in the world."
Head to the parks for an enchanted scavenger hunt for fairy houses, courtesy of The Nature Conservancy and Chicago Park District. The decorative wooden structures, created by partner architects from local communities, will be on display in natural areas throughout the city, inviting everyone to get outdoors and experience the magic of nature. The event celebrates the 20th anniversary of Natural Areas and the Community Stewardship Program, and will include working with 20 volunteers to craft 20 Fairy Houses in 20 Natural Areas.
With headliners including Chaka Kahn, Betty Who and Gryffin DJ Set, this year's Pride in the Park is the perfect party to top off June's Pride Month. Held at the Petrillo Bandshell in Grant Park, the event will also feature food and shopping, with a portion of tickets sales benefitting The Center on Halsted, the Midwest's most comprehensive LGBTQ community center.
Rain or shine, head to Evanston from noon to 5 p.m. to see some of the most beautiful and creative private and public gardens on the North Shore that will inspire gardeners of today and tomorrow.
Prepare for a virtual night of crafty chef demos from appetizer platters to a superb pasta dish to serve at your next dinner party. Hosted by the Center for Enriched Living, proceeds will go to ensuring those with developmental disabilities have quality programming to enrich their life.
Chicago Philharmonic will collaborate for the first time with critically acclaimed multi-genre musical artist and social justice advocate Adrian Dunn for a performance of Redemption, a new collection of spirituals and gospel songs that reimagine and modernize the genre's historical roots, celebrate African American history, and honor victims of systemic injustice across the country. Catch it streaming for 60 days for free via Harris Theater's HT Virtual Stage.
---
More from Better:
---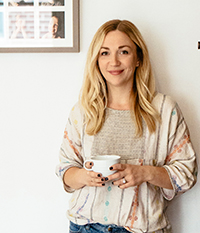 Macaire Douglas lives in the Chicago suburbs with her husband and two sons. She proudly supports Save Abandoned Babies Foundation, a Chicago-based nonprofit organization that works tirelessly to prevent the illegal abandonment of newborns nationwide. Since its inception in 2000, more than 3,600 newborns have been safely surrendered and adopted into loving homes.