It's a new month, and a fresh start to a new year. Say hello to 2021 with opportunities to get outdoors, safely take in the arts, support local restaurants, and more. Here are the best things to do this January around Chicago.
Don't forget to tag us in your posts on Instagram @betterchicago
All Month
Lincoln Park Zoo may be closed until March 4, but you can still see the animals in their new YouTube series, "Stay Tuned to the Zoo!" New episodes will air every Tuesday and Thursday.
Chez Moi is offering a special Soup Duo ($14) for National Soup Month this January. The duo features Vichyssoise — potatoes, onions, leek, butter, and cream — and Gumbo — gumbo filé, rice, shrimp, chicken, tasso ham, okra. The duo will be available to order all month long in January.
Drive-in theaters of the past are making a resurgence, with social distancing and safety measures at the forefront of the fun. Drive in this January for "Bring on Summer" classics like American Graffiti, Jaws and High School Musical, from the toasty comfort of your car. 2343 S. Throop Street, Chicago
The Skating Ribbon is back at Maggie Daley Park! Due to Covid-19, reservations are required to skate this year. Limited spots are available at each session, so make sure to book in advance. Masks are required while skating and in the park at all times. 337 E Randolph St., Chicago
Support Downtown Evanston restaurants by taking the pledge to take out your brunch, lunch or dinner to support restaurants during this difficult time. Find a list of area restaurants offering curbside or carry-out here.
The 35-foot sledding hill outside Soldier Field is officially open for the season. Grab your sled, tube and face mask and head down for some fun in the outdoors. 425 E. McFetridge Drive.
Experience a live virtual visit with the penguins, sea lions or sea otters that call Shedd home from your home with the Shedd's brand-new Virtual Penguin Encounter. For a limited time, purchase two links for the price of $69.95 ($64.95 Members), to share this experience with a friend or family member from anywhere in the world.
This is your last chance to virtually see the Illinois Holocaust Museum & Education Center's Notorious RBG exhibit before it leaves the museum (to make way for a new exhibit!). Since the museum is closed, you can view virtually through Feb. 20.
Take a spin on the ice at the Chicago Wolves ice rink in Rosemont. Advanced registration is required, and time slots are limited to 45 minutes. 5501 Park Pl., Rosemont
While you browse the classics and new releases, check out the sun-filled Winter Garden — the perfect spot to soak up some Vitamin D and a great read. Make sure you check for closures before your visit. 400 S State St, Chicago
An illustrated short play, The Red Folder, featuring Carrie Coon, is summarized as "the red folder belongs to a first grader. It is the source of all his woes. Years later, he seeks vengeance." Sound intriguing? Become a virtual member for just $75 and stream Steppenwolf's content wherever you are, whenever you want.
Did you love the Netflix miniseries, Queen's Gambit? The Main-Dempster Mile is challenging you to find fabulous fashions like Beth Harmon at Evanston stores, on any budget. Submit a photo for consideration, and you could win a $25 gift card. Learn more here.
Miss the sights? Bundle up and take in the city and frozen lakefront from the 18 miles of Chicago's Lakefront Trail, or along Chicago's Riverwalk. Just remember to wear your mask, and social distance.
Warm Up with a Festive Drink
Noir d'Ebene is offering hot chocolate in tons of cool flavors (we hear the peanut butter hot chocolate is amazing). 1309 Chicago Ave., Evanston
Belgian Chocolatier Piron has their iconic hot chocolate for sale. 509-A Main St., Evanston.
Firehouse Grill is serving a gluhwein-inspired "Winter Wine" along with hot chocolate and a Few-infused cider. 750 Chicago Ave., Evanston
King Cake will be available at French Quiche from January 6–10 to honor Kings Day in France, also known as the Epiphany. If you miss out, The King Cake will also be available from February 12–16 in celebration of Mardi Gras before the Lenten season. King Cakes are available in an individual size ($9) or full size ($28). They are made with almond flour, butter, eggs, sugar, puff pastry, and milk. Order here.
Join historical interpreter Martina Mathisen as she portrays six dynamic women in history, including Annie Oakley, Florence Nightingale, and Amelia Earhart. Hosted by the Niles-Maine District Library.
Help City Grange clear out their warehouse and save big on a variety of goods to gear up for your 2021 garden adventure, including pottery, tools, gift items and houseplants. 5700 N. Western Ave., Chicago
In this virtual performance, Northwestern University's refreshing new take on Tennessee Williams' "The Glass Menagerie" is told through the lens of a Chinese American family. This audio drama will include images of the final set and costumes designed by MFA students that were captured in the fall. $10 (general public) and $5 (full-time, non-NU students).
View this post on Instagram
Experience a touchless and socially safe family tradition this season with a drive-through light show. Running through Jan. 9 at the Northbrook Court Mall, this light show will have a wonderland of smart pixel LEDs that will perform a show all synchronized to your favorite holiday classics. Tickets are sold per vehicle and in 30-minute increments. 1515 Lake Cook Road, Northbrook
The Book Stall presents a free online event with author and public defender Jeanne Bishop, discussing her acclaimed book "Grace from the Rubble: Two Fathers' Road to Reconciliation After the Oklahoma City Bombing." Register here.
While the Conservatory is currently closed, you can view this beloved annual tradition virtually. This year's Winter Flower Show is named "Gratitude," as the Conservatory is "grateful for the beauty of nature and for each other as they navigate these challenging times."
On Sunday, January 10, 2021, meet Evanston Art Center's upcoming exhibiting artist Susan Smith Trees, and view her work in their Second Floor Atrium Gallery. Susan Smith Trees is a sculptor who has exhibited throughout the United States for the past 25 years. She has created installations, wall reliefs and floor works in addition to pen and ink and oil drawings. Registration is required. All visitors are required to wear masks and take their temperature upon entry using provided gloves, and share results with an EAC staff member. 1717 Central Street, Evanston.
Looking to start your prep for that eventual European trip now? Join the Alliance Française du North Shore's intermediate French classes led by Mme Ann Koller, on Wednesdays from 4:30–6 pm, online. The class includes 10 lessons through March 17. AFduNS members: $150; nonmembers: $165.
Hear from a panel of financial experts on their forecasts for the economy, taxes, the markets, interest rates, and regulatory changes that are likely to impact your investments and business decisions. Nationally syndicated columnist Terry Savage will moderate this conversation with panelists that include Dr. Bob Froehlich, Owner, Kane County Cougars Baseball Club & Former Vice Chair, Deutsche Asset Management, Jeffrey Gundlach, CEO & CIO, DoubleLine, James McDonald, Chief Executive Officer of Hercules Investments and Diane Swonk, Chief Economist, Grant Thornton LLP. Register here. Member – complimentary. Nonmember – $50.
The artists of Project Onward are known for embellishing their large and small works with shiny, metallic material. For this latest exhibition Shine On, they showcase their unique ways of depicting light and illumination. The exhibition features artists Paul Kowalewski, George Zuniga, Molly McGrath, RJ and Janno Juguilon, Sereno 'Glitter Man' Wilson, Jacqueline Cousins Oliva, and more. Art is priced for sale between $50 and $800. 1200 W. 35th St., 4th Floor, Chicago
Join Chalet on Zoom where Jennifer Brennan, Chalet Horticulturist, as she highlight the best varieties of indoor plants for your space based on your desired qualities, experience level, light requirements, and color options. She will also introduce you to the Chalet RARE collection. Register here.
More January events from Chalet:
Jan. 18: MLK Day Terrarium Workshop
Jan. 22: Virtual Learning – Orchid 101
Jan. 23 & Jan. 24: Dry January Pop Up with Seedlip
Jan. 24: Virtual Learning – How to Grow Edibles Plants
Jan. 29: Virtual Learning – Air Plants 101
Jan. 30: Virtual Learning – Vertical Plant Decor 101
Bringing together the time-based and live performances of artists featured in The MCA's The Long Dream, this virtual event gathers and juxtaposes distinct artworks to evoke new connections between them. Audiences navigate through livestreamed music, video art, meditative performances, and intimate conversations with artists, choosing their own experience. Register here.
On January 19, from 9-10 a.m., The Executives' Club of Chicago will host Together We Rise: Why We All Win with an Equitable Recovery, a panel discussion to explore the region's path forward to a just and equitable economic recovery. The conversation will be moderated by Helene Gayle, President and CEO of The Chicago Community Trust, and feature Gloria Castillo, Director of Together We Rise, a multi-faceted initiative that will provide funding, encourage changes to business practices, and pursue policy reforms to ensure the region comes back from the impacts of Covid-19 better on the other side. Panelists will include David Doig, President of Chicago Neighborhood Initiatives, Martin H. Nesbitt, Co-CEO of The Vistria Group and Anne Vela-Wagner, Executive Director of The Mars Wrigley Foundation. Register here. Member & nonmembers – complimentary.
Over the course of the past year, Corporate Social Responsibility has received new urgency and attention in the Chicago business community. Have you taken the time to assess where your company lands in the spectrum of development and implementation of your CSR Strategy? Join The Executives' Club of Chicago on January 22 at 9am virtually to learn more about an evaluating framework that will inspire greater action and effectiveness within your organization, led by Seth Green of Loyola University's Baumhart Center. Register here. Member – complimentary. Nonmember – $25.
During the twentieth century, the Great Migration transformed the demographic landscape of America and led to lasting social, economic, and cultural changes. In this virtual program, three scholars — Matthew Cressler, Courtney Pierre Joseph and Lionel Kimble — will discuss aspects of the Great Migration that are often overlooked in history books. Open to all, this free event will be held on Zoom.
Take an icy plunge – wherever you are – for a good cause this month! The Chicago Polar Bear Club is helping participants raise funds for three deserving families. Make your pledge here, fundraise, take your icy plunge (bathtub, bucket, pond… it's up to you!) and then join in for a virtual celebration on the 31st.
On Sunday, January 31, 2021 at 2pm, join Evanston Art Center for a lecture about Modern Art and Light/s featuring Holly Clayson. The lecture will look closely at artworks that responded to light by focusing on the differences and connections between art shaped by light (lumière) and art inspired by lighting (éclairage). That the French capital has long been known as "The City of Light" will necessarily be a topic of analysis not least because improvements in lighting helped to define the cultural and technological landscape of Paris during the entire course of the 1800s. Registration is required. Attend virtually or safely in person. 1717 Central Street, Evanston.
---
More from Better:
---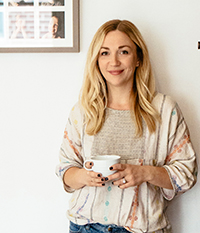 Macaire Douglas lives in the Chicago suburbs with her husband and two sons. She proudly supports Save Abandoned Babies Foundation, a Chicago-based nonprofit organization that works tirelessly to prevent the illegal abandonment of newborns nationwide. Since its inception in 2000, more than 3,600 newborns have been safely surrendered and adopted into loving homes.