From dining al fresco at Chicago's first mariscos on the water, to perfecting your summer salad game, here are five things you can actually do this weekend.
Please take care and help our community fight COVID-19 — maintain at least 6 feet of distance, wear a mask and wash your hands properly and frequently, when going out.
View this post on Instagram
The Adler Planetarium is offering to transport families to the stars, with their virtual Space Tours. Until August 23, you can experience their Auroras Tour, often referred to as northern lights, that also includes polar bears, puffins and penguins in the Arctic or Antartica. Learn more here.
View this post on Instagram
Tired of your regular take-out or al fresco spot? Chicago has its first Mariscos (seafood) on the water with the opening of Azul, a new Latin-inspired restaurant and bar. Located along the Chicago river in the Goose Island neighborhood, Azul will serve an expansive menu of Latin-inspired fare, and has multiple patios for distanced dining. 1177 N. Elston Ave
View this post on Instagram
If you are looking to make a difference this weekend, the 14th Annual North Suburban YMCA Strong Kids Fundraiser has pivoted to online. Kicking off on Sunday with a virtual auction, all proceeds will benefit the Strong Kids Fund that allows children and their families to participate in after-school programs, summer camp, lifesaving swim lessons, older adult services, and other wellness activities. Buy your tickets here.
View this post on Instagram
The Goddess and Grocer is teaming up with their neighbor and legendary baker, Chef Mindy Segal, for a pop up. Located at the Bucktown location, the exclusive menu will feature handmade bagels, bialys, stuffed croissants, and more. Guests are encouraged to pair their pop up purchases with Goddess house blend coffee and enjoy their snacks on the patio areas. Hours are Thursday, August 20 from 8 a.m. – Noon and Friday, August 21 from 8 a.m. – Noon. 1649 N Damen Ave
View this post on Instagram
This recipe by Chrissy Teigen from her first "Cravings" book is at the top of our most-read articles list for a good reason. It's full of colorful vegetables, includes the delicious combination of honey mustard and ranch, and is a great meal for the whole family.
Serves 6
Prep time: 20 minutes
Total time: 40 minutes
For the chicken and corn:
Olive oil
1 1/2 teaspoons paprika
1 teaspoon kosher salt
3/4 teaspoon ground cumin
1/4 teaspoon thyme leaves
1/4 teaspoon freshly ground black pepper
1/4 teaspoon cayenne pepper
2 boneless, skinless chicken breasts (about 3/4 pound)
1 (15-ounce) can corn kernels, drained and patted dry
For the dressing:
1/2 cup mayonnaise
1/4 cup buttermilk
2 tablespoons Dijon mustard
2 tablespoons honey
1/2 teaspoon dried oregano
1/2 teaspoon garlic powder
1/4 teaspoon onion powder
1/4 teaspoon paprika
Pinch of cayenne pepper
3/4 teaspoon kosher salt
1/2 teaspoon freshly ground black pepper
For the salad:
1 head iceberg lettuce, chopped
1 cup cherry tomatoes, halved
1 large avocado, cubed
10 slices bacon, cooked and crumbled
4 hard-boiled eggs, chopped
Directions
Cook the chicken and the corn:
1. Preheat the oven to 350 degrees. Line a baking sheet with foil and lightly coat with oil.
2. In a small bowl, combine 1 tablespoon oil, paprika, salt, cumin, thyme, black pepper, and cayenne. Rub the mixture all over the chicken. Place the chicken on the baking sheet and bake until cooked through but still juicy, 15 to 20 minutes. Transfer the chicken to a plate and when cool enough to handle, cut into small bite-size pieces.
3. Meanwhile, arrange the corn on the same baking sheet. Crank up the heat to broil and broil the corn until just slightly charred, 5 to 6 minutes. Remove from the oven and cool.
Make the dressing:
4. In a small bowl, stir together the mayo, buttermilk, mustard, honey, oregano, garlic powder, onion powder, paprika, cayenne, salt, and black pepper. Refrigerate until ready to use.
Assemble the salad:
5. Arrange the lettuce on a serving platter or in a big salad bowl. Top with the tomatoes, avocado, bacon, roasted corn, eggs, and chicken. If you're like me, line them up in the most OCD way possible and get really annoyed when the lines aren't perfectly straight. Drizzle the dressing to taste over the salad, and toss if you want to ruin all those pretty lines. Serve immediately. Any leftover dressing keeps in the fridge for a week or so.
---
How to help:
Many are finding that helping others is an effective way to help combat feelings of powerlessness in the face of COVID-19. Here are some deserving nonprofits, including food pantries, that need your support.
---
More from Better:
---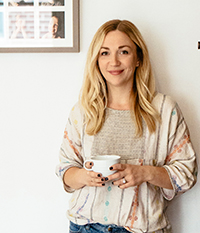 Macaire Douglas lives in the Chicago suburbs with her husband and two sons. She proudly supports Save Abandoned Babies Foundation, a Chicago-based nonprofit organization that works tirelessly to prevent the illegal abandonment of newborns nationwide. Since its inception in 2000, more than 3,600 newborns have been safely surrendered and adopted into loving homes.