Natalie Saben doesn't like preparing chocolate. And yet she's one of the most innovative pastry chefs in the city. Saben is the current head pastry chef at Pacific Standard Time, a Californian-inspired kitchen located in the River North neighborhood of Chicago. Pacific Standard Time has temporarily paused operations due to the pandemic, but while we patiently wait for PST to reopen, we chatted with Saban about how she got her start, how she develops her delicious dishes, and even snagged an incredible recipe you can make at home.
Saben started her culinary career when she was hostessing at a restaurant her senior year of high school. Encouraged by her parents, a timid Saben collected the courage to talk to the head chef of the restaurant. Since then, she has continued to work in kitchens and ultimately met renowned Michelin-starred chef Curtis Duffy. In 2004, Duffy was head chef of Grace at the time when he invited Saban to join his team as the pastry sous chef.
"When he hired me I kinda laughed at him, like 'Are you kidding me, I don't even know how to temper chocolate, you want me to be your pastry sous chef,'" reminisces Saben.
Saben stayed at Grace for four years, eventually working her way up to head pastry chef. By the time the restaurant closed, the dessert menu was Saben's creation.
"It was amazing starting, going there, working in fine dining. This was nothing I had ever been used to," says Saben. "Working with tweezers and strictly tasting menus. A lot of my growth came from that restaurant."
But a pastry chef who doesn't like chocolate? Saben doesn't think chocolate gives her enough flexibility to show off her creativity. Instead, she draws inspiration for her desserts from the seasons—and Instagram.
"Instagram is kind of an amazing thing to scroll through and see what everyone else is doing," says the chef. Last fall, Emily Spurlin of Lula Cafe posted a squash dessert which inspired Saben to create a satsuma and butternut squash pavlova for PST's own menu.
As a Midwesterner working in a Californian-inspired kitchen, Saben states the hardest part for her is trying to incorporate elements of the Midwest into her menu. While pumpkins, squash and apples are popular ingredients here, the chef wonders if that's the case in California.
When the pandemic hit, Saben definitely had to adjust her menu to revolve around take-out orders (before operations were paused completely). She considered what people wanted during a troubling time and concluded that comforting, homey, make-your-soul-feel-good food was the way to go. Think cream puffs and brownies and cheesecake.
Saben's Snickerdoodle Caramel Swirl Ice Cream is one of PST's more popular ice cream choices. "Ice cream is where I feel like I get to have a lot more fun."
Made from PST's special milk base that uses no eggs, just milk, cream, sugar and stabilizers, the ice cream base is just fatty enough so that Saben can add whatever she wants to it. To prepare the cinnamon ice cream, Saben's team steeps toasted Ceylon cinnamon sticks overnight. Then comes the fun. Snickerdoodle chunks are added in to give the ice cream more depth and texture. The dessert is finished off with a caramel sauce to combine all the flavors.
On creating ice cream, Saben says, "We can be a little bit more goofy or maybe reminiscent of our childhoods, nothing so serious."
Although PST has temporarily closed its doors due to the state's stay-at-home order, you can recreate Saben's Snickerdoodle Caramel Swirl Ice Cream at home!
Snickerdoodle Caramel Swirl Ice Cream
Yields: 1.5 quarts
3 tablespoons milk powder
¾ cup sugar
2 cups cream
2 cups milk
¼ cup corn syrup
1 tablespoon plus 1 teaspoon cornstarch
2 tablespoons cold milk
15 cinnamon sticks, toasted
Place cinnamon sticks on a sheet tray and toast in a 350* heated oven for 8 minutes.
Remove from oven and place into a shallow metal or glass bowl; set aside.
In a small bowl combine the milk powder and sugar; set aside. In a separate bowl, combine the cornstarch and cold milk; set aside.
Place the cream, milk, and corn syrup in a medium sized pot and cook over medium heat, whisking every so often to keep the milk from scorching.
Continue to cook until the dairy comes to a full boil.
Whisk the sugar/milk powder mixture into the pot, lower the heat so it is just simmering. Continue whisking and cook for 2 minutes.
Add the cornstarch/milk mixture and continue to simmer for 1 more minute while whisking.
Remove the ice cream from the heat and immediately pour over toasted cinnamon sticks.
Let steep for 35 minutes. Strain steeped ice cream through a fine mesh sieve into a shallow bowl and set into an ice bath.
Stir occasionally until the base is cool to the touch. Refrigerate for 4 hours, or preferably overnight.
Snickerdoodle Cookie Dough
Yields: 2 logs
1 cup butter
1 ½ cups packed brown sugar
2 teaspoons vanilla extract
4 ½ cups flour
1 tablespoon salt
1 tablespoon ground cinnamon
¾ cup whole milk
In a mixer fitted with the paddle attachment, combine butter and brown sugar. Beat until lightened in color, about 2 minutes.
Mix together milk and vanilla; add to the butter. Scrape down sides and make sure mixture is uniform throughout.
In a small bowl mix together flour, cinnamon, and salt. Add to the mixing bowl and paddle together until a dough forms.
Remove dough and divide into 2 balls.
Roll into logs, wrap in parchment paper and place in refrigerator to harden.
Caramel Sauce
Yields: 1 cup
1 cup sugar
½ cup water
¾ cup heavy cream
½ teaspoon vanilla extract
1 pinch of salt
Combine water and sugar together in a heavy bottomed saucepan.
Cook over medium heat, stirring occasionally until sugar is dissolved. Continue to cook, without stirring, until syrup comes to a boil.
Let syrup boil, gently swirling the pan occasionally (do not stir or you will crystallize your sugar and the caramel will be grainy), until it has turned a medium amber.
Remove from the heat and carefully pour in cream (caramel will bubble).
Add vanilla and salt, and stir with a wooden spoon until caramel is smooth. Pour into a container and allow to cool.
Refrigerate.
To Assemble Ice Cream:
Remove caramel sauce from the refrigerator and allow to warm up slightly.
Remove cookie logs from refrigerator and cut into small bite size pieces.
Place back into refrigerator while you spin your ice cream in an ice cream maker (I recommend this one by Cuisinart).
Spin ice cream according to the manufacturer's instructions. It should be pretty firm.
Place ice cream into a bowl and stir in chilled cookie pieces, add as much or as little as you like.
Mix until fully incorporated.
Drizzle caramel over ice cream.
Stir together slightly, it should look streaky. Place ice cream into a container to freeze working quickly so it doesn't melt.
Freeze for 4 hours, or preferably overnight.
---
More From Better:
---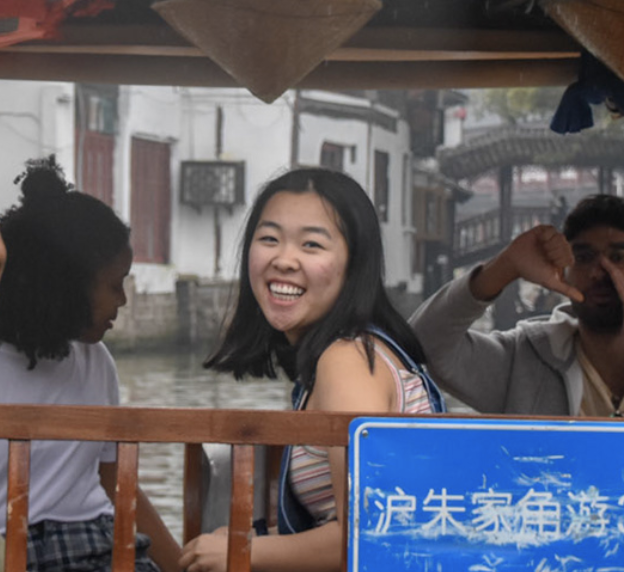 Cindy Mei is an intern at Better. Currently in her senior year of college at Northwestern's Medill School of Journalism, Cindy is moved by strong storytelling about personal identity and culture. She is an avid fan of the works of Anthony Bourdain, Alex Kotlowitz and Jenn Fang.
Cindy is a proud alumna and supporter of After School Matters, a non-profit organization that offers arts and leadership classes to Chicago high schoolers. She also encourages support for Think!Chinatown, a New York City based non-profit that fundraises for Chinese businesses in Manhattan's Chinatown.