Easter 2020 might go down in history as one of the strangest celebrations yet. With churches closed, gatherings cancelled and the stay at home order in place, we are left to celebrate as best we can in our homes with our small circle of family we are quarantined with. Luckily, we can still support local restaurants by ordering our Easter brunch or dinner for delivery or for curbside pick-up. Here are just a few that will help us keep some normalcy in our holiday (just remember to order ahead!).
Aba Fulton Market District
View this post on Instagram
Cost: $85
Options: Feeding four, the dinner includes beef tenderloin, spicy and classic hummus, salad, potatoes and creme brûlée pie.
Cost: Varies
Options: The South Loop restaurant will offer two different festive specials for Chicagoans celebrating the Easter holiday – a Queen Cut Prime Rib for $45 which includes prime rib, au jus, horseradish cream, dauphinois potatoes, glazed heirloom root vegetables, English peas, foie gras butter, and Parker House rolls with Normandie butter as well as their Original Lobster Pot Pie for Two which includes two butter-poached Maine lobsters with whipped potatoes, pearl onions and carrots, pastry, smoked whitefish roe, and lobster bisque for $95. Additionally, Pastry Chef Kyleen offers a white coconut cake ($12) for dessert.
Alinea Lincoln Park
Cost: $52.50 per person
Options: The meal starts with shrimp cocktail, mixed vegetable crudités with whipped ranch and classic deviled eggs. The main course features a molasses-glazed roasted ham served with 50-50 mashed potatoes and spring asparagus, which is rounded out with a spiced carrot cake with vanilla cream cheese frosting.
Cost: $60
Options: Includes burrata lasagna, a choice of chopped or caesar salad, housemade bread, giardiniera and tiramisu.
Cost: Varies
Options: With an extensive brunch, appetizer, dinner and dessert menu, you won't miss any holiday comforts.
Cost: $45-55
Options: The family-style menu includes a house-made crepe with Amish chicken, croque monsieur with artisanal ham and house-made potato chips and chefs dessert. An optional addition is a yellow beet salad with goat cheese and hazelnut ginger vinaigrette.
Cost: $11-23 per person
Options: With several choices, Convito is offering spring omelets, quiche, roasted ham, crepes, dessert and more. Plus you can take home a free bag of jelly beans or chocolate egg with every order.
Etta Wicker Parker
View this post on Instagram
Cost: $65-85
Options: Etta's meal for two includes filet mignon and gulf shrimp, with a brunch package available as an add on with breakfast casserole, potatoes, bacon. You can also order wine and carafes, mimosas, margaritas and old fashioneds.
Cost: $75
Options: Feeding four, the family meal includes braised lamb shanks with green garlic and mint pesto or crispy chicken thighs and rabbit sausage, potato, ramp and goat cheese gratin, baby kale and shaved asparagus salad with nettle vinaigrette, and rhubarb bread pudding with strawberry compote.
Cost: $18 per person for lunch; $24 per person for dinner
Options: Di Pescara's Easter special includes braised short rib with mashed potatoes, roasted carrots, asparagus and onions, in an au jus and oven-roasted Lake Superior whitefish with roasted cauliflower, roasted fingerling potatoes and tartar sauce.
View this post on Instagram
Cost: $125
Options: Offering to-go baskets that feed four, the meal includes several courses ranging from morning breads to green bean casserole. Your choice of two mains include quiche, maple-glazed ham, lamb provencal, eggplant moussaka or beef tenderloin, and your choice of one side includes cheesy double-baked potato or herb roasted fingerling potatoes. You can also add cocktail kits to make your own Mimosas or Bloody Marys.
View this post on Instagram
Cost: $55-75
Options: The Easter Sunday Special includes the choice of entree—smoked ham or smoked salmon—paired with various sides ranging from mac and cheese, green beans, dinner rolls and peach cobbler. You can also add on a mimosa package, adults Easter basket (complete with beer and toilet paper) and an Easter egg hunt to go.
Gemini Lincoln Park
View this post on Instagram
Cost: $100-195
Options: Family-style dinner that will feed 4-6 people, with the option to add two bottles of wine for $55. The menu includes Parker House rolls, a brussel sprout and kale salad, honey baked ham, white cheddar potato gratin, asparagus, carrots and a mini coconut cake.
Cost: Varies
Options: Offering a large selection of items that will feed 6-8 people, the a la carte menu ranges from breakfast to dinner items. Highlights include blackberry lemon pound cake, braised lamb shoulder, goat cheese tarts and spring pasta salad. The menu also includes gluten free, vegan and vegetarian dishes.
View this post on Instagram
Cost: $55
Options: The Easter package feeds four and includes Chef Jup's honey baked ham, potato and bacon casserole, braised collards, rolls, and peach cobbler.
Cost: $55
Options: Feed your party of four with BBQ favorites including fried chicken, mashed potatoes, chopped salad, biscuits, coleslaw and key lime pie. You can also add on prime rib (Queen is $32.95 and King is $35.95). Don't forget the Old Fashioneds!
Cost: Varies
Options: In addition to its a la carte prime rib and bountiful family-style prime rib dinners that include mashed potatoes and gravy, Yorkshire pudding, Lawry's Famous Spinning Bowl Salad, creamed corn and spinach, and more, the classic special occasion steakhouse also offers to-go dishes for Easter only. Choose from specials including a rack of Australian Lamb ($55) with rosemary, potato au gratin, leeks, and wild mushrooms, Roasted Chilean Sea Bass ($45) with sunchoke puree, spring peas and carrots, mint, and lemon butter, and Roasted Cauliflower Steak ($26) with lemon garlic oil and herbed farro. Lawry's is currently offering 20% all food orders, as well as 50% off beer and wine (bottles under $100).
View this post on Instagram
Cost: $55
Options: If you want to avoid the stores but still cook at home, Lazy Dog's Brunch Kit is the perfect solution. Here is what is included: pancake mix and toppings, fresh bananas, 15 eggs, 1 lb bacon, breakfast potatoes, coffee and OJ. You can also add on a DIY Mimosa or Bellini kit for curbside pick up.
View this post on Instagram
Cost: $80-165
Options: Serving two, the Easter Brunch Family Meal includes favorites such as their fire roasted filet mignon and crispy breakfast potatoes, and Easter specials like Maple Glazed Honey Baked Ham and Smoked Salmon Platters. Order the classic Easter Brunch menu or make it "Easter Brunch Royale" with special add-ons like their Wild Alaskan King Crab legs and caviar.
View this post on Instagram
Cost: $42-53
Options: Offering several options for meals for one, that includes a spring green salad, grilled asparagus, carrot cake and choice of entree. (ham, moussaka, halibut or strudel). They are also offering select wines by the bottle, too.
Cost: $16.95
Options: Get straight to the decorating with a DIY Spring Cookie Kit, which has all you need to create great-looking treats, including already baked sugar cookies, ready-to-use royal icing and sprinkles.
Cost: $12 per person
Options: Each meal includes honey glazed ham, red beans and rice, collard greens, cornbread and carrot cake.
Are you a restaurant owner or is your favorite restaurant offering Easter dinner to-go? Let us know and we'll add it to the list!
Are you a restaurant owner or is your favorite restaurant offering Easter dinner to-go? Let us know and we'll add it to the list!
---
More from Better:
---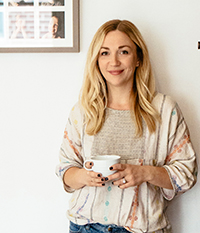 Macaire Douglas lives in the Chicago suburbs with her husband and two sons. She proudly supports Save Abandoned Babies Foundation, a Chicago-based nonprofit organization that works tirelessly to prevent the illegal abandonment of newborns nationwide. Since its inception in 2000, more than 3,600 newborns have been safely surrendered and adopted into loving homes.