All of a sudden, it seems, grandmotherly looks are in style. Fashion-wise, the coastal grandmother style of dressing head-to-toe in neutral palettes was popular for summer; now there's a hot home design trend that young homeowners and up-and-coming designers are gravitating towards: grandmillennial. This granny-chic approach involves pairing one-of-a-kind treasures, including antiques and vintage heirlooms, with modern furnishings to create a warm, inviting look that is bold, stylish and a distinct turn away from years of monochromatically decorated living spaces.
Meg Caswell, a Chicago-based interior designer and winner of HGTV's Design Star attests that a number of her clients are intrigued by the grandmillennial style. "Younger clients are especially less interested in the out-of-the-showroom look. They want punchy, bright colors and patterns—think chintz chairs, dark woods and patterned curtains. Grandmillennial is about mixing up heirlooms and statement pieces with newer furniture and accessories as a way to a achieve a far more interesting and original look." Caswell will hand out sage decorating advice at the upcoming Antiques + Modernism Show from November 3-6 in Winnetka, IL. 
Caswell says well maintained antiques and vintage collectibles are a great choice for both homeowners and designers because they are 1) environmentally sustainable and immune to current supply chain issues; 2) higher quality than mass manufactured furniture—and can often be found at better prices, and 3) uniquely personal. "There's nothing more discouraging than walking into someone else's house only to see furniture pieces you own sitting there," she says. "It takes away the specialness from what you've created."
How to get started with creating a grandmillennial look? First, Caswell says, anything goes. She advises clients to buy what they love when it comes to antiques and mix it up with more modern pieces to keep it fresh. Old mirrors, end tables and lighting fixtures that are in good shape are easier to mix in with current pieces and less committal than purchasing large furniture pieces. And if it's a family heirloom that fits, that's a bonus. 
Go to shows and shopping events, like the Antiques + Modernism Show, to find one-of-a-kind pieces for the home from a range of vendors to take home immediately. Peruse Chairish and 1stdibs for online finds. "Think of yourself as a treasure hunter, and let your gut be your guide," she says. "Have fun with it. And if you need help, hire a designer to assist you."
If You Go:
Antiques + Modernism Show
Community House, 620 Lincoln Avenue, Winnetka, IL
Preview Party: November 3, 2022
Show Dates: November 4-6, 2022
Proceeds benefit Community House
---
More from Better:
---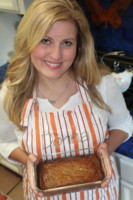 A freelance writer in Marin who writes about family, kids and parenting, Glass is the mother to one son, one dog and a hamster named Miss Geri. When she's not writing, trekking up steep hills in Marin or driving her kid to sports practice, she and her family spend time in their tiny cabin in Lake Tahoe. She avidly supports the California Academy of Sciences, a world class science museum and research institution, and the Institute on Aging which provides much needed services to Bay Area seniors and disabled adults. Glass is obsessed with baking the perfect loaf of banana bread, something she makes so often she no longer needs to look at a recipe card.