Born out of an eagerness to find balance in their busy lives, Coco Meers and Marcy Capron-Vermillion launched Equilibria in 2019. Offering a curated (and chic) line of CBD products for the modern woman, their goods are single sourced, hand harvested, non-gmo, organic and gluten free, and come with dosage support to make the journey unique.
Coco, CEO and Co-founder, is an entrepreneur and angel investor, with a notable resume of start-ups including Rebelle, a growth lab for digitally-enabled, female-led consumer companies that partners with founders through investment and collaboration, and the beauty booking service PrettyQuick (acquired by Groupon in 2015). Prior to startup life, Coco helped market and manage global brands under the L'Oreal SA portfolio in Paris.
Marcy, Chief Innovation Officer and Co-Founder, is an entrepreneur and product designer, with a knack for problem solving. She was inspired by her own personal experience with CBD to learn everything possible about the powerful health agent, eventually leading workshops and gatherings on the medicinal and regulatory power of cannabis for women. Prior to Equilibria, she founded Polymathic which was acquired by DevMynd in 2017.
Amid their successes, and busy growing families, the two had a shared experience of chronic illness and everyday stressors. Together, they founded Equilibria, using their personal experience knowing that quality cannabis products can bring meaningful balance to the lives of women.
We chatted with Coco and Marcy to learn what it takes to launch a wellness company in the competitive CBD landscape. Here's what the serial entrepreneurs had to say.
Equilibria is all about helping women find a balance — how do you find balance between your personal and busy professional lives?
COCO: Unplugging! It's impossible to do. Everything feels urgent and important all at the same time, but that kind of reactive, always-on behavior will ensure burnout and fatigue. One of our core values at Equilibria is balance — the core benefit CBD brings to the human body — so for me that looks like spending weekend time present with my two kids and husband, playing cardio tennis for a great workout, supporting local arts organizations like the Joffrey Ballet on whose Board I has served for almost a decade, and having delicious martinis (now over Zoom) with dear, long-time friends.
What makes Equilibria unique?
MARCY: Equilibria sets itself apart as the only CBD company offering highly personalized dosage support, driven by science and fueled by a team of passionate cannabis educators, all from the safety of your own home. We are owners in our organic, lab-tested supply chain and ensure batch to batch quality and consistency.
What are your thoughts on Chicago as a market to launch a new business?
COCO: Chicago is often underestimated as a place to bring talented, positive, hard working people together to build new companies — including those in the cannabis, healthcare, or tech spaces like ours. Folks who assume everyone has fled to the coasts are wrong, especially in a pandemic! There is a certain work ethic, focus, and business model orientation Chicagoans bring to the table. Our team is of course now remote-friendly with cross-functional leaders in many major US cities, but as a launch location, the Chicago ecosystem was very nurturing and receptive as we built traction. You can get a slice of the kinds of American consumers that exist nationwide right here, making it a great place to launch a concept.
For Equilibria, our focus has been on those less familiar with cannabis (of any kind – hemp or marijuana) as a way to bridge "fears of the unknown"— since the "unknown" in this case can change lives! — and the midwest, south, and other non-coastal areas are our ideal audience.
What has been the biggest challenge with growing a business during a pandemic?
MARCY: As a startup, we're presented with new challenges every day. Luckily, as a tech-forward business we already had a lot of systems in place that allowed us to quickly pivot where needed while still providing for our customers.
Balancing this momentum and scalability is a constant juggling act that keeps us on our toes daily. As a product company with dedicated technology and a human-to-human service — we are actively managing all three work-streams at once. Amidst the Covid-19 pandemic, what we've learned from our members is that women are in need of CBD's benefits now more than ever — so we've done what we can to keep it as accessible as possible in this time, and armed our Dosage Support team with our deeply-held spirit of empathy as they talk with our members every single day.
It's been a pretty stressful 12 months. What are your tips for those new to CBD?
MARCY: First of all, invest in a high quality product. Not all CBD is created equal. Equilibria is an owner in our exclusive organic farm in Colorado. By partnering strategically at the farm level, we're able to take full control of both quality and consistency.
Second, invest in a daily routine. CBD works best when taken regularly, so commit to taking it for at least a week and assess how you feel. Many people quickly write off CBD simply because they haven't taken it long enough to work appropriately, which can take 4 to 12 weeks to see full effect.
What are your favorite products to wind down with?
COCO: We purposely built Equilibria to meet women where they are, so we have an assortment of products depending on how you're looking to incorporate CBD into your daily routine.
If you have trouble with sleep and are open to taking ingestible CBD, I highly recommend the Daily Drops. Members love taking these oil drops before bed to increase relaxation, and during the day to promote focus and decrease tension. If you're more looking for topical relief, our Mineral Soak and Relief Cream are an amazing way to relieve discomfort, cramping, and soreness.
We love supporting local. What are some of your favorite Chicago or North Shore small businesses?
COCO: J.C.Lind bike shop on Wells in Old Town (what better way to get around the city?!), Chez Moi French Bistro on Halsted in Lincoln Park, Felt Chicago in Logan Square, Space 519 in Streeterville.
MARCY: Festive Collective in Logan Square, Dark Matter Coffee + EyeCandy + Spinning J's in Humboldt Park/West Town, Sacred Art + Bang Bang Pie in Lincoln Square, Hartigan's in Evanston, Soap Distillery in River West, Side Practice Coffee + Reppin Pins in Bowmanville.
---
More from Better:
---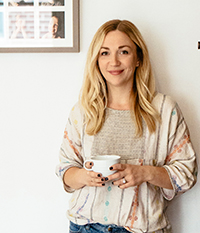 Macaire Douglas lives in the Chicago suburbs with her husband and two sons. She proudly supports Save Abandoned Babies Foundation, a Chicago-based nonprofit organization that works tirelessly to prevent the illegal abandonment of newborns nationwide. Since its inception in 2000, more than 3,600 newborns have been safely surrendered and adopted into loving homes.