Like many of us, Alex Kariotis has experienced struggles in her relationships with food. She grew up in a Greek-Italian family in the Chicago area, one in which a lot of value was placed on cooking and eating together at the family table. While meals were a pleasurable event in her family, it also led her to take part in yo-yo dieting throughout high school and college. "I was either completely on a diet, or completely off one, for the better part of 10 years. It didn't make me feel good," she says.
Those feelings, plus watching one of her younger siblings struggle with anxiety and depression, eventually led Kariotis to hire her own health coach to examine her relationship with food — mentally as well as physically. That life-changing experience led her on a journey to becoming an integrative nutrition health coach, which included graduating from the Institute of Integrative Nutrition.
What is an Integrative Nutrition Health Coach?
Integrative nutrition health coaching involves much more than working with individuals on meal plans, nutritional tweaking and goal-oriented support. An integrative coach is someone who is willing and able to work with other practitioners that the client might see, such as medical doctors, acupuncturists, therapists, dietitians and the like. They can also help a client see the bigger picture as it relates to relationships with food, body image and even mental health wellness.
Kariotis' approach has everything to do with personal fulfillment in the various areas in one's life — such as relationships, physical activity, social life, career and more — and how they impact one's health and nutrition. But rather than giving clients a laundry list of do-this-or-do-thats, she helps clients discover their own personal motivators while offering ongoing guidance and knowledge on food and health.
Helping Women Find Their Self-Assuredness
Kariotis, 29, has found a sweet spot in her coaching practice: helping other women, mostly in their early to late 20s and who are either in college, recent college graduates or in the beginning phases of their careers.
She says, "I see young women who are drinking green juice, running marathons and being very restrictive about their diets. There are those women who are not taking care of themselves at all. Neither of those extremes are mentally healthy.
A lot of my clients initially come to me with goals around improving their body image and developing a healthier relationship with food, but what they really want is to become a more confident person and feel better about themselves."
By way of example, Kariotis began working with a young woman by the name of Shea when Shea was a junior in college. Shea had struggled with 'disordered eating' in the past and had been unhappy with her relationship to food all through her teens and into her 20s. Working together, Kariotis helped Shea discover her food anxiety triggers and helped her create a "toolbox" of actions to help manage them.
Six months later, Shea's outlook on food and its impact on her anxiety transformed. Says Shea, "The biggest tangible change is how I feel and how those close to me have noticed a difference. My mental health has become drastically better, along with my mood and energy levels. I see my health as a priority and have learned how it affects everything in my life — my relationships, mental and physical health." Kariotis notes that during their last meeting, both became emotional talking about how far Shea had come during the six-month period they worked together.
"At the end of the day, helping clients to become the best versions of themselves is what it's all about," says Kariotis. "It's really a personal journey for everyone, and integrative nutrition health coaching is built around the idea that food and nutrition are part of every area of life."
To find out more about Alex Kariotis and her integrative nutrition health coaching, please visit the Take Kare with AK website.
---
More from Better:
---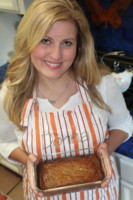 A freelance writer in Marin who writes about family, kids and parenting, Glass is the mother to one son, one dog and a hamster named Miss Geri. When she's not writing, trekking up steep hills in Marin or driving her kid to sports practice, she and her family spend time in their tiny cabin in Lake Tahoe. She avidly supports the California Academy of Sciences, a world class science museum and research institution, and the Institute on Aging which provides much needed services to Bay Area seniors and disabled adults. Glass is obsessed with baking the perfect loaf of banana bread, something she makes so often she no longer needs to look at a recipe card.