If you noticed a strange haze to the sky today, you are not alone. Chicago, and the entire upper Midwest region, is seeing the smoke from the California, Washington and Oregon wildfires drift into our atmosphere.
Late in the day Sunday, smoke from western U.S. fires had drifted over northern IL and northwest IN and this will continue through today. This is expected to remain aloft so no impacts are forecast, but the sky will have a milky white or even gray appearance to it. #ILwx #INwx pic.twitter.com/SVtxnE0NCB

— NWS Chicago (@NWSChicago) September 14, 2020
It's surreal almost, that the same smoke our co-workers in the Bay Area have been talking about has made it here — although it is nothing like what they have experienced. We've received firsthand updates from our colleagues at Marin Magazine, especially on the day they woke up to apocalyptic skies. Their red and orange filter was ever present on our Zoom calls that day.
How will the smoke overhead affect us? Not much, according to the Illinois Storm Community. We may see hazy and grey skies, red sunrises and sunsets, and the sun may look odd throughout the day. And unlike the West Coast, where air quality is so bad it is like smoking 20 cigarettes a day, this residual smoke does not pose a big risk to us.
Our hearts have been breaking for those affected on the West Coast, and the smoke in our skies today serves as a reminder that we do not live in a bubble. The damage these fires have caused, on top of a pandemic, is catastrophic. From farms and wineries, to homes and businesses, many are hurting. If you have the means, please consider donating to one of the causes listed here.
---
More from Better & Marin Magazine:
---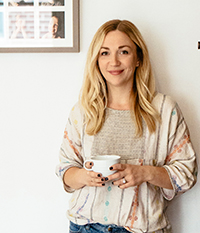 Macaire Douglas lives in the Chicago suburbs with her husband and two sons. She proudly supports Save Abandoned Babies Foundation, a Chicago-based nonprofit organization that works tirelessly to prevent the illegal abandonment of newborns nationwide. Since its inception in 2000, more than 3,600 newborns have been safely surrendered and adopted into loving homes.