On a warm and balmy Chicago summer night in July, hundreds of people feeling nostalgic for the '90s packed themselves in at Recess in Chicago's Fulton Market for a good cause. They were there for the Young Professional Committee's '90s Summer Bash, designed to raise money for the Illinois Holocaust Museum & Education Center.
Many of the 300 partygoers in attendance reveled in the opportunity to turn back time—with some sporting their favorite '90s-era fashion including fanny packs, Doc Martens, high tops, Nirvana t-shirts, even a scrunchie or two—and rocking out to live music by Zev and Company led by Zev Citron, a third-generation holocaust survivor, plus other evocative 90s tracks spun by DJ BooMan of FLOW Entertainment.
This year's event surpassed its goal by raising more than $75,000, earmarked for the museum's scholarship program to subsidize admissions and bus transportation for low-income schools and to support both student and educator initiatives.
The bash was emceed by Cortney Hall, co-host of NBC's lifestyle show Chicago Today, who was joined onstage by Kareem K.W.O.E. Wells, popularly known as "king of the mitzvahs." Adam Amin, play-by-play announcer for the Chicago Bulls, also showed up in support.
Key event sponsors included the Karkomi Family Fund, Ross and Rich Chaifetz, ComPsych Corporation, Protiviti, United and PNC Bank.
The Young Professional Committee is a group of young adults from across Chicagoland, dedicated to raising funds and awareness for Illinois Holocaust Museum & Education Center through fundraising and friend-raising programs.
---
How to Help:
Donate to support Illinois Holocaust Museum & Education Center mission to preserve the legacy of the Holocaust by honoring the memories of those who were lost and by teaching universal lessons that combat hatred, prejudice, and indifference.
---
More From Better
---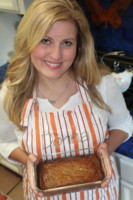 A freelance writer in Marin who writes about family, kids and parenting, Glass is the mother to one son, one dog and a hamster named Miss Geri. When she's not writing, trekking up steep hills in Marin or driving her kid to sports practice, she and her family spend time in their tiny cabin in Lake Tahoe. She avidly supports the California Academy of Sciences, a world class science museum and research institution, and the Institute on Aging which provides much needed services to Bay Area seniors and disabled adults. Glass is obsessed with baking the perfect loaf of banana bread, something she makes so often she no longer needs to look at a recipe card.