On September 16, The Woman's Board of Rush University Medical Center hosted its annual fall benefit, "Illuminate," at Theater on the Lake in Chicago. Nearly 400 guests gathered to raise funds for the medical center's education, research and community service programs, as well as The Woman's Board Fund for Excellence in Cellular Therapy.
Theater on the Lake proved to be the ideal location for the festive soiree, which was held under the stars and afforded guests the opportunity to enjoy the gentle breeze off Lake Michigan alongside stunning views of Chicago's iconic skyline. The scene was set with backlit draperies, glowing orbs placed on the cocktail tables and performance artists spinning glowing hoops.
Co-chaired by Erin Ritchie and Sonja Smith, Illuminate was The Woman's Board's first in-person fall benefit since 2019, and guests were clearly overjoyed to be in one another's company again. They delighted in signature cocktails, passed appetizers and food stations catered by Food For Thought, and were treated to displays of magic by strolling illusionists Justin Purcell and Mike O'Donnell.
The evening's program kicked off with a surprise performance by the Youth Choral Theater, followed by a poignant video and remarks from Dr. Omar Lateef, president and CEO of Rush University System for Health and of Rush University Medical Center. Dr. Lateef spoke about the historic and unprecedented impact of the COVID-19 on the healthcare industry and how Rush rose to the challenge, and recognized attendees Joan and Paul Rubschlager, after whom two buildings on Rush's campus are named.
Cindy Mancillas, the current president of The Woman's Board, greeted guests and shared information about the evening's beneficiary and the board's 2022 principal project, The Woman's Board Fund for Excellence in Cellular Therapy. The fund facilitates the work of Rush's physician-scientists who are introducing exciting but highly complex cellular therapies into cancer patient care, with the hope of improving health outcomes for patients whose cancer is resistant to other treatments.
​​The Woman's Board has committed to raising a minimum of $500,000 annually on behalf of Rush University Medical Center, which they have accomplished through the success of the fall benefit.
Event sponsors included Crate & Barrel, Bulley & Andrews, Oil-Dri Corporation of America, Make it Better Media Group, Mr. & Mrs. J. Christopher Nielsen and the Bryan Cressey and Iliana Sweis Foundation.
---
How to Help
The Woman's Board Fund for Excellence in Cellular Therapy facilitates the work of RUSH physician-scientists developing cellular therapies that harness the power of the immune system and advance treatments of lymphoma, leukemia and other hematologic malignancies. Your support of the fund will help RUSH physician-scientists introduce these complex, cellular therapies into patient care.
---
More From Better
---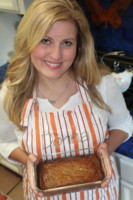 A freelance writer in Marin who writes about family, kids and parenting, Glass is the mother to one son, one dog and a hamster named Miss Geri. When she's not writing, trekking up steep hills in Marin or driving her kid to sports practice, she and her family spend time in their tiny cabin in Lake Tahoe. She avidly supports the California Academy of Sciences, a world class science museum and research institution, and the Institute on Aging which provides much needed services to Bay Area seniors and disabled adults. Glass is obsessed with baking the perfect loaf of banana bread, something she makes so often she no longer needs to look at a recipe card.