This year's grads made it through one of the hardest years in recent history; from virtual learning to hybrid schedules, their graduation is worthy of a big celebration. With new adventures on the horizon, including new jobs and responsibilities, here are 25 college graduation gift ideas for the grad in your life.
Paper Source, locations in Evanston and Chicago
What does a new job smell like? A blend of leather, vanilla, cinnamon and cedarwood, this candle is reminiscent of coffee, a set of new pencils and a blank notebook. It's perfect for a fresh start.
Crate & Barrel, 1775 Lake Cook Rd, Northbrook
The cadillac of appliances, this pressure cooker and air fryer in one will help your recent grad "adult" when it comes to dinnertime. The pressure cooker can cook, sauté, steam, slow cook, sous vide and warm while the air fryer can quickly fry with little to no oil, roast, bake, broil and dehydrate. Really, it's the gift that will keep on giving.
Razny Jewelers, Locations in Highland Park, Hinsdale, Chicago & Addison
View this post on Instagram
Want to give your grad something they will cherish forever? Go old school with a classic watch, so they can always think of you whenever they wear it. To make it even sweeter, add an engraving.
Kenzy Gifts & Decor, 222 E Westminister, Lake Forest
A hopeful sentiment, this tray is perfect to accompany a gift check, which you know a grad is sure to appreciate.
Schaefer's, 9965 Gross Point Rd., Skokie
Toast their success with a personalized bottle of bubbly or wine from Schaefer's in Skokie. Their "rotating bit" engraver creates a personalized message, that can include a graphic or logo as well.
Home Chef, starts at $49.95 per week
Based in Chicago, Home Chef is the perfect gift for the new grad who is still learning their way around the kitchen. Weekly meals start at just $49.95, and contain lots of fruits and vegetables, so you know they are eating healthy at least few times a week.
If you want to inspire your grad to be the best grown-up they can be, pick up this book by San Francisco Psychologist Dr. Jamie Goldstein. Touted as the "complete guide to adulting," this book will help young adults figure the whole thing out.
Clare V, 939 W Armitage Avenue, Chicago
Head to Clare V's Chicago store in the Lincoln Park neighborhood to pick up a wallet, handbag or tote with a cute monogram. This wallet boasts Clare V's signature stripes printed over rich genuine leather.
Foursided, 2958 N Clark St., Chicago
Maybe there is a long-distance job they are moving away for, or they simply will miss their alma mater's state. Either way, this sweet personalized puzzle piece frame is a beautiful way to display their affection. Custom order it from Foursided in Andersonville.
Stumble & Relish, 1312 Chicago Ave, Evanston
Evanston's Stumble & Relish has a wide selection of graduation cards, but we love this inspiring one (that in our opinion, would look wonderful framed).
Uncle Dan's, locations in Highland Park, Evanston and Chicago
Does your graduate have grand summer adventure plans? Set them up with Danner's legendary hiking boots that can withstand any elements that may come their way. Pick up from Uncle Dan's in Highland Park, Evanston or Chicago.
Best Buy, 1072 Willow Rd, Northbrook
Trust us — this gift may seem a little boring, but the Roomba vacuum is a gift everyone can appreciate. Treat them with one of the top-of-the-line models, that can even dispose of the fuzz balls, snacks and dust it picks up along the way.
More items we love:
If you buy something through our links, Make It Better Media Group may earn an affiliate commission.
---
More from Better:
---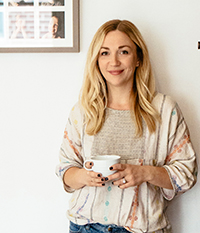 Macaire Douglas lives in the Chicago suburbs with her husband and two sons. She proudly supports Save Abandoned Babies Foundation, a Chicago-based nonprofit organization that works tirelessly to prevent the illegal abandonment of newborns nationwide. Since its inception in 2000, more than 3,600 newborns have been safely surrendered and adopted into loving homes.