The end of summer — and the beginning of a new school year — is usually our siren call to return to our routines and busy extra-curricular schedules. But this year, back to school means back at home for another season (or three) of work and school from home. Breathe some new life into the monotony with these pieces from local stores.
Perfect for the kids, or the young at heart, these aesthetically pleasing balancing blocks are perfect for a tech break and moment of relaxing play. They're sustainable too, made from rescued scraps of oak and non-toxic, water-based paint. 1478 W Summerdale Ave., Chicago
Hazel

Chicago Canine Rescue Charity Candle,
$24
If anything screams fall, it's a cozy candle. This one, scented with musty herbaceous and floral notes, provides some extra warm and fuzzies. Plus, all proceeds go to the Chicago Canine Rescue. 1926 west Montrose Ave., Chicago
Warby Parker

Butler Eyeglasses in Teal Tortoise,
$95
All of that e-learning and working from home on devices puts a strain on your eyes, affecting your sleep and causing headaches. Warby Parker eyeglasses are not only fashionable, but the lenses help filter blue light. Various locations throughout Chicago and the Suburbs.
Jayson Home

Brass Pencil Holder,
$75
A beautiful and chic piece for the desktop or kids table, this polished brass angular pencil holder comes ready to use with 24 sharpened colored pencils. 
Payton Rose

Suburban Riot Homebody Sweatshirt,
$68
We're all bound to be homebodies, whether we like it or not this year, so your comfy sweatshirt do the talking. We promise this will be a hit on Zoom. 2760 Dundee Rd., Northbrook
The Book Bin

Heritage Baking: Recipes for Rustic Breads and Pastries Baked with Artisanal Flour from Hewn Bakery
,
$29.95
As the summer heat and humidity evaporate, we'll jump back into our pandemic baking. For inspiration, pick up this book by Hewn Bakery, voted 2020 Best Bakery, Suburbs, by Better readers. 1151 Church Street, Northbrook
Foursided

Very Big Hug Blanket,
$108
Because sometimes all we need is a big, warm hug. This 100% cotton blanket, made in the USA, is perfect to cozy up with while enjoying a good book. 2958 N Clark St. & 5061 N Clark St., Chicago
Chalet Nursery

Rosy Rings Hand Sanitizer Spray,
$14.99
Arguably one of the best accessories of 2020, this hand sanitizer comes in a pretty glass bottle finished with a hand-tied piece of ribbon and delicate charm. It's powerful too, containing 80% alcohol. 3132 Lake Ave., Wilmette
---
Shop Better: Supporting local retailers is a great way to lift up your community. For more of our favorite spots to shop local, visit our style section.
---
More from Better:
---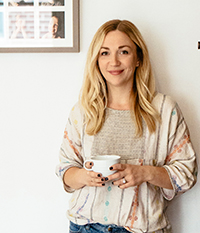 Macaire Douglas lives in the Chicago suburbs with her husband and two sons. She proudly supports Save Abandoned Babies Foundation, a Chicago-based nonprofit organization that works tirelessly to prevent the illegal abandonment of newborns nationwide. Since its inception in 2000, more than 3,600 newborns have been safely surrendered and adopted into loving homes.