With Earth Day approaching, there is no better time to refresh your closet, kitchen and home decor with stylish, sustainable and eco-friendly items. If you are doing a spring clean-out (don't forget to donate those items), here are eco-friendly fashion and home items from local and national stores available online, for curbside pick-up or in-store shopping.
For Your Closet
DÔEN
Palmera Organic Blouse, $200
Inspired by vintage designs, DÔEN's Palmera blouse has a sweet floral print that sings spring. The woman-owned company uses organic fabrics and ensures ethical work environments from their suppliers to factories.
Marcus
Frame Le High Straight – Solana, $210
559 Chestnut St., Winnetka
The perfect casual or dress-up jean, Frame's Le High Straight style is made from 94% organic cotton and recycled fibers, giving it the perfect lived-in look. Find them locally at Marcus in Winnetka.
Saulė
Sophia Clip on Earrings in Tuscan Sun, $195
Recently featured on the stunning Viola Davis, Saulė creates beautiful ethical jewelry with maximum style and minimal harm. Using sustainable materials, these earrings make a big impact.
Headquartered in Chicago, Mod + Ethico creates luxe everyday items that are made socially responsibly and sustainably. We love the tie back on this 100% pima cotton top.
GOODR Sunglasses
Jaded Little Pill Polarized Sunglasses, $25
Uncle Dan's – locations in Highland Park, Evanston
GOODR is a carbon neutral company, who believes we should do our best not to trash the planet. They buy upcycled materials whenever possible, and create the most stylish active sunglasses around.
Lilla Barn
Ponnopozz Long Sleeve Top, $150
Chicago-based Lilla Barn creates ethically produced original garments that are bright and bold. This limited-edition top, made with eco-friendly inks, is easy to wear, super-soft and relaxed.
For the Home
Chalet Nursery
Native plants and trees
3132 Lake Ave., Wilmette
There is nothing better than a sunny afternoon gardening, and Chalet Nursery in Wilmette has everything you'll need to help bring native plants back to the area, starting with your home. Planting native flowers and trees is vital to the area's biodiversity, and helps bring butterflies, bees and more to your garden, which will in turn give you a better crop of vegetables and fruits.
KeepCup
Resusable Coffee Cup, $21.37
It's time to ditch the reusable coffee cup (when you can, thanks to Covid-19 restrictions now). This stylish cup from KeepCup is BPA free, non toxic and durable. Plus, it's made in sunny California. You can even calculate the impact you'll make on the environment by using this cup with their handy impact calculator.
Chef'N
Stainless Steel Compost Bin, $40
Sur La Table 4999 Old Orchard Rd., Skokie

If you are not composting your kitchen scraps yet, it's time to get on board! It's one of the best things you can do with your waste (think vegetable peels, coffee grounds), plus your garden will love the compost. Pick it up locally at Sur La Table at Old Orchard Mall in Skokie.
For the Littles
Beat Street carries a great selection of Green Toys, which are made from recycled milk containers. Favorites include the parking garage and the ferry boat (which is also perfect for bath time!).
Buy Second-Hand
Instead of buying new this season, consider shopping at a local resale shop. The average American now generates 82 pounds of textile waste each year, and we are lucky to have a wide selection of resale and vintage stores around the North Shore and Chicago. Plus, many of them give back to the community with every sale.
View this post on Instagram
Here's a list of resale, consignment and vintage stores selling clothing, furniture and more to check out:
Heritage Trail Mercantile 190-B Northfield Road, Northfield
Village Treasure House 1460 Paddock Drive, Northbrook
North Shore Exchange 372 Hazel Ave., Glencoe
Winnetka Thrift Shop 992 Green Bay Rd., Winnetka
Lost Girls Vintage 1947 W Chicago Ave., Chicago
Family Tree Resale 5066 N Lincoln Ave., Chicago
You can also go green while shopping and dining with Central Street Evanston and the City of Evanston this month. Check out their lists of promotions and celebrate Earth Month locally this April!
More Items We Love:
If you buy something through our links, Make It Better Media Group may earn an affiliate commission.
---
More from Better:
---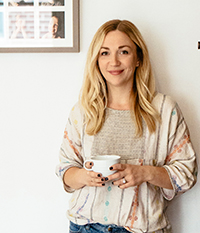 Macaire Douglas lives in the Chicago suburbs with her husband and two sons. She proudly supports Save Abandoned Babies Foundation, a Chicago-based nonprofit organization that works tirelessly to prevent the illegal abandonment of newborns nationwide. Since its inception in 2000, more than 3,600 newborns have been safely surrendered and adopted into loving homes.