In 2008, interior designer Alden Miller met a young couple in need of guidance on how to style their modest Corte Madera home. "We worked well together, and over the years, they would call me to help out on few small projects," she recalls. Years passed. And the couple began to feel they'd outgrown the space. Like many first-time homeowners, they fantasized about relocating to grander accommodations—a place that ticked all the boxes on their ever-growing wish list. But because they'd already fallen in love with their neighborhood, and the home's 180-degree views of the city, the Bay, and Mount Tam, they eventually decided to stay put, renovate and expand.
Growing the Space
The remodel, carefully crafted by architects Heidi Richardson and Andrew Pribuss, was large in scope. It called for a 1,250-square-foot, third-story addition, plus a small bump-out on the main level. With the added space, the architects carved out room for a well-appointed master suite, plus two additional bedrooms and one additional bath.
Rethinking the Main Floor
The team then reconfigured the main floor to incorporate all the must-haves on their client's wish list. Highlights include his and hers offices, a workout room, a great room, as well as a dedicated media room. They also moved a stairwell and relocated the kitchen from the back to the front of the house. "In the new kitchen you get these stunning views that can be enjoyed from either end of their massive island," Miller says. Other kitchen luxuries: a walk-through pantry, Calacatto Oro Supreme marble counters and backsplash, and an appliance suite with all the bells and whistles. The entry level has been reimagined into more flexible space with a foyer, mudroom and formal guest quarters. There's also a second large gathering room perfect for movie nights, playdates, and guitar jam sessions.
Adding the Third Story
One of the architects' greatest challenges: Building a third story with commanding views without encroaching on the neighbor's rights to enjoy the same sweeping vista. They accomplished this by limiting the addition to the east side of the structure. And while the finished home is approximately 4,500 square feet, it doesn't feel too imposing. "We chose dark colors for the exterior and, with the third floor set back from the street, it easily blends with the surroundings," Heidi says.
Connecting Inside and Outside
A big theme, evident throughout the space, is the connection to the outdoors. A sliding wall of glass in the great room, for example, opens onto an expansive patio. There's also a handful of smaller decks and patios for more intimate gatherings—one off the main floor den, another off the master, and a third off the lower level.
Marrying Two Styles
The new design called for all fresh furnishings. Most of what the couple owned simply didn't meld with the new vibe. What also needed melding was the couples' conflicting aesthetics. "He liked modern and minimalist," Miller says. "She wanted to make a space that felt cozy, warm, and inviting." So, to create a space that soothed both their souls, Miller toned down some of the home's modern architectural details. Floor-to-ceiling windows in the master suite were framed with custom ripple-fold drapes. "This really softened the room," she explains. Likewise, stark white walls were warmed up with textured carpets and rugs with colorful patterns. Will this newly designed architectural gem serve as the family's forever home? "I never ask that question," Heidi admits. "But what I do know is that they're very pleased with how everything turned out."
This article originally appeared on spacesmag.com.
---
How to Help:
For design lovers who want to give back, consider attending the San Francisco Decorator Showcase, virtually, on May 22. Since 1977, the showcase has raised over $17 million to benefit the San Francisco University High School financial aid program. This event continues to allow hundreds of deserving Bay Area students access to a world-class college preparatory education.
---
More from Better:
–See How Wallpaper Gives This Chicago Bungalow a Colorful Refresh
-How Healthy is Your Home? Expert Tips For Upgrading Your Space
–A Mill Valley Home for a Family of Three is Laid-Back, Light-Filled and Modern
---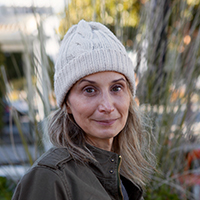 Dawn Margolis Denberg has worked as a professional journalist for 20 years. Her work has appeared in top publications, including Wired, Shape and Parenting. She has also written several books for children including, The Men in Black Agent's Manual The Official Godzilla Movie Fact Book. And, most recently, an episodic audio series for Tales Untold.