No matter how a dog comes into your life, the bond you will share is a special one. Dogs can be quirky, happy-go-lucky, weird, smart, grouchy, or even lazy as a sloth. Whatever your dog's personality, man's best friend doesn't ask for much: attention, love, care, and maybe a few bites from the dinner table.
Don't you think it's time to reward the pup in your life? Here are 10 products that your pet deserves (and we think you'll dig them too!).
A high-end mattress for your dog? Why not! Give your dog the gift of a comfortable and restful sleep with the specially designed dog bed from Casper.
They got us at the name and packaging, but our pup loved this treat too. Stock up, because your dog is going to flip for this ice cream mix filled with blueberries, banana, and goat's milk.
If you have a dog that wants to play fetch for hours, this ball launcher by iFetch might just be a lifesaver for your arm. If you have kids, we bet they'll love it too (win-win!).
The reviews on this fun toy say it is "legendary." With claims like that, you have to give this chewy and bouncy toy a try (bonus: no loud squeaks!).
Support a good cause with this trendy sweatshirt for your dog. The company, Found My Animal, gives back to shelter dogs in need and promotes adoption with every purchase.
As the brand says, your pup can "tug, toss and chew" their hearts out with the multi-use set. Not only is the design modern and fun, but they are made of natural rubber and organic cotton.
A gift even the most senior of dogs can enjoy, this feeding system by WeatherTech is a serious upgrade to dinner time. Veterinarian approved, you can build a system based on your pet's needs and you don't have to worry about any toxic chemicals leaking into your dog's water or food.
If you have a need to check in with your dog while you are away, the Furbo Dog Camera comes highly recommended and has some fun features, like 2-way audio and the ability to dispense treats.
Not only is this pet carrier stylish, but it is waterproof, padded for your comfort, breathable, and has a unique cut out so your pooch can see what's going on.
This charming pet oasis definitely won't be an eyesore in your home. Plus, its comfortable, machine-washable, and the price won't break the bank.
Looking for more ways to celebrate your dog?
Take them out on a date to a local pet store! We love Best of 2019 winners

Krisers Natural Pet

and

Wilmette Pet Center

.
Treat them to a spa day at

Wags on Willow

, another Best of 2019 winner for pet grooming.

Donate in their honor to one of the following nonprofits:
---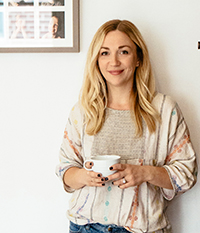 Macaire Douglas lives in Chicago with her husband and two sons. She proudly supports Share Our Spare, a local nonprofit that collects goods for children in need.