On December 1 this year, Giving Tuesday will kickstart the giving season. Just over a year into this pandemic, the effects of Covid-19 can be seen across the country. Essential and important organizations had to put their mission on pause as we all dealt and are dealing with uncertainty and change. This Giving Tuesday, let's give back to those whose selflessness and kindness continue to support and lift up individuals and communities.
Here are 24 organizations and initiatives where you can give back on Giving Tuesday.
Among the organizations below, Better has recognized several of them in our past Philanthropy Awards, including Bernie's Book Bank, Fresh Start Caring for Kids, HOME and BUILD Inc.
You can follow #GivingTuesday on social media to see initiatives unfold at @betterchicago.
The American Red Cross is partnering with CBS Chicago in a blood drive for Giving Tuesday. From 6 a.m. to 6:30 p.m., you can sign up to help with the initiative. You can either give your time (sign up to volunteer), give your blood (make a blood donation appointment), give dollars (donate directly to the Red Cross) or give to the community (nominate a hero). Instead of a telethon this year, the volunteers at the Red Cross will be telling stories of the organization's mission instead.
This year, there are two ways to give back to Lurie Children's Hospital on December 1.
Send a holiday message to a child at Lurie Children's. Receiving a card will let them know you are thinking of them, and brighten their day.
Give a "Feel Good Gift." Spending the holidays in a hospital can be rough for children and their families. With this initiative, you can donate to a loved one or a stranger at Lurie to make that time easier–choices include sending a visit from Santa, a pet therapy visit or art and crafts supplies.
Your gift can include an optional e-card as well. The "Feel Good Gift" initiative is representative of the people and programs at Lurie Children's, as well as supports the area of the hospital that needs it the most. Donations are tax deductible.
Common Threads is a national nonprofit that provides children and families cooking and nutrition education to encourage healthy habits that contribute to wellness.The organization focuses on under-resourced communities facing food insecurity, hoping to equip them with information and items to make nutritional choices. On Giving Tuesday this year, Common Threads has a goal of $15,000, and securing pledges of $7,500 before the event. Help them meet that goal by donating here.
Cradles to Crayons provides children from birth through age 12 with the essential items they need to thrive. The organization relies on community donations to support children affected by homelessness or poverty.  The pandemic has affected the lives of all children—at home, at school, and at play, so more than ever, Cradles to Crayons is committed to providing the essentials children need to stay safe and healthy now. Donate to Cradles and Crayons now.
Better Judges' Distinction Award Winner (under Philanthropy Awards)
The Center for Independent Futures is aimed toward supporting individuals with disabilities. This year, on Giving Tuesday, the organization hopes to raise $20,000. The pandemic has hit the organization hard; when their offices closed in the spring, all activities were paused. Although they were able to bounce back and adjust to the virtual space, the Center for Independent Futures needs your help to continue to bring services and resources to people with disabilities.
The Environmental Law and Policy Center is the Midwest's leading environmental legal advocacy organization. The organization believes that environmental progress and economic development are congruous. Give a gift to the ELPC for Giving Tuesday to ensure that the center can continue to fight for our right to call this planet home. Donate here.
Since 1969, BUILD (which stands for Broader Urban Involvement & Leadership Development) has become one of Chicago's leading gang intervention, violence prevention, and youth development organizations. Their mission is to engage at-risk youth to help them realize their potential and contribute to our communities. Their "Attitude of Gratitude" campaign will focus on mentors and youth associated with BUILD. Your donation for Giving Tuesday can provide valuable resources and training materials to help BUILD advance their mission. Donate here.
Better 2017 Philanthropy Award Winner
UNICEF is offering two initiatives for Giving Tuesday.
Volunteer to help UNICEF prepare to administer the COVID vaccine by filling the supply stockpiles. UNICEF reaches nearly 50% of the world's children under the age of 5 with vaccines each year — making them the largest procurer of vaccines in the world. With the COVID vaccine, this could be the largest, most rapid vaccination program in history. Your gift helps UNICEF prepare for a vaccine and protect vulnerable children.
Sponsor a ChangeMaker for the ChangeMaker Benefit. The ChangeMaker Benefit will take place on December 1 at 7PM CST as a virtual, one-night-only fundraiser with guest performances like Liam Payne and Katy Perry. This year, the benefit will focus on the impact that COVID-19 has had on children's lives around the world.
Join this literacy organization on December 1 for their "Power of a Dollar" campaign. The campaign aims to provide one-on-one literacy tutoring for children in North Chicago and Zion, Ill. There are many impactful options to choose from, for example, $50 provides educational games while $250 helps train a tutor. All allow you to help make a difference in the lives and literacy of children in need. Donate here.
City Year consists of AmeriCorps members who serve in schools to prepare students with the social, emotional and academic skills and mindsets to succeed in school and in life. Not only does City Year develop civic leaders and ensure more high school students are on track to graduate, but the organization also advances interpersonal and workforce readiness.
This year, City Year Chicago is hosting a Stone Soup Trivia Night on Giving Tuesday from 7 to 8 p.m. There is a $40 entry fee per person. Register here.
Not interested in trivia? Donate to City Year directly.
The Make it Better Foundation is an extension of the Make it Better Media Group, founded by Susan Noyes. MIB Foundation aims to identify and amplify the work of outstanding nonprofits, especially in the Chicagoland area. Donate to help MIB purchase much needed winterwear and accessories for many vulnerable adults and children through nonprofits we trust. Donate here to the MIB Foundation.
Paws is dedicated to building "No Kill" communities, starting with a "No Kill" Chicago, for cats and dogs. They are dedicated to ending the overpopulation of homeless animals through solutions, practices and education. Donate here for their Holiday Giving initiative. All gifts given before December 31 will be doubled by Michael Sweig, up to $50,000.
The Northern Illinois Food Bank leads the Northern Illinois community in solving hunger by providing nutritious meals to those in need through innovative programs and partnerships. Your dollars and time matter more than ever for this food bank, as hungry children, parents and seniors on a fixed income face food insecurity. Donate here. Volunteer here.
As part of Bernie's "Change Their Story" campaign, Bernie's Book Bank is looking for donations in $12 intervals. $12 will provide 12 books to a child in need; that means a $96 donation will provide 12 books to eight children. The book bank serves more than 275,000 children from under-resources communities. Help a child receive quality reading material now.
Better 2013 Philanthropy Award Winner
A Safe Place has been a critical organization for the safety and wellbeing of domestic violence and human trafficking victims. Last year, A Safe Place served 32,912 individuals and saw an 88 percent increase in Hotline calls. The pandemic has challenged the organization's abilities to house and serve victims because of social distancing guidelines; to accommodate, they placed victims in hotels but that means "soaring costs for increased housing, food and transportation necessary to keep our clients safe." The Coleman Foundation is matching every donation of $100 or more, to help A Safe Place reach their Giving Tuesday goal of $50,000. Donate here.
Lydia Home provides resources to children living in foster care, empowering kids exposed to trauma to believe in a "bright tomorrow." LYDIA Home Association is a Christian, non-profit organization that has been serving children in Chicago since 1916. Their mission is to strengthen families to care for children and to care for children when families cannot. This year, they are asking specially for items to help improve Lydia Home and its reach. Donate a gift card (used for birthdays, clothing, and household needs) or if you have a spare refrigerator or freezer, the office is in need of one.
The Fresh Start Caring for Kids Foundation aims to transform the lives of disadvantaged infants, children and teens with physical deformities caused by birth defects, accidents, abuse or disease through the gift of reconstructive surgery and related medical care. The Foundation provides no-cost medical services to patients through Surgery Weekends and clinics. Medical services are donated by doctors, clinicians and other medical professionals. From November 25 to December 2, Fresh Start will host an online auction to raise money for their foundation. You can also make a direct, tax deductible donation.  
Better 2014 Philanthropy Award Winner
Feed My Starving Children is a Christian nonprofit dedicated to preventing child hunger. FMSC works with food distribution partners that stay with communities for the long haul, empowering them to move from relief to development. From Thanksgiving until Christmas, there will be five opportunities to volunteer in-person (socially distant) to pack meals for children. FMSC asks for a $50 donation per person or $150 per household to volunteer at their sessions.
Hunger Resource Network is an all-volunteer organization dedicated to alleviating hunger. They make connections between those who have surplus food and those who need it through soup kitchens, food pantries and shelters. "Hunger Doesn't Wait" is the 2020 campaign for the Hunger Resource Network. If you donate $50 or more, you can enter a raffle to win prizes like a bottle of Westmount Pinot Grigio wine. There are also incentives for donations of $100 or more, including a book autographed by Adriana Trigani. Donate here.
Please mark your calendars for #GivingTuesday – just weeks away! Join us for this very special day, a day of generosity & giving – a day that enables H.O.M.E. to continue improving the lives of our most vulnerable & valuable community.#GivingTuesday #TogetheratHOME #HOMEseniors pic.twitter.com/B6q8v1LDsk

— H.O.M.E. (@HousingOpp) November 18, 2020
Housing Opportunities and Maintenance for the Elderly serves low-income seniors in Chicago to help them live independently. With the community's continued support, H.O.M.E. has been active for over 38 years, from helping individuals secure groceries and essential items to helping those move who need to relocate. The RRF Foundation for Aging is matching all donations up to $5,000. Donate here.
Better 2016 Philanthropy Award Winner
Sarah's Circle is a vital Chicago organization dedicated to ending homelessness for women. For this giving season, Sarah's Circle is asking for specific items listed in their General Registry, Winter Weather Registry and New Building Registry. They also have a "Needed In-Kind Items" list. Check out their in-kind donations page for more information, including items that they will not accept (because of COVID-19 safety risks).
The Chicago Children's Advocacy Centers are the front-line responders in Chicago to reports of child sexual abuse. In addition, they respond to reports of witness to violence, and other serious maltreatment. CCAC provides family advocacy, forensic interviews, mental health therapy and more to help children and families heal. A donor will be matching all Giving Tuesday donations up to $10,000. Donate here.
We're 1 week away from GRIP Giving Tuesday! Save the date and make an impact. #chicago #givingtuesday #gripyouth pic.twitter.com/JfVTty3Th4

— GRIP Outreach (@gripyouth) November 24, 2020
According to GRIP, their mission is to "invest in the lives of Chicago youth through Christ-centered, Life-on-Life relationships." By providing mentorship to Chicago youth who need it the most, GRIP makes a strong impact in local churches, schools and individuals. Donate here for Giving Tuesday.
A Safe Haven and the Small Business Advocacy Council have teamed up this Giving Tuesday to support homelessness and small businesses. Small businesses continue to suffer under the pandemic; many employees are facing job insecurity, and as an effect, possible homelessness. A Safe Haven is one of Chicago's leading fighters against poverty and homelessness. The Small Business Advocacy Council supports small businesses across Illinois. This Giving Tuesday, donate to the collaboration between the two impactful non-profits to help keep small businesses afloat and prevent homelessness.
All Kids Play is a non-profit organization that aims to transform lives through sports. The organization is safely getting sports balls to kids in November and December in underserved communities throughout the Chicagoland area. For Giving Tuesday, give to their "The We Will Bounce Back Fundraiser," aimed at raising funds to enable All Kids Play to purchase and give away sports balls and play activity handouts to keep kids active in underserved communities across the Chicagoland area while stuck at home this winter. Just a $25 donation will put a ball in the hands of two kids. Donate here.
---
More from Better:
---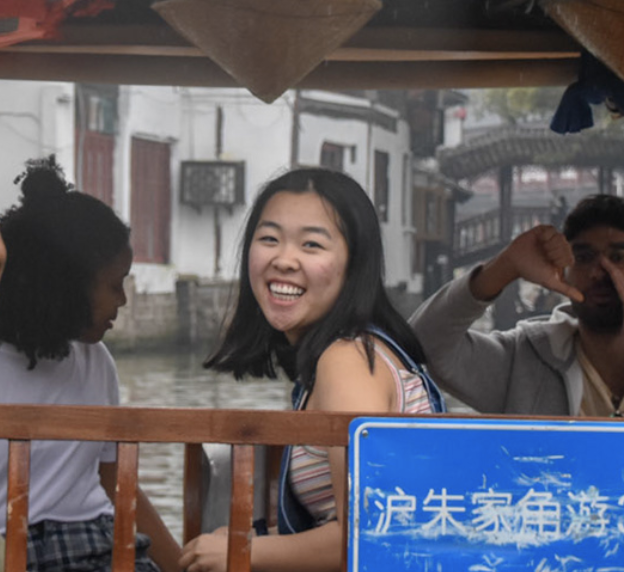 Cindy Mei is an intern at Better. Currently in her senior year of college at Northwestern's Medill School of Journalism, Cindy is moved by strong storytelling about personal identity and culture. She is an avid fan of the works of Anthony Bourdain, Alex Kotlowitz and Jenn Fang.
Cindy is a proud alumna and supporter of After School Matters, a non-profit organization that offers arts and leadership classes to Chicago high schoolers. She also encourages support for Think!Chinatown, a New York City based non-profit that fundraises for Chinese businesses in Manhattan's Chinatown.