Plus, the San Francisco Marathon, an event with Michael Pollan and the Fillmore Jazz Fest.
Celebrate July 4th
There are countless ways to honor Independence Day with parades, fireworks and merriment around the Bay Area.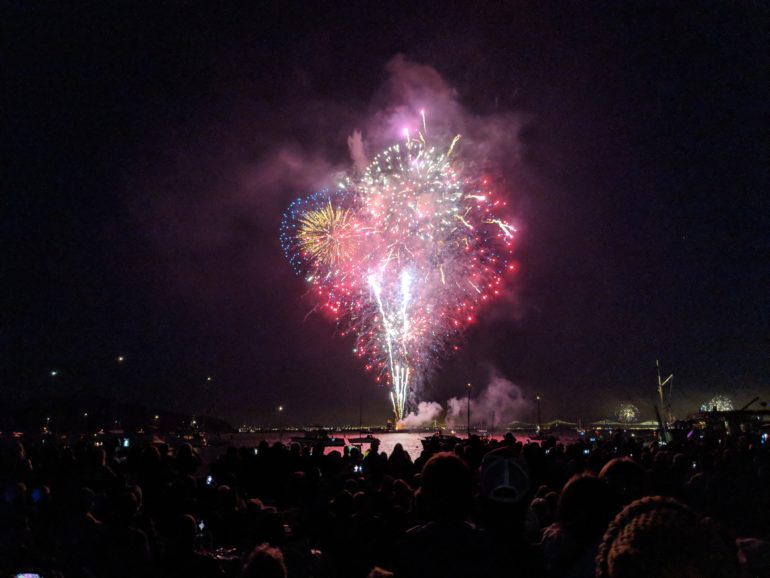 After a two-year hiatus, the Ferris wheel rises once again over the San Rafael Civic Center, and all the cotton candy, corn dogs and funnel cake you can eat will be back, too. Though competitive exhibits are back and will be judged, they are completely online this year, as the main exhibit hall remains closed. "It's a transition year," says Gabriella Calicchio, director of the county's Cultural Services Department, which produces the fair. "We're calling it the Home County Fair because we really want to celebrate our community," she says. There will be screens placed outside, projecting submitted artworks, and Daniel Castor of San Rafael's Castor Architecture is developing a 30-foot sunflower sculpture as a fair showpiece. Castor notes that the sunflower, native to North America, is the national flower of Ukraine but that Russia and Ukraine — together — produce close to 40% of the world's sunflower oil and seeds. "I am intrigued by the idea that the sunflower could serve as a symbol of the hope, sent from us here, that these peoples can someday go back to the business of making sunflowers for the rest of the world," Castor says.
Furry friends will be well-represented at the "fur and feathers tent," sheep dog trials and the pony vaulting event. In addition to the carnival food and wine slushies, local vendors, such as Fairfax's The Juicery, San Rafael's Big Jim's Barbecue and San Rafael's Johnny Doughnuts, are in attendance. Of course, there will be fireworks every night (for precisely 12 minutes, 48 seconds), and the evening's bands range from Marin's Pablo Cruise and Sons of Champlin to Sheila E. and Digable Planets. The fair averages 20,000 people a day, with 30,000 expected on July 4, according to Calicchio. "People want their Marin County Fair," she says.
Kick off the day with a parade down Bridgeway and Caledonia, followed by a picnic at Dunphy Park, where Marin's The Humdinger Band will perform. Gabrielson Park hosts the evening events with live music and a 30-minute fireworks show set to begin at 9:15 p.m.
Pier 39 hosts a day of activities, culminating in a 6 p.m. concert at Aquatic Park and the pyrotechnic show at 9:30 p.m.
The town of Half Moon Bay returns to the past with a parade along Main Street celebrating the town's history.
The parade starts at 10 a.m. with float judging in front of Sonoma City Hall on Sonoma's Town Plaza, where festival games, food, live entertainment and the annual "splash zone" will take place, followed by a fireworks show at 9:30 p.m. at General Vallejo's Field.
The Santa Rosa Symphony and Transcendence Theater Company put on an evening of show tunes and patriotic classics, followed by what is said to be the largest post-concert fireworks show in Sonoma at 9:30 p.m.
Also Coming Up This Month:
Also known as The Electrifying Tribute to Michael Jackson, the band aims to honor and pay homage to the "King of Pop" with jamming renditions of "Thriller," "Smooth Criminal" and more.
Kiandanda Dance Theater considers Congolese Sapeurs instigators of a movement called La Sape, which is characterized by the wearing of haute couture fashions, as sociopolitical metaphors for the legacy and ongoing political ramifications of European slavery and colonization in both Africa and America.
From sunup to sundown, groove to the sound of music emanating from multiple stages, browse arts and crafts stands, and revel in the reunion of San Francisco's citizens at a 12-block street party, through July 4.
The powerful grooves of the West Coast's hottest zydeco band are just the thing to add some sizzle to the long holiday weekend.
A new solo exhibition, designed specifically for Haines' Fort Mason gallery, by the celebrated artist and activist, "Everyday Monuments," features 18 works, including the San Francisco debut of Ai's "Zodiac" (2018), a series of 12 panels depicting the mythical animals of the traditional Chinese Zodiac made from LEGOs.
From a stage at the intersection of Caledonia and Pine Streets in Sausalito, a hometown vintage jazz band plays hits from the 1920s through the '50s as part of the Wednesday Night Live Summer Program.
A film by director John Scheinfeld, "Sergio Mendes, In the Key of Joy," honors the Brazilian bossa nova-jazz-funk musician with a VIP reception with the legendary musician and a screening of the film at Sonoma's Sebastiani Theatre.
A revival of Martha Graham's 1937 dance, "Deep Song,"a reflection on the suffering of the Spanish people during that country's civil war, is complemented by newer works including "Mutual Comfort" by Edward Clug, "Untitled" by Babatunji Johnson, and "Just Above the Surface" by Yin Yue, among others, through July 10.
Petaluma's Tara Firma Farms hosts a blended event that combines ballet, spoken word and song from Julia Adams Dance with a multicourse, family-style, farm to table feast from chefs Matt Roberts (Jardiniere) and Matt Elias (Salt Water Oyster Depot, Dillon Beach Coastal Kitchen), through July 17.
Merola's Summer Festival continues with a tribute to music from the Great American Songbook and celebrates talents such as Leonard Bernstein, Leon Carr, Lerner and Loewe, Frank Loesser, Rodgers and Hammerstein, and more.
The creator of a new exhibition at Bolinas Museum, The Magic of Creating A Monarch Butterfly Sanctuary, discusses the biology, botany, and creativity of bringing this project to fruition on his land in Bolinas with collaborators Mia Monroe, a national park ranger and specialist on monarchs, and Audrey Fusco, a restoration ecologist.
Held every Sunday, the weekly show has launched the careers of Patton Oswalt, Margaret Cho and W. Kamau Bell, among others.
Petaluma's Lagunitas Brewing Company continues its 10th annual live music season benefitting Best Friends Animal Society with an American roots singer on tour in support of her 2021 album, "The Moon and Stars."
Based on the true story of 7,000 stranded passengers and the small town in Newfoundland that welcomed them on September 11, 2001, a musical considers the initial difficulties and uneasiness that turned to trust as the world turned upside down over the course of a single day, through July 17.
A one-night-only farewell concert for San Francisco Gay Men's Chorus artistic director Dr. Timothy Seelig will feature Seelig's personal playlist, including "Unbreakable" and "I Am Harvey Milk" by Andrew Lippa, and feature the San Francisco Symphony, appearing on stage with the chorus for the first time ever.
The English singer, songwriter and Grammy winner best known for her 2006 single "Put Your Records On" drops by San Francisco in support of her new album, "The Sea."
Dedicated to the sounds of America, this year's celebration of the music, wine and food of Napa features symphonic concerts, opera, jazz and dance as well as Taste of Napa on July 16 and 20, plus admission-free, small ensemble concerts at CIA at Copia, through July 24.
Paris is San Francisco's sister city, so a day to celebrate all things French is in order, with a Citroen vintage car show, petanque tournament, Course de Garçon de Café (waiter's race), tours of San Francisco's French Quarter and more.
Tiburon's Main Street will turn into a one-day midway, where carnival games, live music and champagne, oysters and caviar from The Caviar Co. are just a few of the enticements to celebrate the ocean's bounty.
Bringing together more than 50 years of work, including her experimental story quilts and paintings from her renowned "American People" and "Black Light" series, a retrospective of an American artist traces her evolution – which expanded to consider the political and social changes taking place in the United States throughout her life – opens today, through November 27.
In her new cookbook, Watermelon and Red Birds, the master storyteller celebrates all things Juneteenth and bridges the traditional African American table with modern flavors, recipes and stories which she presents in a live discussion in San Francisco.
Bumps of California Caviar Company's signature white sturgeon, plus champagne and canapés, are part of a no-reservations-needed special event at Sausalito's The Bump Bar to celebrate the briny delicacy.
A leading expert in counter-terrorism studies and founding executive director of the New York-based think tank Terror Asymmetrics Project on Strategy, Tactics and Radical Ideologies and author of They Want to Kill Americans discusses the importance of actively confronting the rise of a new threat to democracy from within in an in-person and online event.
Three decades of Oakland-based artist David Huffman's Traumanauts (characters who traverse the galaxy) series explores science fiction, formalist abstraction and social justice movements of the late 20th century in a range of media, including large-scale canvas, works on paper, ceramics, video and printmaking, through September 18.
Prepare for experimental instrumentation as the woodwind and brass octet (flute, oboe, clarinet, bassoon, French horn, trumpet, trombone and tuba) explore singular orchestral possibilities, classical pieces like Holst's "Planets Suite" and pop, including Michael Jackson's "Thriller" as part of a program of free, family-friendly performances during the Yerba Buena Gardens Festival in San Francisco.
Live events and screenings in San Francisco and Albany are complemented by online selections in a day festival that features local and international voices, including a special preview of the new documentary series "The U.S. and the Holocaust," featuring an onstage conversation with filmmakers Ken Burns, Lynn Novick, andSarah Botstein in San Francisco, through August 7.
Musical director Joe Bagale and his 13-piece band will play a full range of the 1960s pop phenom's music stylings at Creek Park, a fundraiser for the San Anselmo Arts Commission to benefit youth artist scholarships.
There are plenty of distances to choose from, but only the Full Marathon and UltraMarathon Second Loop has runners pacing themselves over the Golden Gate Bridge before looping through Sausalito and the Marin Headlands (miles 8–12) before the finish on the Embarcadero, through July 24.
Selections from Pixar films including A Bug's Life, Brave, Cars, Finding Nemo, The Incredibles, Inside Out, Monsters, Inc., Toy Story and more are accompanied by the San Francisco Symphony, conducted by Sarah Hicks, through July 24.
Southern roots music sensation Amythyst Kiah opens for the iconic country singer best known for the Grammy-winning song "Blue," who is touring in advance of her September 2022 album release, "God's Work."
An in-depth examination of the artist's work brings together more than 150 of Rivera's paintings, frescoes and drawings—as well as three galleries devoted to large-scale film projections of highly influential murals he created in Mexico and the U.S., through January 2, 2023.
The author of This Is Your Mind on Plants and cofounder of the UC Berkeley Center for the Science of Psychedelics takes a deep dive into three psychoactive plants: opium, caffeine and mescaline.
The iconic official portraits of President Barack Obama and Michelle Obama from artists Kehinde Wiley and Amy Sherald are presented in the American Art collection at the DeYoung, along with a video from the National Portrait Gallery, through August 14.
Recorded live during the 2022-23 season at the Harold Pinter Theatre in London, a filmed stage production finds Jodie Comer ("Killing Eve") in Suzie Miller's award-winning play that finds a brilliant barrister confronting the lines where the patriarchal power of the law, burden of proof and morals diverge, through July 30.
Combining art and historical artifacts to explore feminism's diverse stories in the Bay Area, an exhibition divided into three sections, Mind, Body and Spirit, includes newly commissioned works rooted in the idea that discrimination against all elements of identity (gender, class, race, sexual orientation, physical ability, education, age, etc.) is interlinked, through January 8, 2023.
The star of Netflix's "Mother Inferior," dedicated Bauhaus fan and cohost (with her husband, comedian Tom Segura) of the podcast "Your Mom's House", discusses the realities of motherhood, getting older and her own childhood, through July 30.
Featuring 15 performers and a full band of brass, strings and percussion, a century of movie themes from "The Wizard of Oz" to "The Greatest Showman" and from Ritchie Valens to Prince, are brought to the stage at Jack London State Historic Park, through Aug 14.
Comedian Dave Chappelle is scheduled to host a two-day lineup at Charles Krug Winery with festival artist in residence Robert Glasper and special guests including Erykah Badu, Maxwell and BJ the Chicago Kid, through July 31.
The Bakersfield-based band, touring in support of their new album, "Berkeley to Bakersfield," stops by Hopmonk Novato as part of their Summer Concert Series. Megan Slankard opens.
---
For more on Marin:
---