There may be no more satisfying way to celebrate the holidays than by gathering around the table with family and friends to share some home-cooked food and a bottle of wine — whether it's a sophisticated soiree or an intimate supper. As you're gearing up for a holiday celebration of your own, who better to draw menu inspiration from than some of the region's most respected winemakers and proprietors? We asked these wine-and food-pairing experts to share their go-to recommendations, as well as their favorite wine country holiday traditions, so that no matter how you celebrate the season, your fête will be festive.
Brothers Georges and Daniel Daou, co-owners of Daou Family Estates in Paso Robles, left civil war-torn Beirut, Lebanon, in 1975 with their parents when they were children to start a new life in France. The country's wine-centric culture left an indelible impression on the brothers that eventually inspired them to open their own winery in California. For the Daou family, the holidays are a time to remember the Old World traditions, stories and memories that have been passed down through their family for generations — occasions filled with laughter, Lebanese food and, of course, wine. "The holiday dinner table is a place where we can revisit and reawaken these traditions, and keep these memories strong in our hearts," Georges says. Whether enjoying holiday festivities with the team at the winery or at home, no Daou celebration would be complete without a glass of Soul of a Lion Cabernet Sauvignon, named after the brothers' father. An ideal pairing for this bold wine is tomahawk steak, says Daniel, Daou's winemaker. "The big flavors of the steak stand up perfectly to Soul of a Lion's power, but the overall simplicity of the preparation allows the wine's nuances to shine through as well," he says.
Tomahawk Steak

Serves 2
1 tomahawk rib-eye steak,
about 2 inches thick
Kosher salt
Freshly ground pepper
2 small heads of garlic, tops trimmed
2 tablespoons olive oil, plus more for drizzling
4 tablespoons unsalted butter
4 sprigs fresh thyme
1. Preheat the oven to 350°F and place the rack in the center of the oven.
2. Pat the steak with paper towels until dry and season it with salt and pepper. Leave the steak on the counter until it reaches room temperature.
3. Sprinkle the cut tops of the garlic bulbs with salt and drizzle with olive oil, and then wrap them in foil.
4. Roast the garlic for 30 minutes, until the cloves are soft, and then allow them to cool. Increase the oven temperature to 425°F.
5. In a cast-iron pan, heat 2 tablespoons of olive oil over medium-high heat. Sear both sides of the steak for 3 minutes each. Using tongs to grab the bone as a handle, sear the side of the steak that's opposite of the bone for 1 minute.
6. Transfer the steak to a baking sheet and place on the center rack in the oven. Roast for about 10 minutes, or until it's cooked to your liking.
7. While your steak is roasting, add butter to the cast-iron skillet and melt on low heat. Then, add the cloves from one of the garlic bulbs and thyme sprigs to the skillet, and cook for about 2 minutes.
8. Take the steak out of the oven, transfer it back into the skillet, and baste each side with butter.
9. Transfer the steak to a cutting board, tent it with foil and let it rest for 10 minutes.
10. Unwrap the steak, plate with the extra roasted garlic bulb, and serve.
Perfect Pairing: Doau Family Estate 2018 Estate Soul of a Lion
Mark and Elizabeth Hanson and Sarah Hanson Citron
Cofounders, Bricoleur Vineyards
Operating Bricoleur Vineyards in Windsor is truly a family affair, as husband and wife Mark and Elizabeth Hanson and their daughter, Sarah Hanson Citron, all founded the winery together — a dream come true for Mark, who was a successful entrepreneurial software and private equity executive before delving into the winemaking industry. "I get choked up when I think how lucky I am that I get to work with my family every day," he says. Mark and Elizabeth also have a home on the Bricoleur Vineyards estate, where they plan to celebrate the holidays this year with their extended family, including their new granddaughter, who was born in February. One holiday tradition the family observes every year is a father-daughter cooking session. "We've been cooking together since she was little, and we look forward to making this herb-crusted rack of lamb each year for the holidays," says Mark, who grew up in Lucas Valley. "When I was a kid, I never dreamed that someday I'd be pairing my favorite recipes with wines made by our own winery."
Herb-Crusted Rack of Lamb
Serves 4
1 rack of lamb (approximately 1¼ pounds, frenched)
3 tablespoons extra-virgin olive oil, divided
Kosher salt
Freshly ground black pepper
1 cup homemade breadcrumbs
(made from half of a sourdough baguette)
1/3 cup grated Parmesan cheese
1 tablespoon minced fresh rosemary
(or 2 teaspoons dried)
1 tablespoon minced flat-leaf parsley
(or 2 teaspoons dried)
1 large clove garlic, minced
1. To make the breadcrumbs, blend day-old sourdough French bread in a blender. Heat 3 tablespoons of olive oil over medium-high heat in a large skillet. Sauté breadcrumbs until slightly browned, about 3 minutes. Remove and allow them to cool.
2. Heat a large skillet over high heat. Drizzle the lamb with 1 tablespoon olive oil and season it with salt and pepper. Sear it until browned on all sides, about 3 minutes per side. Place the lamb on a rimmed baking sheet and let it rest 20–30 minutes, until cool.
3. Preheat the oven to 450°F.
4. In a medium bowl, combine the breadcrumbs, Parmesan cheese, rosemary, parsley and garlic. Stir in 2 tablespoons olive oil and season the mixture with salt and pepper. Coat the lamb rack with an even layer of the breadcrumbs.
5. Bake the lamb rack until it reaches an internal temperature of 120 degrees for medium-rare, about 20–30 minutes. (The temperature will continue to rise to 125 degrees as the lamb sits.) Let it rest for 10 minutes, and then slice between the bones into individual chops, allowing about two per person.
PERFECT PAIRING: Bricoleur Vineyards 2018 Kick Ranch Cabernet Sauvignon
Sixth-generation Californian Tony Biagi, winemaker at the family-owned Calistoga winery Amici Cellars, remembers that holiday celebrations during his childhood were large, multigenerational gatherings, where the wine was always flowing. Biagi's father and stepfather both made wine back in the 1970s to share with family and friends. "The sense of building community around the dinner table was instilled in me at an early age, and it's a tradition that carries through to my larger 'family' of colleagues and friends in Napa Valley," Biagi says. When it comes to holiday cooking, Biagi enjoys scouring Napa Valley's local farmer's markets for inspiration. One of his favorite dishes to prepare is mushroom risotto, especially when paired with the winery's full-bodied Napa Valley Cabernet Sauvignon. "What's in season dictates my menu, and Far West Fungi, run by the same family for 35 years, has an amazing selection of organic, specialty mushrooms," Biagi says.
Mushroom Risotto
Serves 6 as a side dish
4 cups reduced-sodium chicken broth
(or vegetable broth)
2 sprigs fresh thyme, plus more for garnish
3 tablespoons butter, divided
1 clove garlic, minced
1 pound mushrooms (chanterelles, tree oyster, trumpets)
Splash of sherry vinegar
¾ cup yellow onion, finely chopped
(about one onion)
¾ cup Arborio rice, or medium-grain white rice
½ cup dry white wine
½ cup freshly grated Parmesan cheese
½ teaspoon salt
¼ teaspoon freshly ground black pepper
¼ cup mascarpone cheese
1. In a medium saucepan, bring the broth to a simmer with two sprigs of thyme. Cover the broth and keep it hot over low heat.
2. In a large, heavy saucepan, melt 1 tablespoon of butter and add the minced garlic. Sauté until fragrant, add the mushrooms and cook until just tender. Finish with a splash of sherry vinegar. Remove from the pan and set aside.
3. In the same saucepan, melt the remaining 2 tablespoons of butter over medium heat. Add the onion and sauté until tender but not brown, about 3 minutes. Add the rice and stir to coat with the butter. Add the wine and simmer until the it has almost completely evaporated, about 3 minutes. Add ½ cup of simmering broth and stir until almost completely absorbed, about 2 minutes. Continue cooking the rice, adding the broth, ½ cup at a time, stirring constantly and allowing each addition of the broth to absorb before adding the next, until the rice is tender but still firm to the bite and the mixture is creamy — it will take about 20 minutes. Fold in the sautéed mushrooms. Remove from the heat.
4. Stir in the Parmesan cheese, lightly fold in the mascarpone cheese, and season with salt and pepper. Transfer the risotto to a serving dish, garnish with thyme and serve immediately.
Perfect Pairing: Amici Cellars 2019 Napa Valley Cabernet Sauvignon
Growing up in a Jewish household, Remi Cohen, who is the CEO of Napa Valley sparkling wine and pinot noir producer Domaine Carneros, has always enjoyed celebrating Hanukkah with her family, especially when it involves eating potato latkes. "It's a traditional Hanukkah dish that celebrates the part of the holiday story where the small quantity of oil in the temple miraculously gave light for eight days instead of just one," Cohen says. Before last year, however, she never knew how to make the dish herself. "During the stay-at-home orders, my friend, chef Rebecca Peizer, was teaching online cooking classes, and she taught my boyfriend and I how to make latkes," Cohen says. "We had the opportunity to practice a few times over the holidays and look forward to enjoying them with family and friends on our holiday table this year." Cohen's ideal pairing recommendation with latkes: Domaine Carneros Estate Brut. "The delicate mousse and beautiful acidity of the wine cut through the crispy texture and richness of the fried potato," she says.
Potato Latkes
Makes 18–24 latkes
2 large Russet potatoes, peeled and grated
1/3 cup grated onion
¼ cup flour
1 egg, beaten
Salt
Pepper
Safflower or other vegetable oil for frying
1. Place the grated potatoes in a colander and press firmly using a tea towel or cheese cloth to remove as much liquid as possible.
2. Place the potatoes in a large bowl and mix them with the grated onion, and then mix in the egg, flour, salt and pepper until well blended.
3. Fill a frying pan with ¼ to ½ inch oil and heat until hot. Scoop heaping tablespoons of the mixture into the oil. Flatten each scoop with a spatula. Cook for 3–5 minutes, until the edges are brown, and then flip and cook for another 3–5 minutes to brown the other side.
4. Transfer the latkes to a plate lined with paper towels to drain the excess oil. Sprinkle with salt.
5. Serve with applesauce, crème fraîche and chives.
PERFECT PAIRING: Domaine Carneros 2016 Estate Brut Cuvée
As the year winds down, Inman Family Wines owner and winemaker Kathleen Inman invites the winery's small team, family and friends to her home in the Russian River Valley for a holiday gathering, a tradition she looks forward to every year. "I enjoy preparing food for family and friends, and it goes without saying that as a winemaker, sharing wine is a passion," she says. One of Inman's go-tos for entertaining is this recipe for flaky, cheesy mini galettes that she serves as appetizers or a side dish. "I like using butternut squash in holiday dishes because of the richness it adds and the way it pairs so well with Pinot Gris and Pinot Noir, the two varieties I grow in my Olivet Grange Vineyard Estate," Inman says. "The rich texture and earthy flavors echo the flavors in my OGV Estate Pinot Noir."
Cheesy Squash and Caramelized Onion Galettes
Makes 12 galettes
Galette Dough
2 cups all-purpose flour
1/8 teaspoon salt
12 tablespoons cold, unsalted butter, cut into ½-inch pieces
½ cup ice water
Filling
4 yellow onions, thinly sliced
3 tablespoons olive oil
2 cups butternut squash
1 teaspoon cayenne pepper, or to taste
1 teaspoon cinnamon
¼ teaspoon ground cloves
1 tablespoon dried thyme
Salt and pepper to taste
¼ cup ricotta cheese
¼ cup Gruyère cheese, grated
1. Mix the flour and salt in a large bowl. Use either your hands or a pastry cutter to rub the butter into the flour until it has a coarse texture. Slowly pour the water into the dough and knead it until it comes together into a ball. The dough should be wet, but not sticky. Shape the dough into a disc, wrap it in plastic, and refrigerate it for at least an hour or overnight.
2. Add 1 tablespoon of olive oil to a high sided saucepan and place on medium-low heat. Add the sliced onions and a healthy pinch of salt. Partially cover the pan with the lid. Cook the onions until they're deeply caramelized, about 20–30 minutes, stirring occasionally and scraping any browned bits off the bottom of the pan. If they look like they will burn, lower the heat and add a few tablespoons of water to deglaze.
3. Preheat the oven to 400°F. While the onions cook, toss the squash in a bowl with the remaining 2 tablespoons of olive oil, cayenne pepper, cinnamon, ground cloves, thyme, salt and pepper. Place on a baking sheet and roast until the squash is a light brown and fork tender, about 20–30 minutes. Allow the squash to cool.
4. To assemble galettes, remove the dough from the fridge and rest on the counter for 10 minutes. Roll the dough into a ¼-inch thick slab and use a 4-inch circle cookie cutter to punch out about 12 discs.
5. Place the discs on a baking sheet. Dab a teaspoon of ricotta in the center of each disc and then top it with a teaspoon of the Gruyère. Add a teaspoon of the caramelized onions and a tablespoon of the roast squash. Carefully fold the sides of the dough around the filling, overlapping each fold to create pleats, leaving the center of the filling exposed.
6. Bake the galettes for 12–15 minutes, until dough is golden brown. Serve warm.
Perfect pairing: Inman Family 2018 OGV Estate Pinot Noir
---
More from Better:
---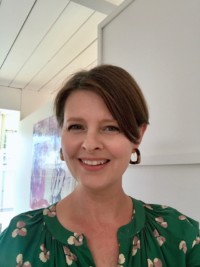 Lotus Abrams has covered everything from beauty to business to tech in her editorial career, but it might be writing about her native Bay Area that inspires her most. She lives with her husband and two daughters in the San Francisco Peninsula, where they enjoy spending time outdoors at the area's many open spaces protected and preserved by her favorite local nonprofit, the Peninsula Open Space Trust.