As human beings, we cannot ignore what is happening in our country, and the injustice that Black Americans experience daily. Black lives matter — they have always mattered —and the recent examples of police brutality and the death of George Floyd are devastating. Combined with the startling statistics about Black lives and COVID-19 deaths, it is a very hard time to be a Black American.
Protests have drawn nation-wide attention due to the passion of the participants but also because of the devastation caused by looters and injuries sustained on both sides. We cannot ignore this. Here are five ways that you can help this week, and better educate yourself on racism in America.
If you have more ways to help, or suggestions for how we can best use our platform, please contact us. We are here to support, listen and amplify all voices.
Donate
Please give what you can. Here are national organizations to donate to:
Black Lives Matter: They fight to end State-sanctioned violence and to end anti-Black racism.
George Floyd Memorial Fund: This is the official GoFundMe, that goes straight to Floyd's family.
The Bail Project: Prevents incarceration and combats racial and economic disparities in the bail system.
NAACP Legal Defense Fund: America's premier legal organization fighting for racial justice.
Campaign Zero: The comprehensive platform of research-based policy solutions to end police brutality in America.
Bay Area Organizations:
Black Earth Farms: Delivering free food to Black people who have been arrested, bailed and injured from protests.
National Lawyers Guild San Francisco Chapter: They are running a hotline and providing pro bono legal support for arrestees in the Bay Area.
People's Breakfast Oakland: Providing meals and packages to houseless communities in Oakland.
Read
Educate yourself on racism in America with the below books:
From the publisher: In this "vital, necessary, and beautiful book" (Michael Eric Dyson), antiracist educator Robin DiAngelo deftly illuminates the phenomenon of white fragility and "allows us to understand racism as a practice not restricted to 'bad people' (Claudia Rankine). Referring to the defensive moves that white people make when challenged racially, white fragility is characterized by emotions such as anger, fear, and guilt, and by behaviors including argumentation and silence. These behaviors, in turn, function to reinstate white racial equilibrium and prevent any meaningful cross-racial dialogue. In this in-depth exploration, DiAngelo examines how white fragility develops, how it protects racial inequality, and what we can do to engage more constructively.
From the publisher: A deeply reported book that brings alive the quest for justice in the deaths of Michael Brown, Tamir Rice, and Freddie Gray, offering both unparalleled insight into the reality of police violence in America and an intimate, moving portrait of those working to end it. Conducting hundreds of interviews during the course of over one year reporting on the ground, Washington Post writer Wesley Lowery traveled from Ferguson, Missouri, to Cleveland, Ohio; Charleston, South Carolina; and Baltimore, Maryland; and then back to Ferguson to uncover life inside the most heavily policed, if otherwise neglected, corners of America today.
Watch
This web series combines documentary narrative with interviews to illuminate specific, timely issues, aiming to create safe dialogue to promote freedom, justice, and collective liberation. Watch all three episodes here.
Support
Now more than ever is the time to support local black-owned businesses. Search Support Black Owned for more:
Black-owned restaurants and pop-ups in the Bay Area
Listen
This 14-part documentary series exploring whiteness in America — where it came from, what it means, and how it works. "Seeing White" is the second season from Scene on Radio, the podcast from the Center for Documentary Studies at Duke University.
---
How to Help:
For organizations to support and resources to help you and others through this difficult time, check out our Better List.
---
More from Better:
---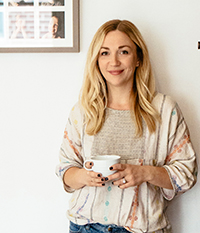 Macaire Douglas lives in the Chicago suburbs with her husband and two sons. She proudly supports Save Abandoned Babies Foundation, a Chicago-based nonprofit organization that works tirelessly to prevent the illegal abandonment of newborns nationwide. Since its inception in 2000, more than 3,600 newborns have been safely surrendered and adopted into loving homes.