The midwest is know for its friendly, welcoming demeanor, and there may be one spot where this is ever-present; Minneapolis. In fact, they even have a term for it: "Minnesota nice."
The Twin Cities, the region of St. Paul and Minneapolis, which border each other, is only a scenic six hours from Chicago (or under two hours by air). Offering culture, beautiful architecture, local cuisine, and recreation, there are more than enough activities to fill a weekend.
"Minneapolis' fall weather is perfect — and it's amazing as the foliage changes all over the city's 180 award-winning parks, 22 lakes and along the Mississippi River in downtown," said Kristen Montag, senior public relations and communications manager for Meet Minneapolis.
A year-round destination, Minneapolis knows how to celebrate their seasons, and they fully embrace the winter cold. "People find once they're here they wish they had more time to spend," Montag adds. "The fact that it's a city with so much to do outdoors, with a diverse and increasingly noticed food scene and an art and culture scene that rival any other large city is what often inspires them to return."
No matter what time of the year you decide to visit, we've curated the perfect weekend itinerary for you. Here are our picks for things to do, places to stay and where to eat over a weekend in Minneapolis.
What to Do
Museums
There is no shortage of indoor activities, and that includes an impressive list of area museums. The Minneapolis Institute of Art houses over 80,000 paintings, sculptures, photographs and prints, set in a beautiful historic building.
If you are looking to learn more about the region, you can't miss the Mill City Museum. Built within the ruins of what was once the world's largest flour mill, the museum unveils the storied past and dynamic future of the National Historic Landmark.
The American Swedish Institute, a short walk from the Minneapolis Institute of Art, features exhibits and programs of the Swedish culture, which is steeped in the region. It is housed in a mansion that resembles a castle, founded in 1929, which is itself a highlight.
No visit to Minneapolis would be complete without a stop at the Sculpture Garden at the Walker Art Center. Here you can snap your iconic Minneapolis selfie with Claes Oldenburg's Spoonbridge and Cherry.
Explore the Outdoors
Minneapolis runs along the Mississippi River, and is known for its parks and lakes. It's a far cry from a typical urban concrete jungle – in fact, you are never more than six blocks away from a park. You can find any type of outdoor activity here; hiking, fishing, biking, kayaking, golf, snowshoeing and more is readily available to explore year-round.
Minneapolis Skyway
Expect it to get cold in the winter months, but rest assured that the geniuses behind Minneapolis have your back. Downtown is home to the largest continuous skyway on earth, the Minneapolis Skyway, covering 60 blocks. You could spend an entire afternoon exploring the shops, paths and unique features of every building in the skyway. It's a wonderful way to get out, while staying warm.
Prince's Minneapolis
We can't talk about a visit to Minneapolis without touching on the impact the artist Prince had on the city. A lifelong Minnesotan, his home, studio and creative sanctuary in Chanhassen, Paisley Park, is open for tours and concerts. Allowing you to immerse yourself in his creative genius, Paisley Park has many of Prince's memorabilia, clothing and prized possessions from his personal archives are on display.
If you are exploring downtown, don't miss First Avenue, the famous rock venue featured in Purple Rain. You can see his gold star on the wall, along with other famous artists that have performed there.
Mall of America
The Mall of America, the ultimate indoor experience, is a short drive from downtown in Bloomington. Once the largest shopping mall in North America, the mall has about every store, restaurant and convenience you can imagine, and also has a large indoor amusement park. Boasting over seven acres, you can ride a rollercoaster, FlyOver America and meet your favorite characters at Nickelodeon Universe.
The sheer size of the Mall of America is worth a visit, even just to say you have been. If shopping local is more of your thing, head to the trendy North Loop and Warehouse District. Here you'll find well-establish stores that locals love, Instagram-famous brands, coffee shops and restaurants. Don't miss Martin Patrick 3, an upscale store for women, men and the home, that is artfully curated.
Sports
If you want to take in a local game during your visit, you are in luck. Nestled in downtown are several stadiums, including Target Field, Target Center (yes, Target is headquartered here), Xcel Energy Center and U.S. Bank Stadium.
Where to Stay
For a unique and elevated stay in a historic 1920s hotel, we love the Rand Tower (527 S Marquette Ave). Full of Art Deco design and modern updates, the building is centrally located downtown and includes all of the amenities one could wish for. It's also part of the Marriott Bonvoy portfolio, so members can reap their loyalty rewards.
Once the city's tallest structure, the 26-story high rise hotel opened in 2020, after extensive renovations that pay tribute to Rufus Rand, the industrialist and aviator who commissioned the building. The rooms are spacious, quiet, and comfy, and even feature MALIN+GOETZ beauty products.
While breakfast in bed is always tempting, don't miss the skyline views at the Rand Tower Club rooftop Garden and Lounge. The space, on the hotel's fifth floor, features local ingredients, prepared through a French perspective, serving breakfast, lunch and dinner. Whiskey & Soda, the lobby bar, serves up devious cocktails and light fare.
Where to Eat
One thing is for sure – you will not go hungry during your stay. With endless options, there are amazing restaurants, bars and coffee shops around every corner. Here are just a few you should check out during your stay.
What is a Juicy Lucy? It is a hot, burger patty stuffed with oozy, melted cheese. In simple terms, it is divine and has even been listed as one of the most influential burgers of all time by Time Magazine. The 5-8 Club, which opened in 1928 as a speakeasy, is known as the home of the Juicy Lucy.
Founded in 1993, Pizza Lucé offers handmade gourmet pizza made from fresh ingredients, with an impressive list of vegan, vegetarian and gluten free options. You may find yourself here several times throughout your stay – it really just hits the spot. Don't miss the Super Green salad with tahini dressing, and the Lucé Pizza with Italian sausage, fresh garlic, onion and extra mozzarella on red sauce.
For a classic steakhouse experience, book a table at Murray's. Opened in 1946, the restaurant is known for its 28 oz Silver Butter Knife Steak for two, which is served with an impressive choice of sides, including Murray's French onion soup and au gratin. Don't skip their signature cocktails, including the Maker's 46 Custom Old Fashioned, made with a unique choice of bitters.
A truly unique experience, Psycho Suzy's Motor Lounge is a Polynesian-themed lounge with tiki decor, light bites, and cocktails on the Mississippi River. Plan a mid-day stop during their iconic happy hour, with live music, nostalgic drinks and the best bar snacks around.
---
More from Better:
---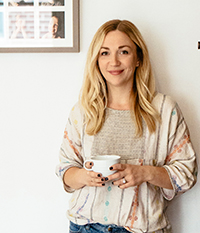 Macaire Douglas lives in the Chicago suburbs with her husband and two sons. She proudly supports Save Abandoned Babies Foundation, a Chicago-based nonprofit organization that works tirelessly to prevent the illegal abandonment of newborns nationwide. Since its inception in 2000, more than 3,600 newborns have been safely surrendered and adopted into loving homes.