Most of us are beyond tired of looking at the same four walls every day. We are craving a getaway but have no interest in getting on a plane. What's a Midwesterner to do? We have the perfect answer for you: a road trip to Mackinac Island, in the upper reaches of Michigan's mitten. It's a quick 6 hours and 29 minutes (minus stops for gas and snacks, of course) until you reach Mackinac City, where you'll board a ferry to the blissfully car-free island.
If you are worried about traveling while there's a global pandemic, your concerns are warranted. Mackinac Island (and the state of Michigan as a whole) have been working hard to make sure the necessary safety measures are in place so that vacationers can relax, with caution.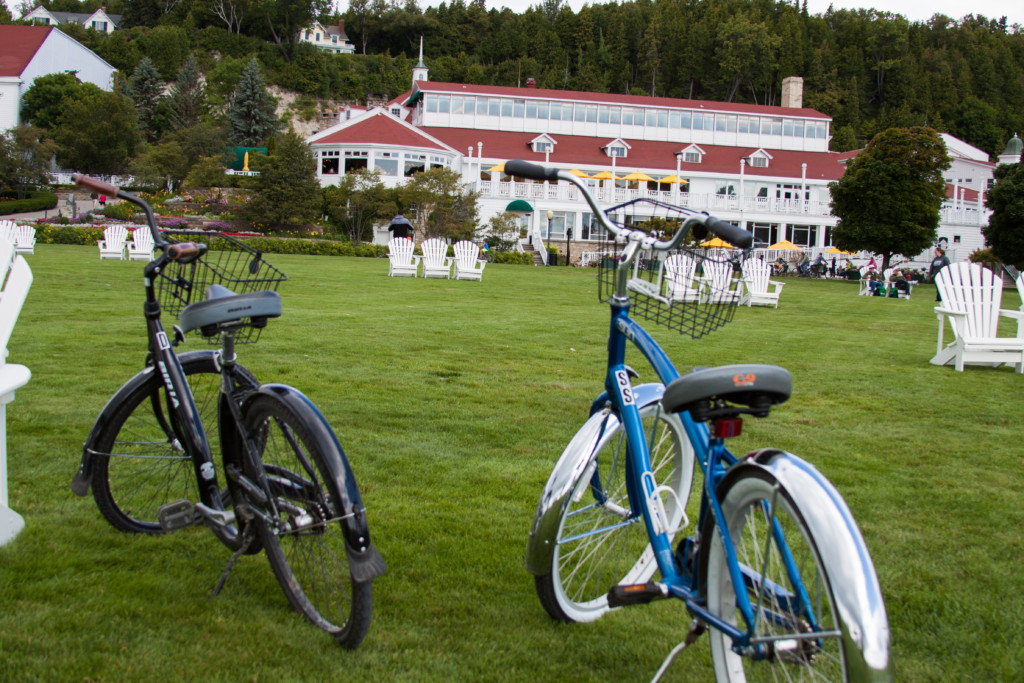 "The Pure Michigan promise has always been offering the experience they expect: friendly people and a beautiful place," says VP of Travel Michigan David Lorenz. "Our communities are doing all they can to provide this Pure Michigan promise to everyone, they're going to do all they can to keep travelers safe as possible."
And the process of actually getting to the island has been made safer, too. Shepler's Ferry, which typically runs every half hour, is now doing routes every 15 minutes to minimize the number of people onboard and sanitizing the entire boat between runs. Lorenz, who took the ferry before press time, said the crew onboard did a "fantastic job" requiring face masks and keeping groups of travelers separated. Once you arrive on the island, you're greeted with hand sanitizing stations and posters reminding you to keep your mask on, but the fun hasn't gone out of vacationing at all.
"People want to go to a place where they're not burdened with all the realities of life right now, and we offer that," Lorenz says. "We offer that sense of normalcy where you can feel like the entire world hasn't gone crazy."
Here's what to do once you're there.
Where to stay:
If you want to go super-luxe…
Even if you never leave your room at The Grand Hotel, you'll have had an excellent trip to Mackinac Island. This classic and gorgeous hotel has an enormous variety of activities for both kids and adults (although some have been affected by COVID-19 safety guidelines), sweeping lawns and stunning views, not to mention unique and lushly appointed rooms. Make sure to request a water view so you can maximize your enjoyment.
View this post on Instagram
If you prefer cute and quaint…
The Cottage Inn might be small, but every square inch is maximized in terms of charm. This beautiful bed and breakfast offers a complimentary homemade breakfast and is just one block from the historic downtown area. And don't worry — there's not too much chintz.
If you're traveling with kids…
Mission Point Mackinac Island offers free dining to guests under 12 and has a wide range of complimentary kids activities so parents can go…well, elsewhere. The resort has strict COVID-19 protocols to make sure that guests are pampered and safe. They even have family package experiences for the whole crew — dog included!
What to do:
The question isn't really what there is to do on Mackinac, it's what isn't there to do? And luckily, most of the activities are as safe as they come, epidemiologically speaking.
"That's the thing about Michigan, we have so many places to go to and things you can do and not worry about social distancing, it's just simply what you do," Lorenz says. "You go to a place like the [Upper Peninsula] and there are so many nature areas you can get to and acres of forest — you think about the things people like to do in the summer when they come to Michigan, they already provide the ways to keep people safe."
View this post on Instagram
Take a bike trip:
Since there are no cars allowed on the island, bicycles are the main mode of transportation. And if you don't have your own bikes (and chances are, unless you owned them prior to the pandemic, you don't), there are plenty of places to rent. Once you've gotten your bike, Lorenz recommends riding into the interior of the island, since the full loop is partially closed due to road repairs.
"Don't just bike around it, go INTO the island," Lorenz says. "Most of the island is a nature state park, and I would bike and hike into the interior of the island and learn about the history."
Speaking of history…
There's plenty! Even if the museums are closed, British Landing is a fantastic place to go and learn about the history of the island (and enjoy some spectacular views), along with a variety of other historical learning experiences.
"Part of today's travel experience should be learning what happened in these places to make them what they are today," Lorenz says. "Michigan is a place where you don't just sit around the beach and soak up the sunshine, and especially when so many kids weren't able to finish out the school this year at their buildings, it's an opportunity for parents to teach kids as they have a great time – about history, nature, culture."
Take a ride:
The horse-drawn carriages on Mackinac Island have always been a draw to visitors, and this year is no different. You can travel the island in style while learning about the history (are you sensing a theme?) and enjoying the beautiful views while still staying safe. "The carriage rides that give you that story, that history of the island," Lorenz says. "[and] they're doing an excellent job to keep things clean; they clean between every ride, and they have the plastic barrier. If you're riding alone, they'll have an entire row of seats just for you."
If you want a more hands-on experience, you can go ride your own horse. Take lessons or even tour the island via horseback! A horse is about 6 feet from nose to tail, so it's the perfect socially distant activity.
Get on the water:
"One of the really popular things is enjoying a kayak ride around the island with Great Turtle Kayak Tours," says Tim Hygh, Executive Director of Mackinac Island Tourism. What better way to see the stunning Mackinac Straits than by boat? If kayaking isn't your thing, you can also rent a stand-up paddleboard.
Don't like any of these suggestions? Don't worry, there are plenty more!
Where to eat:
If you don't feel ready to dine indoors, Hygh suggests getting "a takeout lunch somewhere and then take it up to Fort Holmes, the highest point on Mackinac Island, and enjoy[ing] a beautiful picnic from there. You can see Lake Huron, Lake Michigan, the Mackinac bridge. It's a nice hike and it's just an incredible panoramic from up there."
View this post on Instagram
Mission Point has a variety of dining options available — Lorenz and his family ate at their outdoor restaurant near the executive mini golf course. "The food was great, and I didn't realize they had a Mediterannean menu there," Lorenz says. "People never thought of Mackinac Island of being a foodie place but they have stepped up their game when it comes to food." Mission Point is also currently offering the largest lemonade stand on the Upper Peninsula on its Promenade Deck where you can go and get a refreshing drink (adults can even get theirs spiked — as if lemonade couldn't get any better).
The Doghouse at Windermere Point is the perfect place for any Chicagoan who can't live without a hotdog for a weekend. Hygh says this is one of his favorite lunch activities on the island, with great outdoor seating and stunning views.
If you're looking for something a little more upscale near Windermere Point, Hygh recommends The Carriage House, which is part of the Hotel Iroquois, right next to the Point. "You can watch the ferry boats and the freighters, and the food is phenomenal," Hygh says. "And they have great outdoor seating." 
The Jockey Club at the Grand Hotel is another lovely dining option, especially if you already happen to be staying at the hotel. "That's one of my favorite restaurants always, great food," Lorenz says. "Beautiful views and you get to look at the [golf] course and the straits of Mackinac."
---
Looking for other safe travel destinations from Chicago? Check out the Wisconsin Cheese Trail:
Following the Cheese Trail: The Ultimate 'Cheesecation' Through Wisconsin
---
Jessica Suss is a native Chicagoan residing in Washington, D.C. She is currently getting her master's degree in secondary English education at the University of Maryland. She enjoys petting other people's dogs and is faithful to Lou Malnati's alone. Jessica is also a supporter of MAZON and No Kid Hungry.