If you hear Orlando and immediately think Walt Disney World, you're not alone. But when it comes to Florida theme parks, the House of Mouse is far from the only game in town. Just 20 minutes down the road, Universal Orlando Resort gives Disney World a run for its money with two theme parks, a water park, and elaborately themed resorts with compelling perks to keep guests on property. And, with intellectual properties like Harry Potter, Jurassic World, Minions and Marvel represented, there's plenty of big-name draw for kids. Whether Universal Orlando Resort is your top priority or you're tacking a couple days at Universal onto a Walt Disney World vacation, here's a first-timer's guide to planning your visit.
Universal Orlando Theme Parks
Universal Orlando Resort is home to two theme parks, Universal Studios Florida and Universal's Islands of Adventure, which are connected by dining and entertainment district Universal CityWalk Orlando, and Universal's Volcano Bay Water Theme Park. 
Universal Studios Florida
Universal Studios Florida opened in 1990 as both a theme park and working studio, with its overall theming rooted in film and television properties. Marquee rides include mega thrill ride Revenge of the Mummy, based on the film series starring Brendan Fraser, E.T. Adventure, the park's iconic classic dark ride, Despicable Me Minion Mayhem, and MEN IN BLACK Alien Attack.
The park is organized into themed areas both real — New York, San Francisco, Hollywood — and fictional, including Springfield, home to The Simpsons Ride and watering hole Moe's Tavern; and the pièce de résistance, Diagon Alley — one of the two lands that makes up The Wizarding World of Harry Potter.
Revealed via a hidden passageway just like in the movie, Diagon Alley is the Universal Studios Florida half The Wizarding World of Harry Potter. The other half, Hogsmeade, is at nearby Universal's Islands of Adventure and can be accessed by making the journey just like Harry aboard the Hogwarts Express, equal parts immersive ride and inter-park transportation. Guests can also travel between parks by walking from main gate to main gate via Universal CityWalk, but the Hogwarts Express is certainly more magical. Note: In order to visit both parks — and both lands within the Wizarding World — you'll need a two-park ticket (more on that below).
Universal's Islands of Adventure
Divided into eight themed "islands," Islands of Adventure is home to Marvel Super Hero Island and uber-popular rides The Incredible Hulk Coaster, an intimidating high-speed coaster not for the faint of heart, and The Amazing Adventures of Spider-Man.
Dinosaur-loving kids will go crazy for Jurassic Park. Enter beneath the iconic archway and experience Jurassic Park River Adventure, Pteranadon Flyers for less adventurous littles, a thrilling Raptor Encounter and Universal Orlando's newest ride, Jurassic World VelociCoaster.  
Instantly deemed one of the world's great rollercoasters by coaster aficionados, VelociCoaster is must-ride for film and coaster fans alike. Set during the timeline of the 2015 Jurassic World film and featuring Claire Dearing (Bryce Dallas Howard) and Owen Grady (Christ Pratt) in the preshow, the ride's premise is that VelociCoaster is the latest thrilling addition to the Jurassic World theme park. Guests will join the hunt as their vehicle races alongside the pack of the park's Velociraptors. Despite the ride's immense popularity, wait times through the Easter egg-packed queue — which include stunning velociraptor animatronics — rarely reach an hour. 
For a more little-kid-friendly area, Seuss Landing is a colorful, Dr. Seuss-themed land, but many of its rides still have a 36" height restriction, leaving out the youngest guests.
Towering high above the snow-covered rooftops of Hogsmeade, Hogwarts Castle houses Harry Potter and the Forbidden Journey, a can't-miss ride for Potter-philes, along with Hagrid's Magical Creatures Motorbike Adventure, Universal Orlando's second-newest coaster and one that rivals Walt Disney World's best rides. Young wizards, witches, and muggles alike can still get in on the wizarding fun on Flight of the Hippogriff, a kid coaster through Hagrid's pumpkin patch. 
Universal's Volcano Bay Water Theme Park
The imposing Krakatau Volcano towers over the tropical-themed water park and houses three body slides including one with a whopping 125-foot plunge. The water park also features a lazy river, raft rides, drop slides, and more. A Virtual Line is operated at all Volcano Bay attractions, enabling guests to reserve a spot in line and enjoy other parts of the water park until their return time.
Park Tickets
One- and two-park tickets are available for the theme parks. Guests hoping to get the full Wizarding World experience should strongly consider the two-park ticket, which is required to ride the Hogwarts Express. (Pro tip: Be sure to ride it in both directions. The experience is different each way.) Unlike at Walt Disney World, where park hopping has time restrictions, a two-park ticket at Universal enables you to visit both parks at any time from park open to close.
Who Should Visit
A substantial number of Universal's big-ticket attractions have height restrictions — and tall ones at that — making this resort less little-kid friendly than nearby Walt Disney World. Ride choices get somewhat limited for guests under 40", and many of the most popular rides, have even taller requirements. Be sure to check the height restrictions to ensure your kids are tall enough to experience enough attractions to make it worth your visit. Also important to know before you go: Those prone to motion sickness should be aware that many of Universal's attractions are screen-based experiences that may bother some guests.
Express Pass
Express Pass, Universal's paid, line-skipping ticket add-on, enables guests to bypass the regular queue on most rides, typically slashing wait times in half or less. It's worth noting that the two most popular rides, Hagrid's Magical Creatures Motorbike Adventure and Jurassic World: VelociCoaster, both offer only a standby queue.
A range of Express Pass options with tiered pricing is available for all three theme parks, and it doesn't come cheap. A two-park Express Pass starts at $99.99 per person, per day. To get more bang for your buck, consider staying in one of Universal's three Premier-tier hotels, Hard Rock Hotel, Loew's Royal Pacific Resort or Loew's Portofino Bay Hotel, where Express Pass is included with stay for every guests in the room.
Getting In
Unlike Walt Disney World, where are Park Pass reservation system is used to manage capacity, Universal Orlando does not require advance park reservations to visit. It's rare, but the parks can reach capacity during peak travel times like spring break. Guests staying on property don't have to worry about being turned away at the gates though — a hotel reservation at a Universal Orlando resort guarantees admission to the theme parks, even when they're officially at capacity.
Guests staying at Universal resorts also get Early Park Admission, access to one of Universal's theme parks an hour prior to scheduled opening time or Universal's Volcano Bay 30 minutes prior to opening. This is a great time to beeline to a popular attraction like Hagrid's Magical Creatures Motorbike Adventure or VelociCoaster.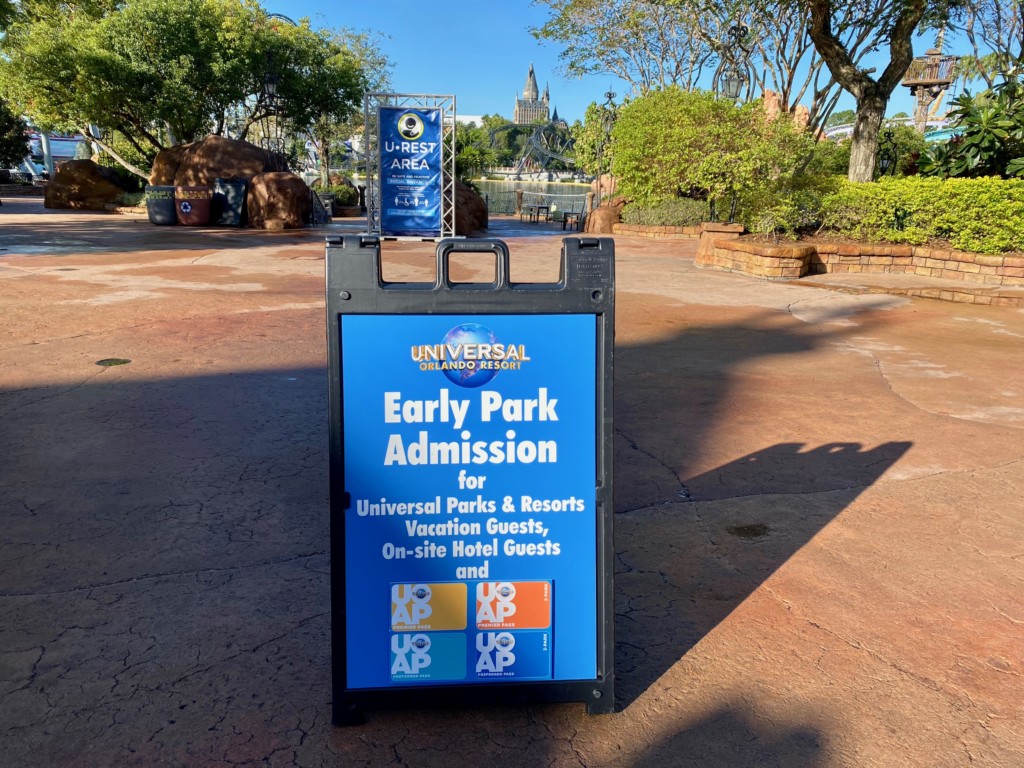 Where to Stay
Universal Orlando is a quick 20- to 25-minute trip from most Walt Disney World resorts but even if you're just visiting as an add-on to your Disney World vacation, it's worth considering staying on property for extra convenience. Similar to Walt Disney World, Universal's resorts are divided into a tiered pricing and amenity structure, with perks varying by tier. All Universal resorts offer complimentary transportation to the parks, and many are even within a comfortable walking distance. All resorts also come with free Early Park Admission.
But the highest hotel category, Premier, also comes with Free Universal Express Unlimited, a value of $129.99 per person, per day. So if your party was planning to purchase Express Pass, staying at a Premier resort can make good financial sense. 
Even the lower-tier resorts offer comfortable, family-friendly accommodations, great food courts, impressive pools and extensive theming. Universal's Cabana Bay Beach Resort is a budget-friendly family favorite with colorful family suites and a groovy '60s vibe. 
Where to Eat
Universal's theme parks are packed with food and drink options for every palate but you'd be remiss not to fill up in the Wizarding World before trying anything else. A visit without sampling a Butterbeer — served regular, hot (seasonally), and frozen (the best!) — should be grounds for banishment to Azkaban.
Load up on classic pub fare (the fan-favorite fish and chips are flown in fresh from Europe!) at The Three Broomsticks or The Leaky Cauldron then treat yourself to the best ice cream you've ever had at Florean Fortescue's Ice Cream Parlour.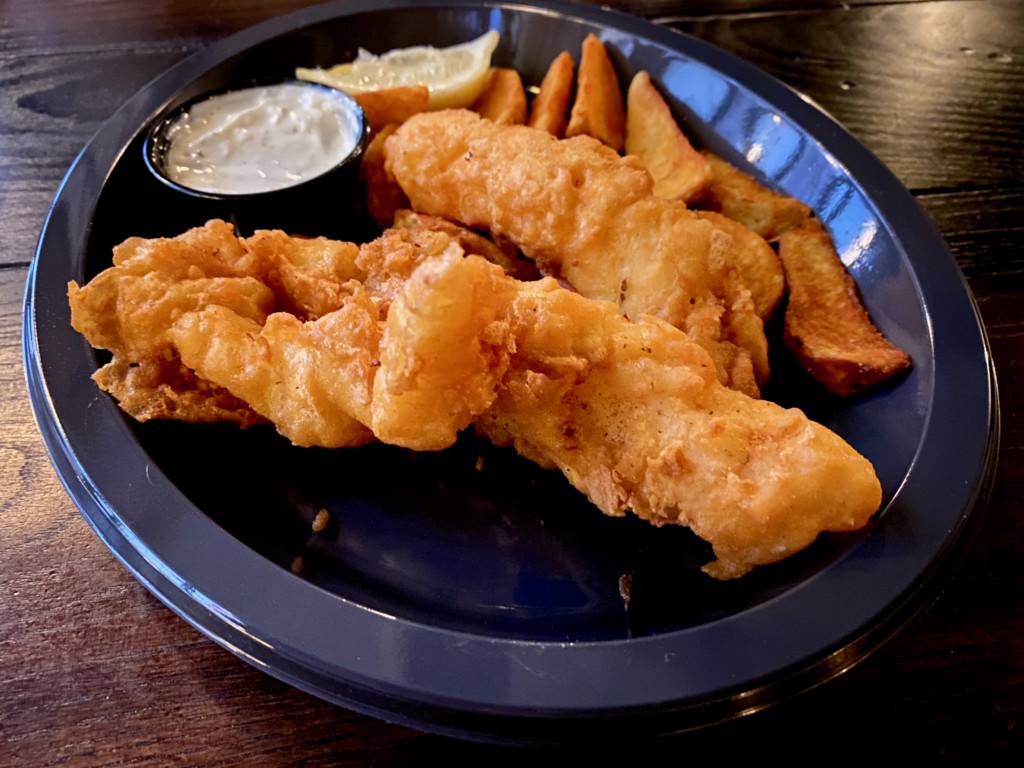 As a take-home treat, pick up Chocolate Frogs, Bertie Bott's Every Flavor Beans, Cauldron Cakes and other sweet treats from Honeyduke's or Sugarplum's.
Universal CityWalk
Beyond the Wizarding World, Universal CityWalk, Universal's dining and entertainment disctrict, has some of the best dining options. Try The Toothsome Chocolate Emporium & Savory Feast Kitchen or Bigfire for table-service meals and Voodoo Doughnut for over-the-top doughnuts that have earned a cult following. 
Universal's Great Movie Escape
On Dec. 9, Universal opened its first-ever escape rooms at CityWalk. Universal's Great Movie Escape offers two different escape room experiences — Jurassic World: Escape and Back to the Future: OUTATIME. Each escape room experience is separately ticketed and lasts about an hour, taking guests through eight heavily themed, extremely detailed rooms where you'll work together to complete challenges and solve puzzles.
Tickets start at $49.99 plus tax per person for one experience and accommodate groups of up to 6. You can also book a private experience for $300 plus tax and can have eight guests instead of six (though it would get pretty tight with eight — six is optimal). The experience is family friendly and guests of all ages are welcome.
Special Events
Universal Orlando puts on a number of well-known seasonal festivals and events that are a big draw for many guests.
Halloween Horror Nights
Universal Orlando puts on a series of well-known seasonal festivals and events that are a big draw for many guests. Hands down the most popular, Halloween Horror Nights is a terrifying celebration of all things scary with a series of elaborate haunted houses, scare zones, ghoulish entertainment, themed food and drinks, and more. No happy haunts here — this event is straight-up scary and not recommended for children under the age of 13.
Mardi Gras 2023: International Flavors of Carnaval
Included with regular theme park admission to Universal Studios Florida, Universal's Mardi Gras: International Flavors of Carnaval features a Mardi Gras parade, cuisine inspired by global Carnaval celebrations and, on select nights, live concerts by acts including Goo Goo Dolls, Maren Morris and Sean Paul. This festival runs Feb. 4 through April 16, 2023.
---
How to Help
Since 1990, Universal Orlando Resort has been an important partner for a nonprofit that's near and dear to the hearts of countless theme park fans. Give Kids The World Village is an 89-acre, nonprofit resort in Kissimmee, Florida, that provides week-long, cost-free wish vacations to critically ill children and their families from around the world who want to visit Central Florida and its many theme parks and attractions. Universal Orlando Resort supports GKTWV by providing tickets, costumed character experiences, and volunteer hours from team members. Universal Creative has also helped to create themed and interactive experiences and spaces at GKTWV, including Henri's Starlite Scoops, an accessible ice cream shop designed as a collaboration between Universal Creative and Walt Disney Imagineering. 
Learn more about Give Kids the World Village and donate to support this poignant cause. 
---
More from Better:
---
Brooke Geiger McDonald is the national content director for Make It Better Media Group. A Chicago native, she has worked for publications like O, The Oprah Magazine and SHAPE Magazine and her work has appeared in The Points Guy, Parents, TravelPulse, Attractions Magazine, MSN and more. Her favorite nonprofits to support include Give Kids the World Village and Shedd Aquarium. Follow her on Instagram @brookegmcdonald and Twitter @BrookeGMcDonald.