Growing up, the major holiday in my house was Halloween. My mother instilled a strong love of the spooky season in my sisters and me; from witches to goblins, we love it all. So, when we decided it was finally time to take a girls trip this fall, we couldn't think of a more magical place than Salem, Massachusetts.
An October visit to Salem, with the Halloween festivities and the beautiful autumn scenery, is what we "Hocus Pocus" fans live for: the New England town and its history will truly put a spell on you. However, you have to do some expert planning to fully enjoy your peak-season trip. Here are tips and tricks you need to know if you want to visit Salem from late September through October.
View this post on Instagram
Respect the Past
Salem is known as Witch City due to the Salem Witch Trials that took place between 1692-1693, and the local tourism industry has fully embraced it. A visit to Salem is a fun time — for Halloween fans and history buffs alike. In recent years, the season has been celebrated in style with festivals every October weekend, but it is important to remember the significance of what occurred here and to respect that many of Salem's residents are practicing Wiccans. Two hundred people were accused of witchcraft during the trials, with 20 executed, and eventually the colonies admitted it was a mistake. This shame is one of the reasons there are few artifacts from the trials in Salem, but you can pay your respects at the Witch Trials Memorial. During the busy season this area is not always treated kindly (we witnessed someone FaceTiming while smoking a little something on a memorial stone, unfortunately).
Book Early
With that disclaimer out of the way, I cannot stress this enough: plan your trip early! Some visitors book their Salem trips eight to 12 months in advance. Hotels and Airbnb stays in downtown Salem fill up fast (and you should also expect inflated prices). The Hawthorne Hotel, one of Salem's oldest hotels and reportedly haunted, is particularly hard to book.
If you only have a few months to plan, you're not out of luck. We booked our late September stay three months out and lucked out on a perfect Airbnb in neighboring Marblehead — more to come on that later.
View this post on Instagram

Getting Around
If you are lucky enough to stay in downtown Salem, you won't have a need for a car. Boston and Logan Airport are a quick train or taxi ride away. If you are staying in Marblehead or even Boston, I suggest taking a Uber, Lyft, or taxi, especially if it is a weekend, to save on time and parking. In October, Salem restricts street parking to residents only, which adds to the congestion.
Check the Events Calendar
No matter which weekend you visit in late September or October, there is something going on in Salem. From food truck festivals, to Horror Fest, to free admission weekends at the Peabody Essex Museum, it's wise to check the calendar before you book. If you prefer to wing your visit, you'll still probably find yourself happening upon an event: Salem is all about walking and exploring, especially down Essex Street, which is full of street performers, food, and shopping (watch out for the Sanderson Sisters!).
View this post on Instagram

Museums and Tours
There are plenty of witch-themed museums and attractions in Salem. We did the research for you, and think these are the ones worth the trip:
The 1692 Salem Witch Museum: Although it is outdated, the gift shop at this popular museum is amazing. Show up first thing to grab your tickets as they sell out quickly!
NowAge Travel: A rarity among the various Salem tours, NowAge gathers intimate walking tours with feminist-focused topics such as "Witches: 1692 – Today" and "Talking to Spirits."
Peabody Essex Museum: Recently updated, this beautiful museum in the heart of Salem has an impressive collection of Asian art.
The Witch House: Jonathan Corwin, one of the Salem Witch Trial judges lived here, and you can take a peek inside to see how a wealthy family lived in the late 1600s. Make sure you check out the Ropes Mansion down the street, where they filmed scenes for the film "Hocus Pocus" (find other locations here).
The House of Seven Gables: Visit this national landmark that inspired Nathaniel Hawthorne's novel of the same name.
Bewitched Statue: Say hi to Samantha, the famous witch that is loosely-attributed to the mainstream witch resurgence (and who has her fair share of controversy, too).
The "Hocus Pocus" House: The iconic home from the movie is a drive from downtown, but is worth it if you loved the movie.
View this post on Instagram
Shopping
There is no shortage of shopping in Salem. With hundreds of stores to browse you'll be wise to pack an extra suitcase. Our favorites are HausWitch Home + Healing, where you will find my favorite candle ever, and Emporium 32, which is a delight to browse for its tinctures and oddities. If you are a "Harry Potter" fan there are also several stores that transport you straight to Hogwarts, including a wand shop.
Food and Drink
We had no trouble sitting down to eat during our weekend in Salem, but I can imagine late October could be a bit bananas. We did make reservations at Ledger, a restaurant in an old bank, which was amazing. We also dined at Hotel Salem's Counter restaurant, which had great drinks and sandwiches. Hotel Salem also has one of the few rooftop bars in town, so come early to grab a spot there. If you are looking for sweets, Kakawa Chocolate House has treats that I will be dreaming about.
Two places we heard about but didn't check out: Turner's Seafood, which is popular for its seafood and also its ghosts, and Bit Bar, which is in the old Salem jail (and probably haunted too).
If you need to take a break and are looking for some local brews, we enjoyed sitting outside riverside at Notch Brewing. Outside of downtown, but worth the trip, is Far from the Tree cider house, where we tried a ghostbuster-themed jalapeño-infused cider (it was interesting!).
Exploring Outside of Salem
View this post on Instagram
Initially we were bummed we didn't find a hotel in Salem for our trip, but looking back we were amazingly lucky to snag the last four-person Airbnb in nearby Marblehead. Only a 10-15 minute drive from Salem, Marblehead is a picturesque New England town, worthy of its own visit. We recommend grabbing a bite to eat at The Muffin Shop and a coffee at Mookie's at Mugford and then strolling around the shops along the historic streets. Afterward, take a scenic drive down Ocean Avenue, taking in views of the waterfront and Marblehead's islands. Make sure you stop at Castle Rock Park for a stunning vista (and wave hello to Boston!).
---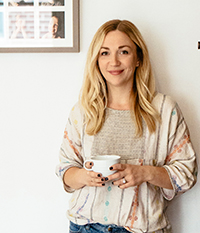 Macaire Douglas lives in Chicago with her husband and two sons. She proudly supports Share Our Spare, a local nonprofit that collects goods for children in need.