As we slowly, and carefully, inch out of the Covid-19 pandemic, we are coming to terms with how it affected every aspect of our lives. This is especially true with children, who saw a collapse of education and care when schools were closed. Parents struggled between work, e-learning and home life, many having to give up their jobs to provide for their children.
Mental health declined in children and teenagers, leading to a rise in depression, anxiety, suicidality, eating disorders, and more. And many who relied on government resources within our already fractured and inequitable education system struggled more than ever.
Anya Kamenetz, an award-winning education journalist, author, and advisor to the Aspen Institute, explores the lasting effects of the last few years in her new book The Stolen Year: How COVID Changed Children's Lives, and Where We Go Now. Kamenetz spoke with families around the country to expose how the public school system, a safety net for most, was decimated by the pandemic. She also uncovers how political decisions shaping our country have failed to put our children first.
Ahead of her appearance at a Family Action Event with WBEZ's with Sarah Karp on Oct. 18, we spoke with Kamenetz about her new book:
You connected with many families across the country for this book – what was the most shocking discovery you made in regards to the effects the pandemic had?
Probably it was the increase in gunshot wounds for children in the first months of the pandemic. I met a little boy who was shot in an abandoned building while wandering around his neighborhood. His mother was an essential worker and there was no childcare available to her.
Knowing how fleeting childhood is, the concept of a "stolen year" is understandably difficult for some parents to revisit and face. Given that we can't change the past, what would you say to potential readers hesitant to reopen the wounds?
Children are full of infinite potential. Many, even most, will recover and be resilient to this year but we have to understand clearly where they are at in order to help them grow.
You have two daughters – what was your personal experience like navigating the pandemic in regards to their education? Is it what led you to write this book?
No, I was much more focused on the experience of less privileged and less lucky families. My 3-year-old returned to her private Montessori in July 2020 and had a relatively normal experience with no closures or quarantines and was able to start kindergarten full time in Fall '21. My 8-year-old did miss out on in person school for 4th grade as well as social opportunities and extracurriculars – I feel really lucky that she is doing well academically and with her mental health, although I wish she had a bigger social circle and had had more chance to try out sports and activities as she is now in 6th grade with a long school day and commute.
How has the book been received given that it touches on a sensitive topic for many people? Has this experience all been positive or not so much?
I have been thankful for the many parents, caregivers and teachers who say that they feel seen, and that they experienced empathy and a new sense of perspective. The sharpest criticism has come from people who wish I had spent more time pointing fingers at the people in authority who allowed this to happen. For better or worse, that just wasn't my focus. Capturing the experiences of a vast range of families from all over the country was hard enough work by itself and that's what I was trying to do with this book.
If there could be one lesson or takeaway readers can learn from your book, what would it be?
We need to center children in our decision making as a nation.
Many parents are wondering "what do we do now?" after the massive disruption of the pandemic. Do you have any tips for helping our students recover emotionally?
Build on your children's strengths and what makes them happy. Look for extracurriculars that will provide a supportive environment. Take advantage of your school's resources and cultivate a village of supportive adults who can help you mentor and watch out for warning signs.
Your reporting is truly a call to arms. If we want to help our education system, what are some organizations you suggest working with or donating to?
Kids need tutors and mentors. Look for organizations doing strong work in your community, like the Oakland REACH and Treehouse in Seattle. There is a list of quality organizations at READY SET.
Other books by Kamenetz include Generation Debt, DIY U, The Test, and The Art of Screen Time.
Want more? Below are other books featured in Family Action Network Events – pick these up at a local bookstore, like The Book Bin:
From the publisher: Anyone caring for girls today knows that our daughters, students, and girls next door are more anxious and more prone to depression and self-harming than ever before. The question that no one has yet been able to credibly answer is Why?

Now we have answers. As award-winning writer Donna Jackson Nakazawa deftly explains in Girls on the Brink, new findings reveal that the crisis facing today's girls is a biologically rooted phenomenon: the earlier onset of puberty mixes badly with the unchecked bloom of social media and cultural misogyny. When this toxic clash occurs during the critical neurodevelopmental window of adolescence, it can alter the female stress-immune response in ways that derail healthy emotional development.
Drawing on insights from both the latest science and interviews with girls about their adolescent experiences, the author carefully guides adults through fifteen "antidote" strategies to help any teenage girl thrive in the face of stress.
From the publisher: Having spent a ground-breaking career studying the racialization, policing, and criminalization of HIV, Dr. Thrasher has come to understand a deeper truth at the heart of our society: that there are vast inequalities in who is able to survive viruses and that the ways in which viruses spread, kill, and take their toll are much more dependent on social structures than they are on biology alone.
Told through the heart-rending stories of friends, activists, and teachers navigating the novel coronavirus, HIV, and other viruses, Dr. Thrasher brings the reader with him as he delves into the viral underclass and lays bare its inner workings. In the tradition of Isabel Wilkerson's Caste and Michelle Alexander's The New Jim Crow, The Viral Underclass helps us understand the world more deeply by showing the fraught relationship between privilege and survival.
From the publisher: Millions of parents, tired of following advice that either doesn't work or simply doesn't feel good, have embraced Dr. Becky's empowering and effective approach, a model that prioritizes connecting with our kids over correcting them.
Parents have long been sold a model of childrearing that simply doesn't work. From reward charts to time outs, many popular parenting approaches are based on shaping behavior, not raising humans. These techniques don't build the skills kids need for life, or account for their complex emotional needs. Add to that parents' complicated relationships with their own upbringings, and it's easy to see why so many caretakers feel lost, burned out, and worried they're failing their kids. In Good Inside, Dr. Becky shares her parenting philosophy, complete with actionable strategies, that will help parents move from uncertainty and self-blame to confidence and sturdy leadership.
---
How to Help:
READY SET is a national tutor, mentor and service recruitment campaign with a call to action: Be A Part Of America's Student Support Network. READY SET invites Americans ages 13 and up to become a volunteer tutor, mentor or to serve our country's youth domestically. Powered by MENTOR, VolunteerMatch, AmeriCorps and Schoolhouse.world—READY SET matches volunteers to the opportunities that are right for them.
For additional vetted education and youth nonprofits that need your support, view the BETTER LIST.
---
More from Better:
---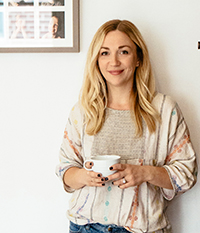 Macaire Douglas lives in the Chicago suburbs with her husband and two sons. She proudly supports Save Abandoned Babies Foundation, a Chicago-based nonprofit organization that works tirelessly to prevent the illegal abandonment of newborns nationwide. Since its inception in 2000, more than 3,600 newborns have been safely surrendered and adopted into loving homes.