This past year, television has seen a renaissance of new, inspired series in a time when reboots and remakes have become commonplace. These shows have won the hearts of audiences and critics alike, as evidenced by the 74th annual Emmy Awards held on September 13, that saw fan-favorites take home the hardware.
At the center of these shows are the same ingredients: authentic storytelling, strong casting and, especially, humanity, in all its realness. In August, Greater Good Magazine — a publication that offers "science-based insights for a meaningful life" — published an article detailing Ten TV Series That Highlight the Best in Humanity — many of which have since received accolades in both casting and on the whole. Annually, the staff and contributors to the magazine grant award-worthy television series with Greater Goodies, "the awards we give to movies and shows that might help us to be our best selves," according to Greater Good.
The listing includes: Abbott Elementary (ABC); Hacks (HBO Max); Ms. Marvel (Disney+); Paper Girls (Amazon); Queer Eye (Netflix); Reservation Dogs (FX/Hulu); The Sandman (Netflix); This Fool (Hulu); This is Going to Hurt (BBC/AMC); The United Shades of America (CNN).
Read on as we break down a handful of these shows and why they are not just good, but good for us, too.
The Fighting-Burnout-with-Connection Award
What made Abbott Elementary a smash-hit this year cannot be defined in a few words. From chart-topping ratings to giving back to underfunded teachers and institutions, this show is unlike others that have come before it. Showrunner and creator Quinta Brunson — Buzzfeed alum and YouTube favorite — has carefully crafted a show that is the epitome of feel-good comedy, and which resists any urge to trade punch-down comedy for laughs.
"Abbott Elementary follows a group of teachers and administrators in a West Philadelphia public elementary school as they navigate the challenges of everyday life in the classroom — and the teacher's lounge. The teachers are doing the best they can, but the threat of burnout is real. So, how do the Abbott staff take care of themselves? By connecting with each other and with their students," Mariah Flynn of Greater Good writes.
"The teachers of Abbott Elementary know that setting and maintaining healthy boundaries at work is critical to teacher well-being and sustaining an open heart in the classroom. … Abbott Elementary highlights the very real challenges of teaching without adequate resources. Despite the fact that they don't have all of the supplies they need, or the money for special programs, the educators at Abbott get through each day by caring deeply for their students and each other."
The show — having only premiered one season, with its second debuting September 21 — was appropriately doted upon by the Television Academy. The production and cast were nominated for seven awards overall and secured three, including: Outstanding Writing For A Comedy Series, Outstanding Casting For A Comedy Series and Outstanding Supporting Actress In A Comedy Series, which was awarded to Sheryl Lee Ralph (Barbara Howard). The latter of which was a stand-out moment for the award show, during which Ralph delivered an awe-inspiring acceptance speech to a standing ovation. Ralph is also married to Pennsylvania State Senator Vincent Hughes.
Catch the show weekly this fall on ABC, or catch up now on Hulu.
The Bridging Generations Award
Coming off the high of their second season, Hacks is back in the award circuit once again. Equipped with a quick-witted writers room, a devoted fan base and over 15 Emmy nominations this year alone, the show is destined to be on our screens for some time.
Greater Good breaks down the series: "Deborah (Jean Smart) is an aging stand-up legend who is on the brink of losing her residency at a splashy Vegas resort. She shares a manager with Ava (Hannah Einbinder), a twenty-something comedy writer whose rising star comes crashing down when she gets canceled for an inappropriate tweet. In an attempt to save the careers of both women (each self-obsessed and outspoken in her own way), the agent gets Deborah to hire Ava as an associate."
"It seems to be a win-win situation: Ava has a job; Deborah can tap into Gen Z sensibilities to freshen up her outdated schtick. Hijinks—and blowups—ensue. But, eventually, so does a friendship. As the facades and misconceptions fall away, we discover that the two actually share plenty of qualities that make them (very deep down inside) good people. "
"Sure, that connection is tenuous at times, with bad decisions on both sides. But it's a friendship nonetheless, marked by tender small moments, both authentic and sweet," concludes author Joanne Chen.
The show walked away with three Emmy victories this year, including: Outstanding Guest Actress In A Comedy Series, won by Laurie Metcalf; Outstanding Contemporary Costumes; and Outstanding Lead Actress In A Comedy Series, awarded to Jean Smart — her second consecutive year winning the category with her character Deborah Vance.
Catch up with the series, streaming now on HBO Max.
The Healing Award
When we talk about authentic storytelling from a voice that isn't often heard, Reservation Dogs needs to be in the conversation. Though they are still in the process of rolling out their second season with weekly installments, audiences have already clung to the emotional transparency evident in the series.
"Season one of the runaway hit Reservation Dogs was about a group of Muscogee Nation teens unpacking the suicide of one of their mates, Daniel, who killed himself before he and the crew could escape their Oklahoma surroundings and run away to California. Season two, currently unfolding, is a lesson in the power that grief plays in our ability to heal from trauma. Whereas the first season exudes an air of mystery over what happened to Daniel, in the second season, series creator Sterlin Harjo gives each character space to grieve and somehow find healing," said Greater Good.
Healing, contemplation and forgiveness are the uphill battles presented in season two, which sets the stage for a more complex latter half to the season. Though writer Serena Maria Daniels says, "[The] Rez Dogs have already made incredible progress in the face of immense grief."
In the absence of Emmy nominations, show the series some love and stream it on Hulu.
The Fierce Community Award
Two Disney+/Marvel projects, Moon Knight and What If…?, took home Emmys, but it's Ms. Marvel that has nabbed the attention of Greater Good — and audiences — thanks to its perfect combination of superhero action and coming-of-age adventure, headed up by lead character Kamala Khan (played by Pakistani-born Iman Vellani).
"[Khan] is living the mundane life of a daydreaming high schooler, creating YouTube videos that only her best friends watch and trying to pass her driving test. She's also part of a vibrant Muslim community in New Jersey, a cultural context that Ms. Marvel makes hilariously ordinary."
"Ms. Marvel shines a light on how our survival—against great odds—can depend on our communities. Through a combination of flashbacks and time travel, Kamala (and viewers) discover the horrors of the Partition of the Indian subcontinent in the wake of violent British rule. As Kamala's brother Aamir explains, 'Every Pakistani family has a Partition story and none of them are good.' Through this history, we learn how people needed each other to survive and thrive."
"Superheroes can't do it alone, either—they need community to fully manifest their powers. … The ties we have to one another—including to our ancestors—help us face our challenges," writes Maryam Abdullah for Greater Good.
Vellani will reprise the role on the big screen next summer in The Marvels alongside Brie Larson as Carol Danvers/Captain Marvel and Teyonah Parris as Monica Rambeau. The actors recently joined director Nia DaCosta and Marvel Studios president Kevin Feige at Disney's D23 Expo 2022 and gave fans a special look at scenes from the film. The Marvels opens in theaters July 28, 2023.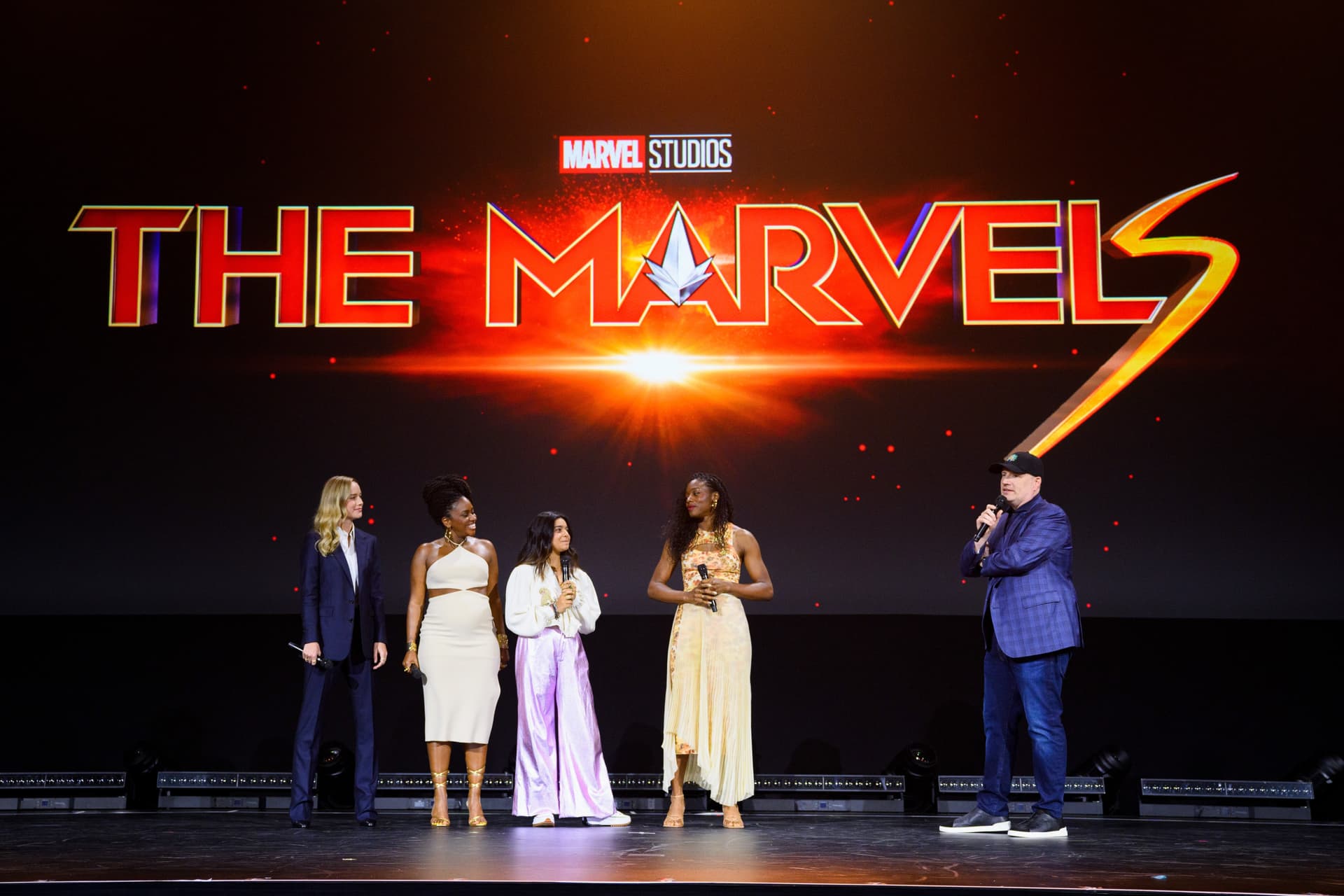 ---
For the ins and outs of other deserving TV series, check out the rest of Greater Good's article. And for an official lineup of 2022 Emmy winners, visit emmys.com. Happy watching!
---
More from Better:
---
Margaret Smith is a Chicago-based writer and editor with a passion for socio-political storytelling about their community. They are a graduate of Columbia College Chicago.